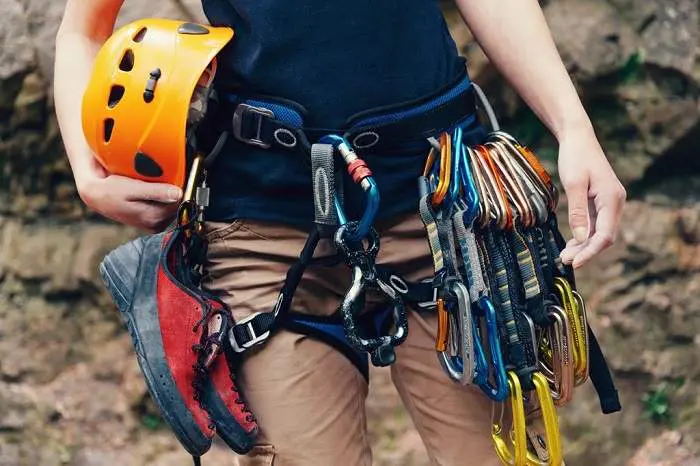 A good rappelling harness is your best friend out there.
The basics of rappelling are easy to learn and difficult to master, but wearing the right rappelling gear can go a long way towards giving you the confidence you need to push your limits. We've previously talked about rappelling ropes and their significant importance, but today we're going to have a closer look at another critical piece of gear: the rappelling harness.
A good harness for climbing and rappelling needs to fit just right, it needs to provide adequate support for the wearer, and it needs to include at least some dedicated loops for accessories.
You might think that choosing the right harness is an easy enough affair. I normally wouldn't argue with that, but rappelling harnesses are a bit more complex than they first appear. Put together from five individual segments, a rappelling harness is an impressive piece of gear that should never be taken lightly. Generally speaking, each climber has his or her own favorite harness, some being stiffer than others, some with more loops (and also heavier), while others prefer lighter products that are as easy to put on as they are to take off.
It's not easy to find a harness that ticks all the right boxes. Apart from providing adequate support and comfort, any rappelling gear piece needs to be versatile and tough enough to withstand harsh outdoor conditions, whether we're talking about humidity, abrasion, heat, or strong winds.
As I mentioned before, you can basically rappel using nothing more than a rope that ties around your body, acting as a harness. However, this is not a modern rappelling technique, nor is it particularly safe or pleasant. As an emergency rappelling technique, however, it can work.
Let's talk about the individual parts of a harness.
Not all rappelling harnesses are created equal. Some offer more practicality and versatility than others, but all quality harnesses should include at least these five individual segments.
 Haul loop – It is located at the rear of the waistbelt, and it has a single and very important role: to support extra gear such as a haul line or an extra rope. Keep in mind that the haul loop should never be used for load-bearing, as this could potentially put your life in danger.
Leg loops – Leg loops are very important as well, as they are designed to provide support and control. Each leg goes through each loop, which should include adjustable straps. The leg loops in a rappelling harness are connected to the waist belt, and together they enhance overall stability.
Gear loops – Just as the name implies, gear loops were designed to carry extra pieces of (small) gear such as carabiners. Therefore, it goes without saying that you should never put any bodyweight on these loops, as this could, again, put you at serious risk of harm.
Waist belt and buckle – This area of the rappelling harness features a series of straps and buckles that help you adjust the harness to your individual needs. The waist belt is particularly strong, and it is able to hold quite a bit of weight. As for the buckle, it's generally off-center, which is a good thing because it won't rub with the rope tied at the front of the harness.
Belay and tie-in loops – The belay loop is the strongest point in the harness, as it is able to bear the most weight. The belay loop sits at the front side of the harness, and it links up to both tie-in loops.
What is the best rappelling harness this year?
There are countless offers available out there, but that doesn't mean that you can just go ahead and pick up the first harness that pops up in your news feed. As I mentioned above, a good harness needs to tick all the right boxes when it comes to safety, comfort, and versatility, and it's not always easy finding one that meets all these criteria. Fortunately for you, I prepared a small list of the best rappelling harnesses available on the market presently.
1. Black Diamond Momentum Harness.
The Black Diamond Momentum seems to be everyone's go-to rappelling harness. It's not hard to understand why, as you'd be hard-pressed to find a similar product that matches its quality and reliability, especially at this price point. The harness is available in six sizes ranging from XS to XXL, which means that you'll definitely be able to find something for your own measurements.
As for colorways, there are four to choose from, namely Verde (green), Graphite, Slate, and Astral Blue. Depending on sizing and colorway, the harness' price varies slightly, but generally speaking, pretty much anyone could afford this product.
When it comes to materials, the Black Diamond Momentum was created using a synthetic fabric specifically designed with toughness in mind. When I first got my hands on this harness I could immediately tell that it was a quality product. The seams were expertly put together, the clasps were sturdy, and the material felt like it could outlive me. That's the feeling you should get when you put on your harness for the first time.
The waistbelt buckle is adjustable, of course, as is the rear elastic riser. Other highlights include a Bullhorn-shaped waistbelt with Dual-Core ConstructiontrakFIT adjustment, as well as four pressure-molded gear loops.
Sizing chart.
Just in case you're having a hard time choosing the right size for your harness. I'm going to give you a very useful sizing chart, which is relevant only for the Black Diamond Momentum harness.
XS – Waist 24-27″/61-69cm, Legs – 17-21″/43-53cm.
SM – Waist 27-30″/69-76cm, Legs 18-22″/45-56cm.
MD – Waist 30-33″/76-84cm, Legs 20-24″/51-61cm.
LG – Waist 33-36″/84-91cm, Legs 22-26″/56-66cm.
XL – Waist 36-39″/91-99cm, Legs 24-28″/61-71cm.
The Black Diamond Momentum harness is perfectly-suited for rappelling, but it can also be used for climbing, or indoors at the gym. It's ideal for beginners and pros, but I'd generally recommend it for beginners due to its dependability and versatility.
2. X XBEN Climbing and Rappelling Harness.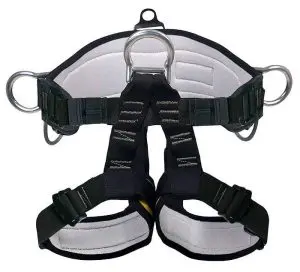 If the harness that I presented above is not to your particular liking, you could have a look at this alternative from X XBEN. Designed for multiple uses, rappelling included, this harness comes in four different variations, namely a Thicken Black-Red version, a Premium Black Version, a Basic Black Version, and a variant for Bungee Jumping.
I'm going to focus a bit on the Premium Back Version, which is a professional mountaineering rock climbing harness or rappelling safety harness/work safety belt. As you can probably tell by now, this harness can fit many roles, which makes it an ideal pick for any outdoor enthusiast.
According to the manufacturer's specifications, the product is designed for both adult men and women, but also for older children. What makes this rappelling harness truly special is that it is able to transfer the tension of the rope from the connecting loop to the back of the wearer's thigh. This way, you'll feel like you're actually sitting in a seat. The X XBEN climbing/rappelling harness is CE Certified EN 358-2000, and it is able to withstand a weight of up to 300kg or 661 pounds.
When it comes to measurements, the waist strap is 80-120cm (31.49inch-47inch), and the leg strap measures 60-75cm (23.62inch-29.53inch). Other important details include a durable black buckle that allows for quick and easy adjustments, as well as belt and leg loops with double thickened straps.
3. Petzl CALIDRIS Ventilated Harness.
My third and final recommendation is the Petzl Calidris harness, which also happens to be the most expensive one of the three. Still, Petzl is one of the most recognizable names in the rappelling gear world, so an elevated price tag should not be too surprising. That's not to say that the harnesses that I presented so far are of poor quality. However, the Petzl offering has a few extra technologies and perks that allow it to stand out in a crowd.
I'll start off with the equipment selection. You see, this harness comes with multiple solutions at the front and rear that allow the wearer to organize and carry gear easily. There are four equipment loops in total, as well as a wide haul loop, and a pair of side-mounted CARITOOL tool holder slots.
The Petzl Calidris includes dual waist buckles that center the tie-in point while equalizing the equipment loops. The leg loops have DoubleBack buckles, which allows the wearer to adjust the loop tightness easily. This comes in handy when you decide to wear thicker or thinner clothing.
Perhaps one of the most important aspects of this rappelling harness comes in the form of a breathable mesh construction complemented by closed-cell perforated foam padding and a 3D polyester mesh. A breathable harness is a comfortable harness that allows you to engage in longer rappelling sessions without feeling the need to take it off. Last but not least, I should mention the FRAME Construction technology, which transfers load and distributes pressure over the entire surface area of the waist belt and leg loops.
The Petzl Calidris harness for rappelling and climbing is usually available in two sizes, and it comes in a single colorway. In my experience, this model is substantially more comfortable when compared to the previous one. As far as reliability is concerned, not much has changed, which is definitely a good thing.
4. Kailas Safety Climbing Harness for Professional Mountaineering.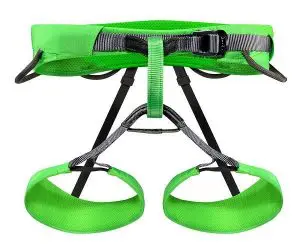 The Kailas Safety Climbing Harness is a very good all-rounder that will work well with all sorts of outdoor activities. It's incredibly comfortable thanks to an adjustable design, which makes it ideal for both indoor climbing and mountaineering. It is available in three color options namely Green, Orange Red and Yellow. It's a very visible harness, it was probably designed that way, which means that you'll be very easy to spot once you're up there.
When it comes to materials, the Kailas Safety Climbing Harness was manufactured using quick-dry nylon webbing, which is complemented by a very high pulling strength sewing thread. Is there padding? Yes, it is, in all the right places, I might add.
You will find two gear loops at the front of the belt, which will help you carry and organize your gear pieces with ease. I should also mention the attached mounting points located on both sides of the belt, which you can use to lock in place carabiners or tool racks.
This is probably one of the easiest rappelling harnesses on the list to take off and put back on. Truly, it appears that Kailas has gone all out when it comes to comfort. I might even go as far as to say that this is the most comfortable harness of the year, but I might get ahead of myself.
How to test a rappelling harness.
So you ordered your harness, and it arrived safely at your doorstep. What now? Well, you don't want to test it for the first time when you're out on the cliffs, right? You should definitely wear it for a bit beforehand in order to make sure that it fits perfectly, and that it meets all of your needs. Still, you won't learn much about it by just wearing it around the house, which is why I'd recommend taking it out for a spin at your favorite climbing gym.
Just climb up and rappel down a few times to get a sense of how it would perform outdoors. This way, you'll also be able to adjust it properly at the waist and legs, so you won't have any surprises. If you don't have access to a climbing gym, or if time is of the essence, just attach a rope to your harness and lift off from the ground a few feet. While this isn't the most accurate testing method, it would quickly point out any discomfort, and it would allow you to adjust the harness accordingly until it feels just right.
Final words of advice.
Climbing harnesses are designed to last for years. However, make sure to inspect your harness often for any wear and tear, and don't hesitate to retire it if something catches your eye. Any loose seams or damage in key areas should raise red flags. Remember that safety is the most important thing when rappelling or climbing, and no matter how much experience you have, you're only as good as your equipment. I'd never recommended wearing an old harness or using a shoddy-looking rope.
Even if your equipment appears to be in good shape, it's never a bad idea to replace it regularly or after a few years, especially if you're out there often. I hope that this post has helped you in your quest to find the best rappelling harness. If you have any suggestions or corrections, feel free to get in touch!
Until then, as always, stay safe, stay strong, stay focused, and enjoy the experience!