Backpacking chairs: making hiking trips memorable since..forever?
Oddly associated with luxury, and rightfully associated with comfort, backpacking chairs are some of the most incredible pieces of kit that you can carry with you on a climbing, hiking, backpacking, or rappelling trip. It's true that a backpacking chair is a completely optional piece of gear, but I definitely wouldn't skip on it if I had some extra room in my backpack.
Going out with a couple of friends and thinking about spending the night in the wilderness? A backpacking chair is definitely a must. Making the campfire, arranging the chairs in a circle around it, telling tales and enjoying the fresh mountain air. There are few better things in life if you ask me, and if you're reading this I think you'll agree wholeheartedly.
So how do you know which backpacking chair to choose from the myriad of offerings available presently? I'm here to give you my personal suggestions of the lightest and most comfortable backpacking chairs, many of which won't even break the bank too much. Before we start, though, let's have a look at the main types of backpacking chairs and figure out what are the main differences between them.
Backpacking chair types.
Seat Pads are the simplest type of backpacking chair, and they're also the cheapest ones most of the time. These chairs are often inspired by sleeping pads, and they basically just offer a small layer of comfort between your bottom and the ground. The main advantage of these backpacking chairs is that you can place them anywhere and just sit on them, even on uneven ground. Seat pads are made out of foam or they can be inflated.
Ground Chairs are a bit different than Seat Pads because they can be placed directly on the ground or a few inches off. They are some of the most compact backpacking chairs because they don't have legs. What they offer in versatility, however, they lack in maintenance, as they will usually get dirty from sitting so close to the ground. You can also use these as sleeping bags by folding them.
Foldable Chairs are the most comfortable camping chairs out there, but they tend to be a bit on the heavy side. They come with poles for legs and fabric seats that are elevated above the ground. Since the legs are rather thin, foldable chairs can sink into the ground if you place them on wet surfaces.
Stools don't offer any back support, but other than that they make very good backpacking chairs, especially if they're inflatable. Incredibly portable and practical, these chairs will also pick up some dirt as you use them, so make sure to clean them up a bit before tossing them back into your backpack.
What do you need to look for in a great chair?
There are a few things that you should consider before choosing the right backpacking chair. First of all, lightweight chairs are great if you plan to go on a longer hiking or mountaineering trip. I usually look for chairs that weigh less or around 2 pounds as a rule of thumb.
Another thing to look out for is the overall level of comfort that the chair promises to deliver. Make sure to inspect the materials that the chair is made from, how breathable is the fabric and what kind of padding is available. Stability also plays a key role when it comes to comfort, so make sure the chair isn't wobbly or flimsy.
Versatility is key when it comes to a good camping chair. The product needs to be small enough to fit inside your pack, but it also needs to take up as little space as possible while it's in there. Fortunately, most manufacturers take packability into account when they design their products.
It's important to know how tall the chair is, and what is its ground elevation. If you plan to use the chair in a wet environment, take into account that it will likely sink a bit. Taller chairs will generally be heavier and more expensive, while ground-based products are lighter and cheaper overall.
Let's move on to the actual list now. I'm only going to suggest well-tested and reviewed products that are widely appreciated by hikers, campers, and mountaineers from all over the US. Some of these offerings will be on the expensive side while others are more affordable. The list includes something for everyone, though.
1.Helinox Chair One Original.
The main thing that convinced me to try out the Helinox Chair One Original was the promise of unrivaled portability. According to Helinox, this chair weighs less and occupies less space than a bottle of wine. Sure enough, this is one of the most portable chairs available, which is quite impressive considering its foldable design.
Moreover, the Helinox weighs in at just 2.1 pounds, which is a bit over my recommended weight limit of 2 pounds. Still, since it can hold up to 320 pounds without giving in, I'm going to give it a full pass. The chair is available in a multitude of colorways, and it will serve you well on camping trips and casual travels.
The chair's frame is made out of a proprietary aluminum alloy, which is probably how the weight was kept down without sacrificing durability. As for the seat and the carry case, they're both made out of a UV-resistant 600-weave rip-stop polyester fabric. You can machine wash the seat without any issues, which is a plus in my book.
As for measurements, this backpacking chair is 23W x 21.5D x 29H inches while fully assembled. The seat height is 14.5 inches, which is a bit higher than other similar products that usually go up to 12 inches tops. While packed, the chair measures 4 x 4.5 x 14 inches. Helinox also offers a 5-year warranty with Chair One, which is a testament to its durability.
2. Marchway Lightweight Folding High Back Chair.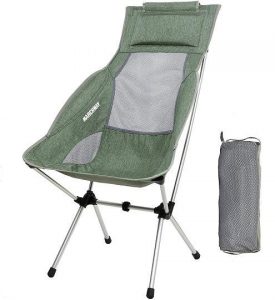 What we have here is a camping chair that's better suited for shorter trips, as it offers impressive comfort at the expense of some extra weight. Indeed this product tips the scales at 3.7 pounds, which is not incredibly heavy by normal standards but quite a bit for a backpacking chair.
On the other hand, the Marchway comes with a comfortable backrest and a sponge sleeve that will support your head. Stability and sturdiness are ensured by a series of foldable aluminum poles with shock-cord structures. Apparently, you can assemble this chair within one minute.
The seat is made out of a Ripstop 1000D polyester fabric, which complements an aircraft-grade corrosion-resistant 7075 aluminum alloy frame. The wide corners at the back of the seat fabric come with their own reinforcements for a plus of reliability. There are four colors available, namely Light Green, Light Blue, Red, and Black.
This chair is well-suited for a wide range of outdoor activities, including road trips, fishing, mountaineering, or sports events. It will obviously work just as well as a backpacking chair, provided you're willing to carry it around on your journey. In its carry pouch, the kit measures 17 x 6.5 x 5.5 inches, which is not too bad at all.
3. ALPS Mountaineering Tri-Leg Stool.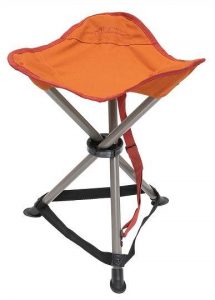 The Tri-leg Stool by ALPS Mountaineering truly ticks all the right boxes when it comes to portability, affordability, and durability. It's a relatively cheap backpacking chair, and it's light enough to carry around in your backpack without any issues. This mountaineering stool weighs in at just 2 lbs, and yet it can support a weight of up to 250 lbs.
It measures 14″ W x 14″ L x 16″ H, and it is available in an orange Rust colorway or in a Deep Sea blue. As for reliability and durability, the stool boasts a powder-coated steel frame, as well as a 600D Polyester fabric. The design allows it to fold conveniently, in which case it fits nicely into its own shoulder bag. Alternatively, you can use the attached carry-on strap.
When folded, the ALPS Mountaineering Tri-Leg Stool measures just 3″ W x 3″ D x 23″ H. You can take it with you while fishing, camping, hiking or climbing if you know you're going to take a rest at the top. It might not be the most comfortable stool out there given its lack of back support, but it is one of the most affordable and practical ones. If you need a cheap solution for short to medium trips, the Tri-Leg Stool will likely meet your expectations.
4. ALPS Mountaineering Weekender Seat.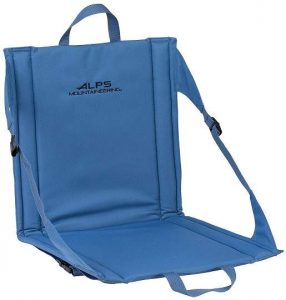 Remember the Ground Chairs I was talking about earlier? The ALPS Mountaineering Weekender Seat is a great example – it's an incredibly lightweight and highly portable stadium seat/chair that comes with its own webbing handles and webbing straps.
The handles are quite self-explanatory, as they allow you to carry this backpacking seat with you wherever you go. The straps play a key role in adjustment, as they help you achieve a perfect seating position. Furthermore, a series of bottom webbing straps can be used to attach the chair to canoes or bleachers. This way, the seat will stand still as you move.
The Weekender also offers a certain degree of versatility. It features a back mesh pocket that can be used to store essentials, snacks, or small tools. There are five colors available for this backpacking chair, namely Steel Blue, Deep Sea Blue, Rust, Green, and Black.
The product weighs in at just 21 oz., and it measures 17″ W x 33″ D x 0.5″ in thickness.
5. Mountainsmith SlingBack Chair.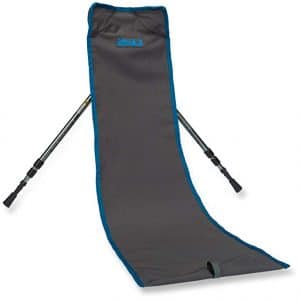 The SlingBack Chair by Mountainsmith really caught my eye because it seemed to feature some form of back support. This is a bit uncommon when it comes to ground chairs, so I decided to have a closer look and see what it's all about.
Indeed, the SlingBack can be set up using two Mountain Smith trekking poles. This provides independent support for your back without having to prop the chair up against a tree or log. The kit is incredibly portable – it simply rolls up into its own storage pouch. It's more of a backcountry lounger with a minimalistic design. The fabric is 610D HP Cordura, which is known for its durability.
The only downside I see with this offering is that the poles will sink into soft ground, which means you'll have to use this on hard surfaces most of the time. Moreover, I imagine that once you get it set up in a comfortable position, you'll probably have to stand still for a while as you'll just ruin the setup if you get up or reach for something.
At the end of the day, given its price tag and simple design, this lightweight backpacking chair will get the job done nicely if you're just looking to enjoy a quick break.
6. Moon Lence Outdoor Ultralight Folding Chair.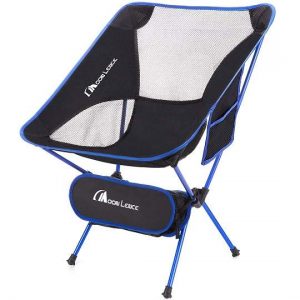 Another fine choice for a sturdy and light backpacking chair is the Moon Lence Outdoor Ultralight Folding Chair. While it's quite accommodating once unfolded and set up, this chair doesn't weigh more than 2 pounds. Not bad at all, right?
It gets better, as it can hold up to 242 pounds or 110kg, all thanks to a high-strength aluminum alloy frame and a 600D Oxford cloth seat. The fabric is breathable and soft, and the design is surprisingly ergonomic. This backpacking chair is actually comfortable – it wasn't designed just to support your weight in a pinch. It can be used for campfire trips and prolonged relaxation sessions.
Naturally, it also comes with its own carry bag, which makes it very easy to carry along in a backpack. There are different colorways available as well, including Dark Blue, Light Blue, and New Red. What makes the Moon Lence stand out among other offerings is that it offers just as much durability and comfort as products from more reputable brands, at a fraction of the price.
7. Hitorhike Camping Chair.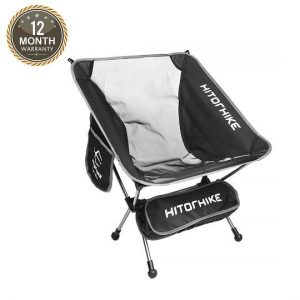 Hitorhike is not a brand that I'm particularly familiar with, but I did some digging and realized that people really like their backpacking chairs for some reason. The Hitorhike Camping Chair has some very good reviews on Amazon right now, and it looks like they're all justified.
This chair has it all – a durable yet lightweight build, a portable design, an affordable price, and a decent warranty. It's not the most extended warranty out there, mind you, as it's only 12 months, but that's still plenty of time to put this bad boy through its paces.
It weighs in at 2.1 pounds, and it measures 15.7 x 4.3 x 4.7 inches while folded. While unfolded, it will take 22 x 19.6 x 27.5 inches of space. It can support a maximum weight of 250 lbs, which sounds about right for most portable chairs out there.
It features an aluminum frame and four legs, as well as a breathable mesh construction based on ripstop nylon. Hitorhike even added two storage pockets for your phone or other essentials. There's also a 120-day money-back guarantee, which is always nice to have.
Did I mention this chair is actually affordable?. It doesn't look cheap, though, and it definitely doesn't feel cheap either.
8. Camp Time Jumbo Stool.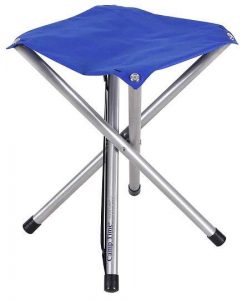 I'm going to end this list with a stool, but not just any camping stool. The Camp Time Jumbo Stool is made in Spokane Valley, Washington, USA, so it might be right up your alley if you were looking for a product that was actually made right here in the States. While it's not exactly cheap for a backpacking stool, it's definitely as light as they come and incredibly strong given its size.
Weighing in at just 1.6 pounds, the Jumbo Stool can support a weight of up to 300 pounds. The fabric has multiple layers for extra comfort, while the legs fold easily into a compact bundle that measures in at 4″ in diameter and 26″ in length. The stool measures 19″ in height, and it comes with aluminum alloy legs that were hardened, cold-drawn and tempered. Apparently, this gives them more tensile strength than high carbon steel.
As for versatility, it comes with a built-in shoulder strap. You can carry this chair in your backpack or on your shoulder depending on your preference. This truly is one of the most durable backpacking stools out there, even though it will set you back quite a bit.
Conclusion.
Backpacking chairs come in different shapes, different sizes, and with varying price tags. However, I hope that I managed to help you make an informed decision, as I know all too well how difficult it is to find something that ticks all the right boxes without breaking the bank. Whether you plan to go out camping, backpacking, mountaineering, or just out to a concert or cookout, these backpacking chairs will likely meet and surpass even the most demanding expectations.
If you know of a product that you would like me to add on this list, just let me know and I'll update the article accordingly. Until then, stay safe, have fun, and always enjoy the view!