These are the best rock climbing gyms in the US.
The US is riddled with climbing gyms, some offering impeccable quality, while others tend to fall behind in certain areas. One thing is clear, though, climbing is incredibly popular in the States, and rappelling is definitely catching up year after year. The thing is, if you travel frequently and need to keep your climbing skills sharp, you'll need to know what are the best rock climbing gyms near you every time you're in a new state.
That's why I decided to create this comprehensive guide of the best rock climbing gyms in the United States. This way, you'll have a go-to source to turn to during your travels. I have visited some of these rock climbing gyms myself in the past, and I'll give you an inside scoop on every one of them. For the others, we'll turn to their individual Google Reviews and see what others had to say about the facilities.
To make the guide as useful as possible, I'll generally list the most popular gyms, the ones with the highest reviews, that is. I definitely wouldn't want to waste your time and send you to a place that won't fulfill your basic expectations. I'll also try to answer some of the most frequently asked questions about rock climbing gyms. Let's start with a few simple ones!
How do rock climbing gyms work?
Climbing gyms are your go-to spot if you're looking to learn how to climb or rappel in a safe and controlled environment. These establishments are also frequented by experienced climbers who are just looking to push their limits or hone their skills. Rock climbing gyms rely on artificial structures that mimic the experience of outdoor climbing. Depending on each individual place, you might be able to rent out rappelling and climbing equipment, mostly basics. However, it's never a bad idea to bring your own gear.
The oldest climbing gym in the United States and Canada is Vertical World, which was originally named Vertical Club when it opened its doors back in 1987. However, the first indoor climbing hall in the world was founded in 1974 in Bolzano, Italy.
What height are most rock climbing gyms?
This is a difficult question to answer because each gym has its own unique design, therefore each climbing wall is different. I'm not just talking about the layout of the rocks, but also about height and width. The shortest climbing walls (for adults) that I've seen are around 30 feet, but the tallest ones can reach 60 feet or more. That's 9.1 meters or 18 meters for our European readers.
How expensive are rock climbing gyms?
Most climbing gyms will offer two methods of paying, namely Day Passes or Memberships. Those of you who are looking to practice climbing for just a few hours will likely want to get a day pass, which generally costs anywhere between $12 to $35 depending on the size of the gym, its location, and its facilities. Monthly memberships will set you back between $70 and $100.
Some establishments will offer discounts for students, active military members or veterans.
How long do people climb at rock climbing gyms?
The amount of time that people spend at rock climbing gyms generally depends on their fitness levels, experience, and force of will. When I was younger and just starting out, I remember how tired I used to get and how uncomfortable it made me feel to ascend on a vertical plane and get down just to go back up again.
Swapping walls and trying out different inclines definitely helps keep things interesting, but at the end of the day, I don't generally spend more than a few hours at a time in a climbing gym. Most days I just go there for about an hour or so.
Now that we got the questions out of the way, let's move on to the actual climbing gyms! I'll cover some basic aspects such as location, size, pricing, and general reviews from active members. Hopefully, by the end of this guide, you'll know exactly which gym you want to visit for your next indoor climbing sessions.
1. The Cliffs at LIC in Queens, New York (Top Pick)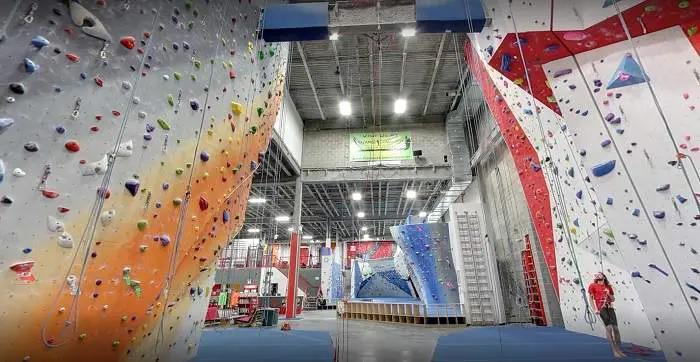 The Cliffs at LIC is perhaps one of the most popular and well-reviewed climbing gyms in New York and maybe even in the US. Located in Queens at 1-11 44th Dr, Long Island City, NY, this gym flaunts almost 1000 Google Reviews at the time of writing and a total score of 4.8 stars. That's very impressive and shows that plenty of people have enjoyed their time spent on the premises.
I went ahead and did a deep dive into The Cliffs at LIC's website in order to find out exactly what makes it so popular. There are plenty of other rock climbing gyms in New York, so why does this one stand out so much? As far as I can tell, it's all about the local community, the overall size of the gym, and the impressive array of facilities available.
At The Cliffs at LIC, you'll be able to test your skills at bouldering, toprope climbing, and lead climbing. However, a little birdie told me that there's also a rappel tower on-site, which means that you can actually do some rappelling at this particular climbing gym. That's not something we rappelling enthusiasts get to see every day, and I do hope that more gyms will install rappel towers in the future.
Pricing at the Cliffs at LIC.
Here's some information about pricing and memberships at The Cliffs at LIC:
A simple Day Pass without rental gear costs $32.
A Day Pass with rental gear included (climbing shoes, harness, chalk bag) is $44.
An introduction course is $49.
A one-month pass costs $160, while a 10-visit pass (available for one year) is $288.
A Monthly Membership is $125.
A monthly membership with an off-week pass is $95.
A Learn to Climb package for a month costs $159.
Pricing is not too bad for a New York climbing gym, and the facilities seem to be top-notch over there so it should be well worth it in the end. There's even a gear shop on-site just in case you don't want to rent anything. The staff members will guide you into choosing your best gear, and they'll teach you the "ropes" if you're a beginner.
If you want to learn more about climbing and rappelling gear, you can also have a look at this useful guide that I put together not too long ago.
2. Brooklyn Boulders Gowanus – One of the finest climbing gyms in New York.
New York does indeed have some of the best rock climbing gyms in the US. While there are quite a few to choose from, Brooklyn Boulders Gowanus manages to stand out thanks to its impressive facilities and spaciousness. This gym is located at 575 Degraw St. Brooklyn, NY, and it is usually open from Monday to Friday from 7 AM to Midnight, and on Saturday and Sunday from 8 AM to 10 PM.
The gym operates within a former truck garage, hence the spaciousness that I was talking about before. In terms of amenities, you'll find a dedicated fitness and climbing area, a lounge dedicated to members only, as well as free Wi-Fi throughout the premise. I should also mention the retail shop, which is always welcomed in places such as this.
Regarding climbing opportunities, Brooklyn Boulders offers a generous selection of climbing walls for various skill levels. You will also find auto-belay machines for solo climbers, as well as numerous bouldering walls. If you're a beginner, you'll probably want to take part in a climbing class with a private instructor. There's also a fitness and a climbing training area. Yoga enthusiasts will be able to take part in Yoga glasses or Acroyoga classes. Overall, Brooklyn Boulders boasts a climbing surface of 22,000 square feet.
Let's have a look at pricing for a bit:
Day passes cost $36, and Off-Peak Day Passes are available for $32. Keep in mind that all discounted day passes must be purchased in person. Also, these passes expire after 14 days from the day of purchase.
You can also get an adult 10-pack for $329, which includes full access to the facility and access to fitness classes. These passes are available for one year, and they can also be converted to membership within 90 days of use.
You can rent climbing shoes for $7, climbing harnesses for $7, chalk for $2, gear kits for $12, and yoga mats are complimentary.
For memberships, a Beginner to Badass membership costs $99, and it includes 14 days of unlimited access, an introduction to climbing, and a learn-the-ropes 2-hour class.
A regular monthly membership costs $100 for the first activation and $149 per month afterward. If you have a membership, you will also enjoy 50% off all climbing classes.
An annual membership will set you back $1490, and it includes the most benefits, such as fitness classes and equipment besides full access and a complimentary intro in climbing.
Brooklyn Boulders has to be the most advanced and appreciated rock climbing gym in its borough. It has top-notch facilities, helpful and skilled instructors, as well an incredibly generous climbing surface.
2. Vertical World – America's First Climbing Gym.
Vertical World has branded itself as the first climbing gym in America, and that statement is completely true. Like I said before, this place opened its doors near the end of the 80s, namely in 1987. Nowadays, it's more of a rock climbing gym chain with three different locations in Seattle, Redmond, and North. Each branch has a different website and different location, but they all pretty much offer the same level of quality and engagement.
I'm going to focus on the Seattle gym, as this is the first and the most famous one of the three. This place offers a variety of different training programs for both youngsters and adults, including month to month youth programs, introductions into bouldering, single-day camps, and facility tours. You can visit Vertical World from Monday to Friday between 6AM and 11PM, or during the weekends from 8AM to 8PM.
As far as memberships go, an All Access EFT will set you back $75/month, but you can also add a youth add-on to that for an extra $30, as long as the youngster is 13 or younger. You can also rent shoes and harnesses for $6 and $4 respectively, which is not incredibly expensive in my book. The official gym rates at Vertical World are relatively affordable.
Pricing at Vertical World.
Daily Rate for Non-Members $20.
10 Visit Punch Card $180.
One Month Pass $88 (Valid at Seattle Gym Only).
Youth Daily Rate $16 (13 and under).
10 Visit Youth Punch Card $144.
Student Monthly Pass $60 (Valid at Seattle Gym Only).
Apart from your regular climbing sessions, you can also enjoy fitness and yoga classes, as well as personal training courses guided by a professional.
As far as reviews are concerned, Vertical World Seattle has a rating of 4.6 stars on Google Reviews, and that's from a total of 300+ visitors at the time of writing. Most people praised the high walls, friendly staff and good vibes. As for downsides, someone mentioned a very low first clip, as well as a slightly disappointing bouldering area.
Personally, I can put up with a waiting line, a slightly unreachable location or a higher than average entry price as long as there's a good vibe inside, I'm treated respectfully and I have a good time. From what I can gather, Vertical World Seattle meets these important criteria, so I would definitely encourage you to give this place a try.
3. The Spot Bouldering Gym in Denver.
The official full address for the Spot Bouldering Gym is 1235 Delaware St, Denver, CO, United States. I decided to include this gym into the list because it's a relatively new one, so it contrasts nicely with the very old one I described above. It opened up in Spring 2019 so the equipment is in very good shape and the gym is doing its best to improve and preserve a good reputation. Therefore, the staff is incredibly friendly and helpful, and the rates aren't that bad at all.
According to The Spot's official Facebook page:
"The Spot Gym Denver opened in spring 2019 as a premier bouldering facility in the Golden Triangle neighborhood of downtown Denver. Continuing the tradition of our original location, The Spot Denver will bring our flavor – great routes, supportive and inclusive community, epic events – to the cultural center of Denver in the Golden Triangle."
So I had a look around their website and found out a few stuff that you might find interesting. The Spot in Denver is vastly superior to the one in Boulder, at least when it comes to size. This new rock climbing gym occupies 19,000 sqft of space, and its walls are as tall as 18 feet. Actually, two-thirds of the gym feature bouldering walls, while one third has fitness equipment and climber training tools.
The good news is that if you already have a membership pass from the Boulder facility, it will work with the Denver gym as well. As far as rates are concerned, they are exactly the same in both gyms.
Pricing at the Spot Bouldering Gym.
Daily access passes – $19/day for adults.
Daily access pass – $15/day for students.
Daily access pass – $12/day on Fridays.
You can rent shoes for $5 per day.
Monthly passes cost $82/month for adults.
Monthly passes cost $72/month for students.
There is a $50/month for youth monthly passes.
Punch passes are available at $82 for a five-day pass.
As far as reviews go, people are generally satisfied with The Spot's location, facilities, and overall vibe. The best thing about this rock climbing gym is that it offers a wide variety of courses for both beginners and pros. There's something for everyone whether you're old or young, new or experienced, and I think that's what makes The Spot shine when compared to other facilities.
4. Central Rock Gym in New York.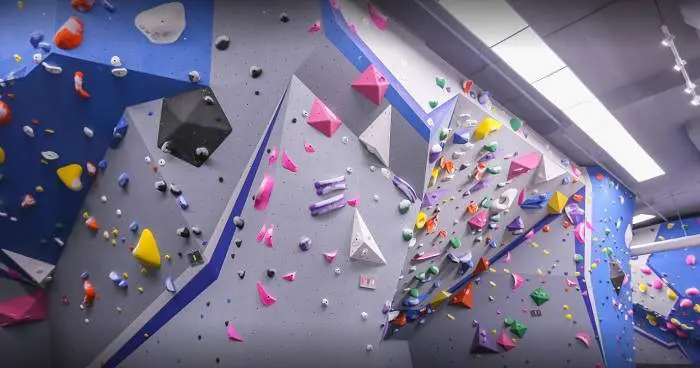 At this point, I think we should give East Coast-based climbers some love and talk a bit about one of New York's most appreciated rock climbing gyms, namely the Central Rock Gym in Manhattan. As we all know, Manhattan is New York's richest boroughs, so it makes sense for this gym to have slightly higher rates when compared to the ones we presented so far. True enough, this climbing gym is a bit expensive, but I don't think the pricing is anything out of this world, especially considering its location and the facilities that are on offer.
The Central Rock Gym is located at 21 West End Ave. New York, NY 10069, and it mainly functions as a bouldering facility. This means that you don't need to be experienced in climbing or rope work in order to enjoy your time here. First-timers will also find this place very friendly, as there are plenty of facilities on-site designed to ease into climbing. Overall, there are 400 linear feet of bouldering available at the Central Rock Gym.
Moreover, there's also a 40ft. tall climbing wall equipped with 13 rope stations, which is available throughout the day. The staff can also provide top rope classes, lead climbing classes, and other forms of training should you require it. Youth climbers are welcome but only from MON-FRI 6 am-6 pm and SAT-SUN 8 am-3 pm. Anyone who is aged 14 or more can visit the climbing gym during regular hours.
I should also mention some of the other conveniences available at this climbing gym, such as the fitness area, free WiFi, climbing gear shop, weights, and the two auto-belay stations. Now that you know all of this, let's see what you think about the rates.
Pricing at the Central Rock Gym.
A standard day pass costs $33.
A discounted day pass is $26.
A kids' day pass (5 and under) is $25.
Rental gear such as shoes, harnesses, belay devices, and chalk cost around $7 or $5 for members.
There are three membership types available, starting with Standard Membership at $125 per month, available for ages 23 and older.
Discounted memberships for ages 22 and under, or for active military members is $99 per month.
Family memberships for two individuals will set you back $205 per month.
Pricing is definitely on the expensive side, but people seem to be content with the overall cleanliness of the gym, its spaciousness, and the professionalism of the staff members. At the time of writing, the Central Rock Gym in Manhattan has a rating of 4.8 stars, which is near perfect.
5. Climb Nashville West.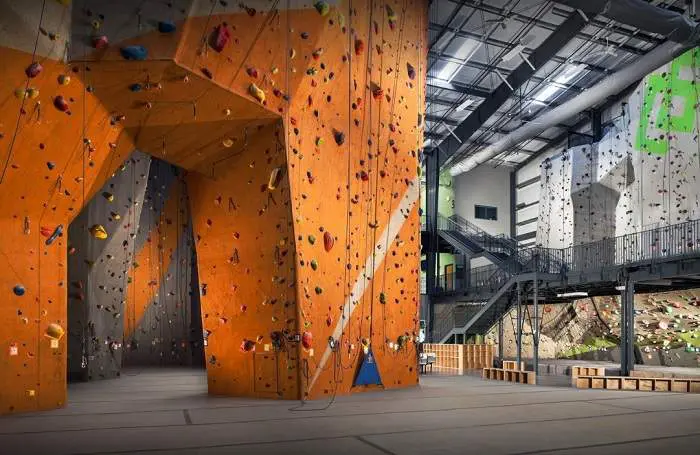 We're moving on to the beautiful South, at 3600 Charlotte Ave, Nashville, TN to be precise. That's where you'll find Climb Nashville West, one of the most renowned rock climbing gyms in Nashville. Now I've never been there, but I have a friend who used to practice rock climbing almost every week at Climb Nashville West, and I'll tell you exactly what he told me: that place is impressive.
What makes it impressive, though? Not its website, which was a bit of a mess when I visited it, but the sheer size of the gym, its friendly staff, the adaptive climb sessions that happen there once a month, and the emphasis on safety. The walls are very high, or they would seem that way to a beginner anyway. The hours are Monday-Friday | 5 am-10 pm
Saturday | 9am-10pm and Sunday | Noon-10pm.
Aside from climbing, you can also enjoy fitness and yoga over there, and you can even hire a personal trainer or a nutrition specialist. As for available programs, there's a youth team, a high school league, yogi rockhoppers (sounds fun!) a climb league and even a summer camp.
Pricing at Climb Nashville West.
When it comes to rates, there are multiple options available, as well as gear rental opportunities. Here's the full pricing list:
A Day Pass is $17, which is considerably cheaper when compared to the New York gyms.
A Day Pass with gear included is $23.
An introductory course on climbing is $27.
Youth passes for 12 and under are $15. If you also want a harness, it's $17.
Five-visit passes are $70 and five-visit passes with gear included are $100.
Student night passes available at $12 and $15 with gear included.
You can rent a harness for $4, shoes for $5, and chalk bags for $3.
A belay lesson is $10 and helmets are provided free of charge.
Climb Nashville West has 4.8 stars on Google Reviews, and people seem to appreciate its overall quality and ambiance. The courses are challenging enough even for experienced climbers, and the kids always seem to have a fun time over there. The only critique is that this climbing gym can get a bit crowded at times, so if you can, just try to visit it at less popular hours such as mornings.
6. The Stronghold Climbing Gym in LA, California.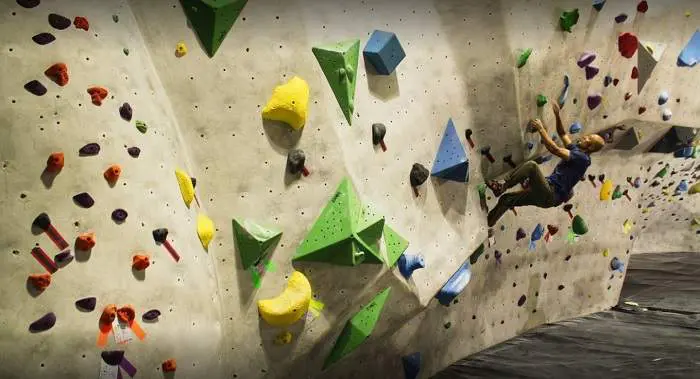 The Stronghold is another impressive climbing gym, but this time around it's located in California. It looks like Californians are highly passionate about climbing and the outdoors, as there is a generous number of gyms available across the state. As for The Stronghold, it is located at 650 S Avenue 21, Los Angeles, CA. Parking is a little tough in the afternoon, as Avenue 21 gets a bit crowded at peak times.
The main activities that you can engage in at The Stronghold include climbing, with an impressive array of professionally-set routes and walls as high as 46 feet. This area is ideal for top-roping, lead-climbing and solo-training with auto belays.
There's also a dedicated fitness area on-site with body-weight training equipment, cardio stations, and even yoga classes. Among other things, you'll also find saunas at this climbing gym, as well as towel service, retail area, showers, a climbing library, and relaxation spots.
Pricing at The Stronghold.
A day pass for adults is $25 and $20 for youth.
For Yoga and Fitness only, the pass costs $15.
Annual memberships are available at $924 for adults and $814 for youth.
Family annual packs for 2, 3, and 4 members cost $1738, $2442, and $3036 respectively.
Monthly rates for adults, youth, and students are $84, $74, $84 respectively.
You also need to pay $20 per month for gear.
Monthly memberships for families of 2, 3 or 4 members cost $79, $74, and $69 respectively.
You can rent an entire gear package for $5. Alternatively, shoes cost $4, a harness is $2 and chalk is $2.
According to Google Reviews, this place is great if you're looking for a welcoming climbing community, a great vibe, and some great climbing facilities. The gym has a total score of 4.8 stars at the time of writing with a little over 130 reviews.
Final thoughts.
I probably could go on and on listing all of the best climbing gyms in the US and their unique features. However, I've decided to keep this article at a reasonable length. I should note that I am not affiliated to any of these climbing gyms, nobody's paying me to promote them.
I wanted to put together a well-structured guide that includes some of the most important information about US-based rock climbing gyms so that you might find it easier to choose one during your travels. I hope I managed to help you out. Also, the pricing figures are the ones that I found on the gyms' websites at the time of writing, which was around the start of 2020.
As always, if you have any thoughts or suggestions, feel free to get in touch.