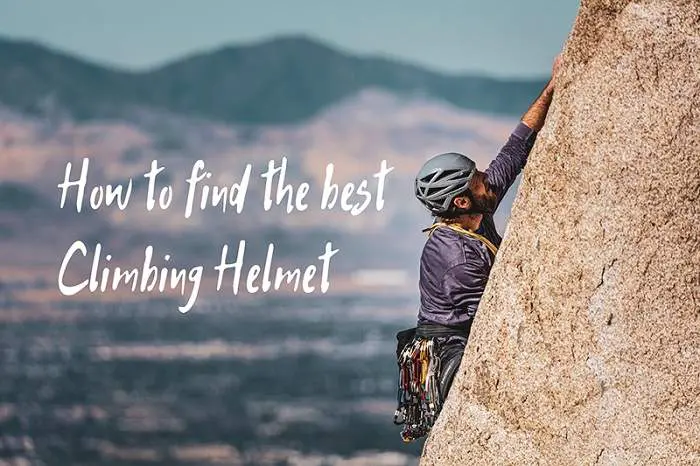 Everything you need to know about climbing helmets.
The climbing helmet represents the most important piece of gear in the entire segment, and I'm not even exaggerating. Not that I'd recommend you do this, but you could theoretically skip on a few other pieces of climbing or rappelling gear as long as you still wear a high-quality helmet. Nothing is more important than protecting your head, especially in an environment where you risk banging it against hard surfaces or even having rocks falling on it.
This goes for pretty much any outdoor activity that involves a slight degree of risk. People use climbing helmets for many other associated activities, including canyoneering, mountaineering, arborist work, rappelling, hiking and more. While you can use a climbing helmet while practicing the aforementioned activities, you should not use other types of helmets because they're just not designed for the job. For instance, you should definitely NOT use a biking helmet for climbing, as those helmets were not designed to provide protection after an impact.
I've said it before and I'll say it again: always use the right piece of gear for the right activity. Climbing helmets will provide protection even after an impact thus allowing the wearer to carry on with the climb or to go back down safely. That doesn't mean that climbing helmets are indestructible or that you should stop paying attention to your surroundings while you wear one. They are made from different materials and come with different designs, all of which we'll touch on in just a moment.
Keep on reading to learn how to find the best climbing helmet this year, and what to look for when you're trying to buy one. I'll also tell you about the different styles available, the differences between brand technologies, and the importance of breathability and lightness. I want to start with some actual examples, though, in order to help you pick the right one right away. I also decided to include some climbing helmets for kids on the list, just in case you want to take a young one with you out there.
First off, a comparison table.
| Name | Weight | Construction | Highlights | Price |
| --- | --- | --- | --- | --- |
| Petzl Sirocco | 5.9 oz | EPP foam shell/EPS foam crown | Extremely Lightweight | $$$ |
| Black Diamond Half Dome | 1 lbs | co-molded EPS foam/low profile polycarbonate | Sturdy yet Affordable | $ |
| Petzl Meteor | 7.7 oz | expanded polystyrene (EPS) foam liner/polycarbonate shell. | Top and Side Protection Label | $$ |
| Mammut Wall Rider | 8 oz | EPP impact foam | MIPS Brain Injury Prevention | $$$ |
| PETZL Picchu for Kids | 21 oz | injection-molded ABS shell/polystyrene liner | All the main certifications | $ |
| EDELRID Shield II Kids | 8.8 oz | expanded polystyrene foam core/polycarbonate shell | Wing-Fit system | $ |
| Petzl ELIA Helmet for Women | 10.1 oz | ABS shell/expanded polystyrene liner. | Versatile Women's Helmet | $ |
| Fusion Meka Work Climbing Helmet | 11.2 oz | ABS/Heavy metal mesh | High Quality Suspension System | $ |
1. Petzl Sirocco Ultra-Light (Lightest climbing helmet).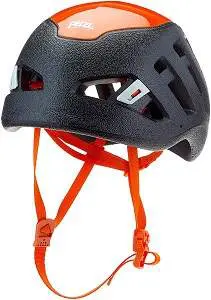 I wanted to start off with something truly exceptional. A climbing and mountaineering helmet that doesn't just offer amazing protection but also excels at ventilation and comfort. In truth, it's going to be hard to find a helmet that's just as good as the Petzl Sirocco, but then again, not everyone is willing to spend nearly $140 on a helmet, even an amazing one.
I want to tell you that it's worth it, though. The Sirocco weighs in at just 170 grams or 5.9 ounces, which makes it one of the lightest climbing helmets in the world. It might very well be the lightest period, but I might be wrong. Since it's a Petzl helmet, it incorporates some impressive technologies and unique design.
It features a hybrid build with an EPP foam shell complemented by a sturdy crown injected with EPS foam. The design itself covers the top, front, and rear parts of the head for optimal protection, while the sides offer much-needed ventilation. That's not to say that the side of the head is not protected, mind you.
As far as adjustability goes, there's a headband and a chin strap with a patented magnetic buckle. For headlamps, Petzl implemented two hooks as well as a rear elastic. It's not the most high-tech system out there, but it works very well. The Petzl Sirocco measures 14 x 14 x 7 inches, and it comes in a single Black/Orange colorway.
2. Black Diamond Half Dome (Best budget climbing helmet).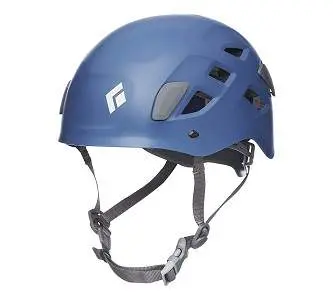 Black Diamond has been manufacturing the Half Dome for quite some time now, and it is still one of the best climbing helmets you can get your hands on today. While considerably heavier when compared to the Petzl Sirocco, it's also a lot cheaper depending on where you get it from. The helmet weighs in 16 ounces, and it measures 11 x 9 x 6 inches.
The reason for the extra weight is the co-molded EPS foam build and the low-profile polycarbonate shell. The model that I'm presenting right now is an updated one, which means that it comes with a new low-profile suspension system. One of the main highlights of the Half Dome is that it has a one-handed fit adjustment dial, as well as a very easy to operate chin strap.
It's a comfortable climbing helmet despite its weight, and it is pretty much perfect for short climbing sessions or practice runs. Available colorways include Slate, Rain, Denim (pictured) and BDO Orange.
3. Petzl Meteor (Best low-profile climbing helmet).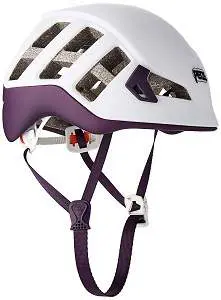 If for some reason, the Sirocco isn't your cup of tea, or maybe it just isn't available when you want to purchase it, you can always go for the most obvious alternative: the Petzl Meteor. This helmet is slightly heavier when compared to the Sirocco, as it tips the scales at 220 grams or 7.7 ounces. It measures 15 x 11 x 7 inches, by the way, and it offers plenty of ventilation courtesy of the holes present on the sides.
This is a low-profile helmet that was created using an In-Mold technique. It has an expanded polystyrene foam liner as well as a very light polycarbonate shell, both of which offer exceptional protection on the top and sides of the head. Actually, another main difference between this helmet and its competitors is that it boasts Petzl's own TOP AND SIDE PROTECTION label. Furthermore, the front part is fully compatible with ski goggles, just in case that's important to you. The product is also fully compatible with both SKREEN and VIZION eye shields.
Available colorways include Red/Orange, Gray, and Violet.
No products found.
4. Mammut Wall Rider MIPS (Best at preventing brain injuries).
Definitely one of the more expensive suggestions on this list, the Mammut Wall Rider is also one of the fanciest and most comfortable products of its kind. Is the price justified? I think it is, mainly because it's so difficult to find any flaws with this thing.
Starting off with the design, this is the very first climbing helmet to have Mammut's patented MIPS technology, which is supposed to ensure an extra layer of safety. Apparently, the way this technology works is by redirecting and absorbing part of the impact force whenever the helmet is subjected to an angled impact. The system relies on a low friction layer that allows the helmet to slide a bit relative to the head. With this technology, Mammut aims to reduce potential brain injuries, and that's definitely commendable.
While most climbing helmets are able to protect your head from low to medium impact, few can claim to protect the brain as well, at least not directly. The product weighs just 8 ounces, and it boasts an EPP impact foam. It is well-suited for sport climbing and trad climbing, and it is available in two different sizes and a single White/Black colorway with yellow accents. Official measurements are 11 x 9 x 7 inches.
No products found.
5. PETZL Picchu (Best climbing helmet for kids).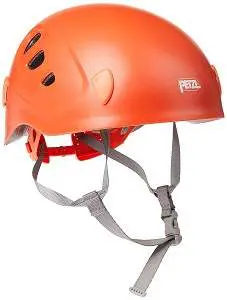 The PETZL Picchu was my absolute favorite pick when I had to buy helmets for my young niece and nephew. Available in two colors named Coral and Raspberry, the helmet works well for both boys and girls. Actually, the manufacturer claims that this product is well-suited for all kids aged 3 to 8. Indeed, in my experience, it is easily adjustable and offers plenty of comfort and ventilation.
As far as protection goes, the Picchu has a myriad of certifications, including E EN 12492-UIAA (climbing), CE EN 1078 (European cycling), and CSPC for children 5+ years old (US cycling). It boasts an injection-molded ABS shell as well as a polystyrene liner. As an added bonus, the foam is completely removable and washable. For night-time climbing, there's also a special mount that can accommodate a SiGNAL red light, as well as a headlamp.
The Picchu weighs in at 20 ounces, and it measures 12 x 10 x 6 inches.
6. EDELRID Shield II (Best softshell climbing helmet for kids).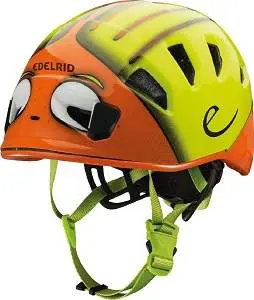 Helmets from well-known brands are covered extensively, and I don't want to beat the same drum as my fellow experts. If for some reason you don't want to go for the Picchu, you can always have a look at the Shield II by Edelrid. It's a very good alternative if you ask me.
This kids' climbing helmet features a lightweight in-mold build based on expanded polystyrene for the foam core and durable polycarbonate for the shell. It also offers an adjustable chin strap with an interesting closure system located under the ear. In terms of ventilation and airflow, there are several large vents on the sides that ensure plenty of air exchange.
In order to make sure that their product would fit all head types, Edelrid implemented an improved Wing-Fit system and a rear adjustment dial. The interior padding is removable and washable, which is always nice. I can't say for sure that this helmet is just as good as the Picchu, but it definitely seems to tick all the right boxes. As far as reviews go, it is one of the most appreciated climbing helmets for kids, no doubt about it.
The Shield II weighs 8.8 ounces and measures 11 x 10 x 9 inches. It comes in a single Sahara/Oasis colorway based on shades of orange and light green.
7. Petzl Borea (Best climbing helmet for women).
Some women don't prefer unisex helmets because they either don't fit properly or they don't offer enough comfort. If you'll read this article until the end, you'll see that I covered the main differences between unisex and women's only climbing helmets.
In the case of the Borea, the main difference is that it is a smaller helmet, and it boasts a brand new Omega headband system that makes putting the helmet on and taking it off a lot easier. Moreover, this women's climbing helmet has a practical design that can support a ponytail without any issues. Even though it doesn't offer as much protection on the sides as other helmets do, Elia still boasts a very durable ABS shell as well as an expanded polystyrene liner.
It is fully compatible with headlamps and VIZION eye shields, which makes it a versatile and affordable choice for beginners. The Petzl Borea weighs in at 10.1 ounces, and it measures 10.2 x 8.3 x 6.3 inches. It comes in two main colorways named Violet and Green, and in two different shades of White.
8. Fusion Meka (Most versatile climbing helmet).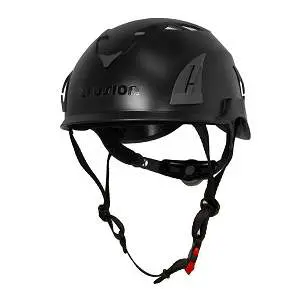 Remember what I said before about affordability? If you're looking for a cheap climbing helmet that will still offer a decent amount of protection, I think the Fusion Meka is a very nice choice. This helmet costs half as much as other offerings, and yet it might actually fit you better and provide just as much protection.
Some people use the Meka for climbing and rappelling, while others use it for tree work. The product has 10 ventilation areas, which makes it well-suited for hot environments. However, if you do plan to wear it on a hot day, I would advise you to get the White or Orange colorways instead of the Black one, even though the black looks the best in my opinion.
You can also mount two hearing protectors on it, which is always a nice feature to have. The helmet measures 6.25″ H x 10.3″ L x 8.25″ W, and it weighs just 11.2 ounces. It is an incredibly durable and reliable product, which means that its manufacturers didn't sacrifice quality in order to bring the price down.
Foam types and shell types in climbing helmets.
In order to get to know your gear better, you need to learn what goes into its composition and how these materials perform when subjected to stress or impact. When it comes to climbing helmets, they each have some form of foam protection on the inside, as well as a durable shell on the outside.
What are the main foam types used in climbing helmets?
There are two main different types of foams for the interior lining, namely Expanded Polystyrene (EPS) and Expanded Polypropylene (EPP). They both provide very good protection in the event of an impact, but they behave completely differently afterward. Let me explain:
Expanded polystyrene is one of the oldest solutions for shock absorption in climbing helmets. It has worked very well for decades, and many brands are still relying on it to this day. Why fix something that isn't broken, right? The thing is, while EPS provides very good protection, it is incredibly susceptible to shattering. This basically means that once your helmet has been hit, it has already lost most of its protective properties.
Consequently, EPS-based helmets will need to be replaced more frequently than EPP ones. There's a difference in pricing as well to reflect this, but we'll talk about that a bit later. If you own an EPS helmet, you need to check its insides frequently for cracks. If you see any, get a new one. Simple as that.
In the case of Expanded Polypropylene, this material was designed to absorb shocks without shattering, which already makes it better than EPS. It's widely regarded as a clear step forward, both in terms of durability and lifespan. However, many manufacturers are still hesitant to use it. Perhaps it's not its time yet, but EPP will surely replace EPS in the next few years, especially if manufacturing costs go down.
EPP is so strong that it doesn't even require a shell on top. Brands still choose to implement a shell on their helmets, though, for even more protection and to improve aesthetics somewhat. The list above includes offerings from both categories, but as you probably expect, EPP climbing helmets are more expensive than EPS ones. They last longer, so they make for better investments, but that's just my personal opinion.
Moving over to the shell types.
The shell is the helmet's outer layer, and it too has a role in protecting your head. We have two main types of materials here as well, namely Polycarbonate and ABS.
ABS is a cheaper and more basic choice. Helmets with these types of shells provide adequate protection, but the shell is generally thicker and heavier when compared to polycarbonate shells. These helmets can become uncomfortable when worn for extended periods on the rock face, so if you're planning to multi-pitch or climb for hours at a time, a polycarbonate shell is probably a better choice.
Polycarbonate is lighter, which makes the helmet more comfortable in the end. However, they are more fragile than ABS helmets, so they need to be treated with better care. In the end, it's up to you to decide if you want as much durability as you can get or if you value comfort and lightness more. I repeat, it also depends on the type of activity you're about to perform.
Is a ski helmet a good replacement for a climbing helmet?
I feel we should touch briefly on this. While I did mention already that you should only use climbing helmets for climbing, there is an exception to be made with ski helmets. Let me be clear: I still think you should go for a conventional helmet if you're planning to practice climbing exclusively. However, if your skiing trips involve a lot of climbing, there are a few ski helmets out there that you might want to take into account, including the CAMP Speed Comp that I presented above.
What's the difference between men and women's climbing helmets?
Most climbing helmets offer a unisex design. They're suited for both men and women, and since they're all easily adjustable, they will fit smaller and larger heads. However, some brands have decided to offer specific helmets for women, so what makes these helmets better suited for females? The most important thing that I could find was a slight design adjustment to accommodate ponytails.
While this is not a feature that's been requested often, and it's true that it's not mandatory by any stretch, it might be appreciated by some women out there. Other ladies' climbing helmets simply have different colors. I wouldn't bother too much with this, as there are other more important aspects to consider when buying a climbing helmet.
Comfort and ventilation.
A good helmet needs to be comfortable and provide a good amount of ventilation. Ideally, you shouldn't even notice that you have it on, but that's going to be hard even with the lightest versions out there, all because of the straps and so forth. However, keep in mind that if a helmet is not comfortable, you're going to have a very hard time wearing it. Heck, you might choose to not wear it at all, and that comes with its own set of risks.
It might not be the manufacturer's fault every time, though. Depending on the shape of your skull, some helmets will be better suited than others. Something that all helmets should have is proper ventilation, though. Having a hair full of sweat is nobody's idea of a good time while climbing, but fortunately, pretty much every major brand out there offers helmets with plenty of vents.
I should note that if you plan on climbing in particularly harsh conditions and wet climates, you should probably look for a product that has as fewer holes in it as possible. Too much ventilation in alpine environments doesn't sound particularly useful or comfortable.
Are all climbing helmets compatible with headlamps?
I'm actually happy to say that the vast majority of them are. Modern climbing helmets are compatible with headlamps, and for good reason: headlamps are useful and you'll find it very difficult to climb or hike without them once the sun goes down. However, there are certain differences between helmets when it comes to the securing mechanism.
Some helmets come with rear straps that make attaching a headlamp a walk in the park, while others feature slightly more challenging attachment points based on clips. At the end of the day, you'll want your headlamp to fit securely in its place, even if that means you have to work a bit harder to fix it there. Still, both of these systems work quite well, so again, it's all up to you to choose between them. Just make sure to inquire about the securing mechanism before you commit to a purchase.
How can you tell if a climbing helmet fits properly?
There are a few ways to find out if a climbing helmet fits just right. First of all, an ideal fit means that the helmet will not bob around while you move your head, but it also shouldn't be too tight as to prevent blood flow or cause pain. Keep in mind that all helmets come with two straps, one that goes all around the head while the other goes under the chin.
Adjust these straps accordingly until you believe that you have found the right fit. Then proceed to test out the helmet by nodding and shaking your head. If there's no movement and you feel comfortable while doing the movements, you should be good to go. If not, look for a different size or a different model. Fortunately, pretty much all helmet models come with two sizes.
Do you need to wear a helmet each time you go climbing?
The short answer is: definitely. The long answer is that no matter what type of climbing you plan to perform, whether we're talking about cragging, alpine climbing, multi-pitch climbing or even practicing at the gym, it's always important to wear a helmet. You never know what might fall from above: rocks, debris, objects dropped by other people, rope ends, faulty anchors.
Climbing, rappelling, caving: these are all risky and potentially dangerous activities. Never put your well-being at risk just because you want to feel comfortable, or you don't like the way a helmet looks on you. Climbing is not a comfortable activity, nor is it glamorous or flattering. It's a battle between man and nature, and nature can win so easily if you don't take precautions. Wear your helmet! Always!
What kind of climbing helmet should I wear while multi-pitch climbing?
In order to get the most out of your gear, make sure that it can handle whatever you're about to throw its way. In the case of multi-pitch climbing, choose a protective gear piece with EPP foam, as those are the lightest and will ensure the most comfort.
Remember that you'll likely spend hours at a time on the wall, so ventilation is also important. Ideally, you should wear a headpiece that weighs less than 10 ounces and has an adjustment system that can be operated with a single hand. You'll also need a headlamp, most likely, so pick a helmet that offers secure and easy attachment options. The Petzl Meteor that I described above is always a good choice.
What about Alpine Climbing?
Alpine climbing can take you far away from your camp or car, which is why you'll need the most dependable gear that you can find. A malfunction or a mishap can put a stop to your entire trip, and this can cause you to lose precious time and money, to say nothing about potential injuries.
No need to risk it, just go for an incredibly durable helmet with EPP foam such as the Petzl Sirocco and you'll have plenty of peace of mind.
What is the best helmet to use while cragging?
There are plenty of climbers who don't wear helmets at the crag. Personally, I'm not okay with that, because there have been a few accidents involving poorly-protected climbers, even during single pitch climbs. While you could get away with not wearing one, you will be putting yourself at risk, especially in areas where rockfalls are known to be abundant.
if you do decide to wear a helmet while cragging, you can go with a slightly cheaper option such as the Black Diamond Half Dome. Ideally, you should wear a helmet with an ABS hardshell and EPS foam, especially if it doesn't break the bank. Going for a highly expensive helmet for cragging might be a bit overkill. Of course, you can never really have too much protection, but common sense dictates that cheaper options will be enough in this case.
Conclusion.
If you managed to read all of this, I want to thank you and congratulate you! Your commitment to safety and proper procedure will definitely help you perform better as a climber, as it helped me so many times. I hope that you now have a better understanding of climbing helmets and why they are such important pieces of climbing gear. Also, I hope that I helped you pick one that's perfect for your needs.
If you have any suggestions or you would like to add something from your own climbing experiences, feel free to get in touch.