Let's find out what are the best waterfall locations for rappelling.
Waterfall rappelling is an art, but it's definitely not for the faint of heart. If you're a beginner, it's probably a good idea to just read our rappelling guide and practice the regular version for a while, but as long as you know what you're doing, waterfall rappelling can be an incredibly rewarding experience. Below you'll find some of the best locations in the world to waterfall rappel, as well as a few general guidelines, just to keep things safe.
Things to consider before attempting a waterfall rappel:
Make sure that you're wearing grippy shoes. The activity is dangerous enough without adding moisture and slippery slopes in the mix, which is why wearing proper footwear should always be a priority.
Use a wide stance in order to maintain balance, and try to keep your legs in front of you as you move down as if you were lounging in a chair.
In order to slow your descent, keep your braking hand close to your hip area.
Make sure that your feet are at the same height as your hips, and lean back as much as possible as if you were standing on a wall.
Now that the guidelines are out of the way, let's check out some great waterfall rappelling destinations!
1. Waterfall Rappelling Costa Rica.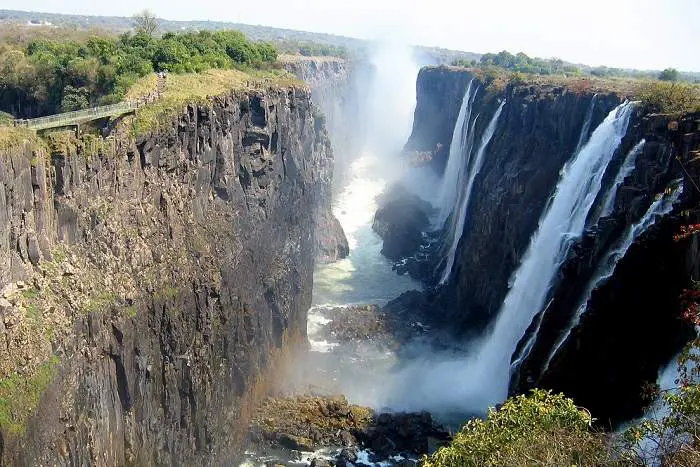 Costa Rica is probably the best place in the world for a great waterfall rappelling experience. This is actually one of the country's most popular adventure sports, and it features plenty of available destinations. Whether you're a nature lover or a thrill-seeker, this is definitely something that you should try if you happen to find yourself in Costa Rica. Families and couples are encouraged to give it a try as well, especially since most of the available waterfall locations have professional guides and instructors that make sure everything goes smoothly every time.
Now about those destinations, you can waterfall rappel in Guanacaste & the North Pacific, namely at the Victoria Waterfall. You'll go on a horseback riding trip for 45 minutes before reaching the waterfall, and you'll also be able to rappel down the rocky cliff face once you're there. Alternatively, you could try out Indian Falls and take on a 90-foot plunge, or tackle the "monkey-drop" as you freefall into a natural pool.
Then there's the Arenal and its isolated canyon, which offers a 150-foot waterfall just ripe for rappelling. The actual fall is more than 15 stories, but that's not even the main attraction. Those of you who are really looking for an adrenaline-pumping experience should try out the nearby 210-foot waterfall.
2. Canyoning in Malaga, Spain.
Moving on to a European waterfall rappelling destination, we reach Malaga in Spain. After a two-hour trip from the Province of Malaga, you'll reach several beautiful canyons, which offer some thrilling rappelling opportunities for those who are brave enough to attempt them. A great example is the Almanchares Canyon in the Sierra Tejeda National Park, which includes some of the tallest and most beautiful waterfalls in the region. Overall, the Park boasts more than 14 rappelling courses with various difficulty levels.
After you're done with the Almanchares Canyon, you can move on to more challenging adventures at Barranco Moreno and Las Buitreras. Barranco Moreno is particularly known for its high waterfalls, narrow pathways, and high jumps, while the canyon of Las Buitreras is famous for its narrow roads and difficult paths.
3. Jogini Waterfall and Kundalika Waterfalls, India.
Waterfall rappelling in India? Sure, why not? The place is filled with top-notch holiday destinations anyway, so might as well give it a try if your journeys take you there. There are plenty of opportunities for waterfall rappelling in India, but we're going to focus on two of them for now, namely the Jogini Waterfall and Kundalika Waterfalls.
Starting off with Jogini, you should know that it is reachable after a very picturesque ride through apple orchards and pine forests. Located in Manali, the waterfall is quite a sight once you finally reach it, but keep in mind that this is one of the most difficult waterfalls for rappelling in the country. The trail starts off at Vashista Temple in Manali's Mall Road, and the waterfall flaunts a rather intimidating height of 200 feet.
Now, if you're looking for a more forgiving experience, we suggest giving the Kundalika Waterfalls a try. With a height of 150 feet, these waterfalls are ranked at moderate to difficult levels, so they're ideal for those of you who are looking for a challenge without putting yourself in harm's way too much. Furthermore, the Kundalika River is widely appreciated by water sports fans, particularly when it comes to white river rafting.
4. Maui Waterfall Rappel Tour, Hawaii.
Waterfall rappelling is a relatively new activity for Maui visitors, but it's growing in popularity every year. The Maui Waterfall Rappel Tour in Hawaii involves quite a bit of canyoneering, as you're required to "rappel over cliffs with cascading waterfalls in a rainforest canyon." The tour features a central meeting point, from which you'll be transported to a private site along the Road to Hana.
The cost is about $220 per person if you wish to participate, but you can also go along as an observer for $150. The adventure comprises three different drops, including an initial practice run on a 60-foot slope. Then you will have to tackle a 50-foot waterfall under professional guidance before reaching the second waterfall drop, which is 30-feet tall.
Definitely not a bad way to spend some time in Hawaii, right?
5. Ripley Falls, New Hampshire, USA.
New Hampshire in the US is a prime destination for waterfall rappelling, and you're about to find out why. Northeast Mountaineering is putting together a nice little tour of Ripley Falls, which involves some thrilling rappelling and hiking trips. The surrounding scenery boasts relatively large waterfalls of more than 100 feet in height. That shouldn't scare you, however, as the tour is handled by professionals who will make sure that everything goes smoothly.
What's interesting is that people of all ages are welcomed at Ripley Falls. The tour's official website states that as long as you have written permission, are fit for vigorous activity, and can fit in your harness, you're good to go. As far as pricing goes, it's $200 per person if you go alone, but pricing goes down for groups, with four people paying as low as $125 each.
6. Cascada de Juan Curi, Colombia.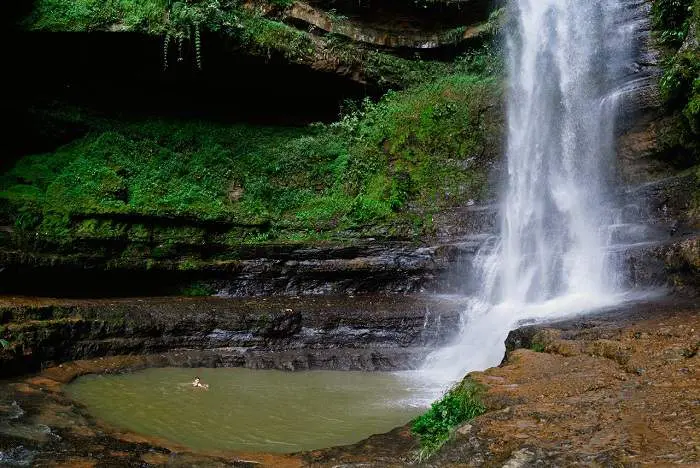 Cascada de Juan Curi is a part of the Juan Curi Park, and while some people visit it just to admire its unique beauty, some choose to rappel down its cold stream. If you're thinking about rappelling down this particular Colombian waterfall, there are a few things that you should be aware of. First of all, the entrance fee is no more than $4, which is pretty cheap if you ask me. Second, you'll have to hike for about 20 to 30 minutes before you get there, but the hiking trail is definitely not the most difficult by any measure.
The rappelling experience itself is quite enjoyable, as the drop is about 195 feet long. Keep in mind that the water can be quite cold, which might come as a shock at first. Some visitors report that they got used to the temperature quickly, but it's probably best if you do this on a sunny day. At the bottom of the waterfall, there's a small pool, which offers a perfect opportunity to relax after a thrilling rappel.
7. Santa Rosa Waterfall, Guatemala.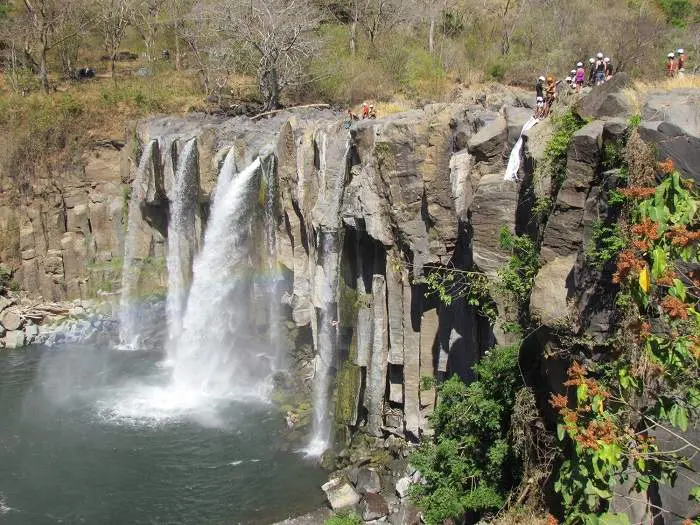 The Republic of Guatemala is a country in Central America, and it is actually the most populated state in the region. When it comes to tourism, the country's economy relies heavily on it, which is why more and more visitors come to this country in search of relaxation, thrill, or sightseeing opportunities. There is a well-known waterfall in Guatemala that's quite popular with rappelling enthusiasts. We're talking about the Santa Rosa Waterfall, which is one of Central America's most unique landmarks.
Waterfalls in this part of the world are normally thin and tall, while Santa Rosa is quite wide and surrounded by a plain with a few trees. Days can get quite hot at Santa Rosa, but there's a small natural pool at the bottom of the waterfall that can be used for cooling off and such.
No word on pricing for this particular adventure, unfortunately, as there are multiple agencies that provide tours to Santa Rosa. When you do pick one, however, make sure that waterfall rappelling is actually included in their program, as some tours only allow you to look at the waterfall and swim in the aforementioned pond.
8. Avocat Waterfalls, Trinidad and Tobago.
While not a dedicated waterfall rappelling destination in itself, the unique adventure at Avocat Waterfalls does include an impressive rappelling opportunity that you shouldn't miss out on. The tour is basically a fun hike, but it eventually takes you to the 72-foot tall Avocat Waterfalls. Rappelling is optional here, so you can just go down and enjoy a relaxing swim in the natural pool at the base of the falls.
The entire tour costs just $34 per person, but there are a few things that you should know before starting. The meeting location is at the Roman Catholic Church in Blanchisseuse, and it's always a good idea to be there a little early, as guides are not guaranteed to wait for more than 15 minutes if someone is late.
For the hike itself, you should probably wear short pants or light long pants, and bring a swimming suit with you for the waterfall! When it comes to footwear, you can wear sneakers if you wish, or even strapped sandals as long as they are grippy. Don't get any ideas about flip-flops, though. Also make sure to bring water and food, as well as a dry change of clothes.
9. Vallée Bras-du-Nord, Quebec, Canada.
For those of you who are looking for a waterfall location in Quebec, I have a very good suggestion for you courtesy of Canyoning Québec. This company puts together various trips to Vallée Bras-du-Nord every year through October, and many of those trips include waterfall rappelling segments. Vallée Bras-du-Nord is located in the Laurentian Mountains, about 37 miles from Quebec City.
As you hike through a lush forest for about 45 minutes, a professional guide will walk you through the waterfall rappelling steps, and you'll be outfitted with everything you need to make the trip safely. You'll receive a helmet, a harness, and a neoprene wetsuit, and you'll be able to rappel down about 49 feet through a waterfall.
When it comes to pricing, the entire adventure costs $89, equipment included. Some segments of this trip are quite nerve-wracking, which is why I wouldn't recommend this tour for beginners. If you're a bit more experienced, though, go for it!
10. Banos, Ecuador.
Officially Baños de Agua Santa, Banos is a city from Central Ecuador. It is widely regarded as a top-tier tourist destination for waterfall enthusiasts. The area includes more than 60 waterfalls, and many of them are perfect for rappelling and canyoning. One of the most popular tourist attractions at Banos is the so-called "Swing at the End of the World," which is basically a swing that dangles you off a ledge. Obviously, I'm oversimplifying things, as the view is purely spectacular at the site and the experience is an unforgettable one, to say the least.
Back to waterfall locations for rappelling, you'll find many guides and tours that provide the services that you need. You'll hike up to the waterfall, you'll suit up, and you'll rappel down as the cold water crashes over you.
Even though the guides will talk to you in English most of the time, it's never a bad idea to know a bit of Spanish before you go. Pricing varies depending on the season and the length of the trip, but generally speaking, Banos is not the most expensive waterfall rappelling destination on the list.
I hope that you found this guide useful, and if you have any suggestions or would like to share your own waterfall rappelling experiences, feel free to let me know.
Other noteworthy waterfall locations around the world.
These are not necessarily locations to practice rappelling or climbing, although some of them might definitely offer facilities for such activities. I'll try my best to dig up some information on each, and I'll let you know if they're worth a visit if you're a rappelling enthusiast. Rappelling aside, I think they're definitely worth a visit at least once in a lifetime, as they are the most beautiful waterfall locations I've ever seen.
Going to Japan? Find out about Sawanobori or stream climbing!
If you're planning a trip to Japan and you're an avid fan of rappelling and climbing, I'd recommend learning a bit about the local climbing culture and what it consists of. In my travels, I've often stumbled upon the term Sawanobori, which basically translates to stream climbing. This term encompasses a wide range of activities such as traversing ravine falls, swimming through gorges, and climbing waterfalls.
Climbing up a waterfall during the summer offers a rush unlike any I've felt before. Not only do you have to pay extra attention to our surroundings and slippery surfaces, but you also have to contend with getting splashed around by a constant stream of freezing-cold water. It might sound intimidating, and I definitely wouldn't advise a beginner to try it out, but if you're relatively well-versed in climbing, you should give it a shot! Make sure to wear adequate footwear if you do, though. Oh, and don't forget about your wetsuit!
What is the best location in Japan for Sawanobori?
The highest waterfall in Japan is Shomyo, and it is located in the town of Tateyama, Toyama Prefecture, Japan. The waterfall measures 350 meters or 1148 feet in height, and it includes four stages. If you're up for a real challenge and you don't mind getting wet as you climb along, you're more than welcome to choose this waterfall as part of your Sawanobori initiation.
Keep in mind that the Japanese consider waterfalls sacred. Treat the waterfall and its surroundings with the utmost respect, listen to your guide, and enjoy every second of this unique experience!
Gullfoss Waterfall in Iceland.
The waterfalls of Iceland are famous around the world for their immense beauty. Gullfoss Waterfall is particularly noteworthy because it consists of several tiers of levels, sort of like a stairway with water flowing across it 24/7. The waterfall is located in the southwest part of Iceland, within a canyon of the Hvita river.
During the 20th century, the Gullfoss was a prime candidate for an ambitious electricity generating project. However, due to lack of funding, the project was scrapped and the waterfall was sold to the Icelandic state. It's a good thing too because the site is currently protected.
Should you go to Gullfoss Waterfall for rappelling? Probably not, but there are other things that you can do while you're out there, including snowmobiling and Geysir watching.
Plitvice Falls in Croatia.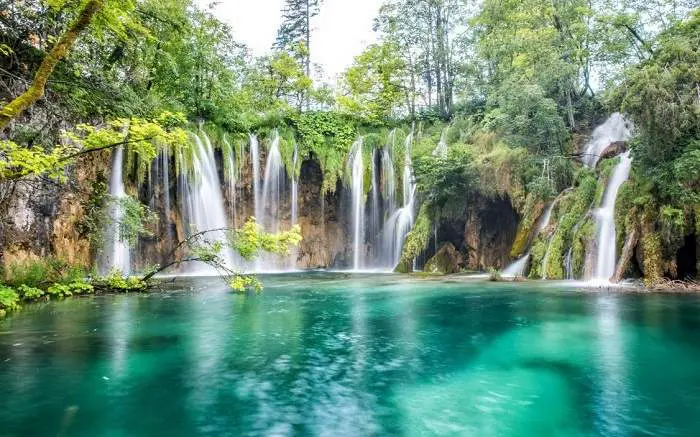 If your journeys take you through Croatia, make sure to visit Plitvice Waterfalls while you're out there. This is not a single waterfall mind you, but rather an intricate system of lakes and waterfalls in Croatia's Karlovac county. The falls are a part of the Plitvice Lakes National Park, which is absolutely massive.
Officially, you could visit the falls and admire them up close in a single day, but if you plan to really take in the sights and take some pictures, an entire tour could last you two days. You don't have to worry about accommodations, though, as there are plenty to choose from and most of them are quite affordable.
The absolute largest waterfall in the park is Veliki Slap or the Great Waterfall, which stands 255 feet or 78 meters tall.
Sutherland Falls in New Zealand.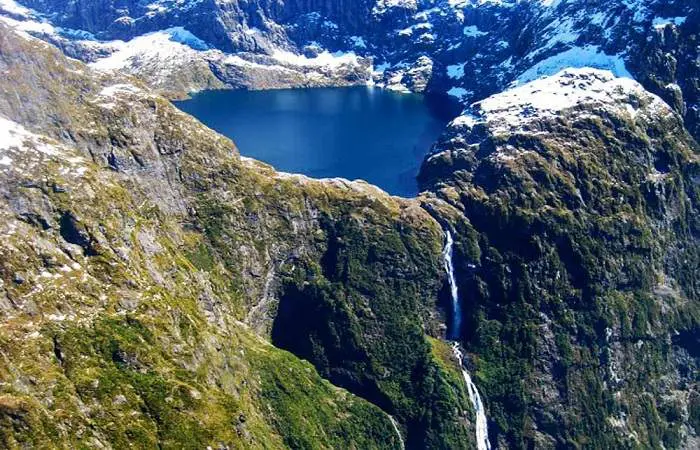 Even though it's not officially the tallest waterfall in New Zealand, Sutherland Falls comes in at a close second with a height of 1902 feet or 580 meters. The reason I chose this particular waterfall for this modest guide is due to its wonderful tiered nature, and the fact that it's incredibly remote.
To reach it, you'd have to hike quite a bit from the Quintin Public Shelter at Milford Track.  The base alone is 90-minutes away from the shelter, but the view once you reach it, and the entire experience on the road makes it all worth it. This waterfall location is almost untouched by the hand of man. It's a scenic, remote place that will inspire you, challenge you, and reward you with one of the most amazing experiences of your life.
The Horses' Waterfall in Romania.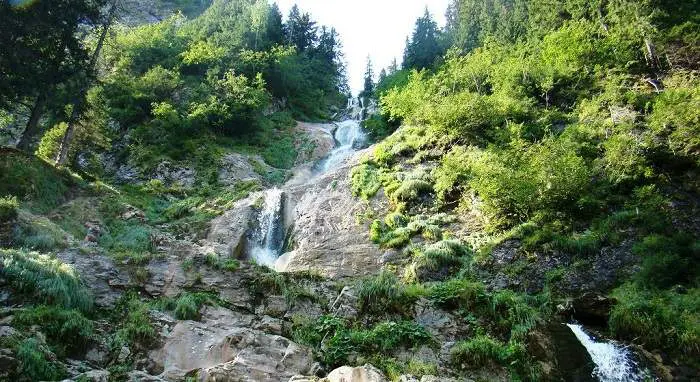 Many people tend to forget that Romania is traversed by the Carpathian Mountains. This means that this Eastern European country features some of the most beautiful forests, lakes, and waterfalls on the continent.
The Horses' Waterfall or Cascada Cailor stands out in particular. It is the tallest waterfall in the country at 90 meters or 295 feet tall, but the best part is that the site itself sits at an altitude of 1300 meters or 4265 feet. The Horses' Waterfall also has several tiers, which can be observed up close or from the nearby Borșa tourist complex. You won't be able to rappel down this waterfall sadly, there's just no local support for this activity, but I do believe eastern European tourism should receive more recognition.
Maybe just visit this place, tell your friends about it and raise some awareness?
Triberg Waterfall in Germany.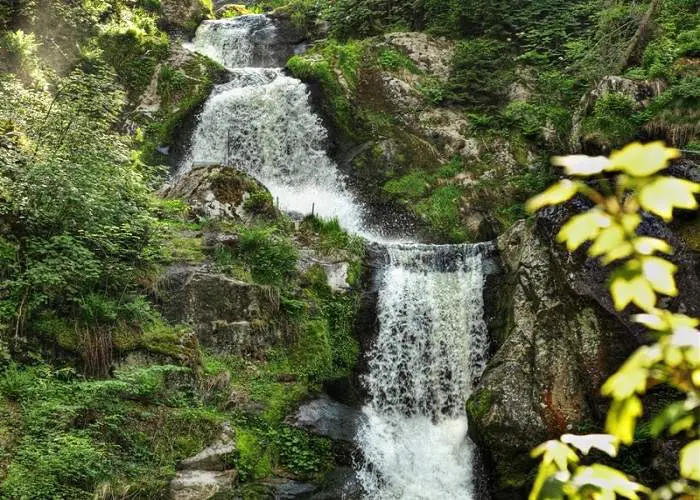 The Germans have great respect for nature, which is why I have great respect for them. By visiting Germany, you'll be able to experience the best that nature has to offer, whether we're talking about lakes, rivers, waterfalls, and all sorts of rappelling and climbing tours.
Triberg Waterfall is the tallest waterfall in Germany. It has a 163-meter or 534-foot drop, and it is frequently visited throughout the year by both Germans and foreigners. The sad part is that the top of this waterfall is not as spectacular as its lower area. There's a small and old hydroelectric power plant up there, which transforms the force of the water into electricity. The lowest four steps of Triberg Falls are particularly impressive in early spring. The water volume is higher at that time of year, so I'd recommend booking a tour in March or April.