You might think that socks are not exactly the most important apparel piece or even a mandatory piece of your outdoor gear collection, but I think that we should pay a little more attention to them. The warmest socks in the world can help you feel more comfortable and more confident when you're out and about, and I've learned this first hand when I started to experiment with different pairs in different situations. It's true that you don't have to wear warm socks all the time, or even at all if your favorite activities involve warm weather and clear blue skies.
However, for camping, hiking, skiing, trekking, and even canyoneering, warm socks can be a blessing, and you'll soon understand why. We don't give our feet enough credit for what we put them through. Choosing the right shoes for the right activity is obviously a step in the right direction, but keeping them warm is also of paramount importance. Some people just get cold feet a lot, even when it's not particularly cold outside.
This can happen for many reasons, and there are a few ways to go around and fix this problem, but I found that thermal socks are often the easiest, most obvious, and most effective solution. That's why I decided to put together this list of the warmest socks out there. In it, you'll find warm socks for women and warm socks for men, as well as unisex offerings and battery heated socks.
Warmest Socks for Women.
Women's Toasty Toes Ultimate Alpaca Socks. (Warmest Alpaca Socks)
Alpaca socks are arguably the warmest socks you can get right now, and as it turns out, they're also some of the most comfortable. The Warrior Alpaca socks for women come in six different color options, namely Pink Heather, Grey Heather, Blue Heather, White Cinder, Red Snowflake and Black Heather.
The material composition is 47 Alpaca/38 Acrylic/9 Nylon/6 Lycra. Even though they were designed with warmth in mind, these thermal socks will not make your feet overheat as they are quite breathable and 100% wool-free. They're able to handle moisture very well, and they also repel odor. Moreover, they have reinforced toe and heel areas, and they provide arch support.
It's true that they're a bit on the pricy side, but they really do deliver when it comes to warmth and comfort. While you could wear these with a pair of boots without any issues, keep in mind that they're quite thick so you might need a slightly larger boot than usual.
Suttos Women's Thick Heat Insulated Socks.
Suttos creates some of the world's warmest socks, but what makes these special is the fact that they have a practical design. Since they only go up as far as the ankle, these thermal socks won't ensure much protection for your lower leg. However, they are perfectly capable of keeping your feet warm even during the coldest conditions.
They were created using thick thermal yarn and a brushed fuzzy warm lining. They're perfect for skiing, hiking, or just for wearing indoors on a cold day. Furthermore, the smooth toe seam minimizes abrasion and enhances comfort, while a reinforced heel and toe areas ensure wear resistance. These socks are also able to wick sweat away from the body and fight odors.
If you're worried about these things sliding down from your foot, you can rest easy. They feature a ribbed stay-up top that keeps them in place all day long. There are plenty of colors available, including purple, cream, blue, and light pink. You can get these warm socks individually or in packs of three pairs.
Cashmere Cable Knit Bed Socks for Women (Warmest Cashmere Socks).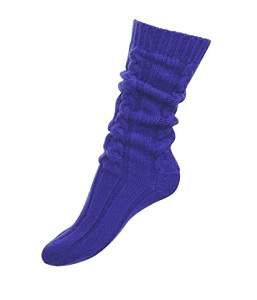 We all know that Cashmere is a premium and expensive fabric. As a result, these are some of the most expensive socks I've come across, and I wanted to find out if they're actually worth it. Apparently, these are pure 100% cashmere, and they are created in Scotland of all places.
They come with a cable knit design, which means they go up to calf length. They're available in a single size, and in a superb Royal Blue colorway. These are not socks designed for the outdoors, mind you. They're mostly for people who want to sleep in them or wear them around the house.
One issue I've come across is that they're relatively loose. They look great and all, and they feel amazing, but they can be a bit slidey at times. Overall, given the material choice, the design, and the stitching quality, I'd say these socks are worth the price. They're definitely warm, as they have a 3 ply design. I wouldn't take them hiking or anything, but having a pair like this to wear from time to time is definitely a unique experience. Maybe even a privilege.
Super Thick Women's Wool Socks by Yoicy.
More often than not, if you want your socks to be as warm as possible, they're going to have some bulk to them. Yoicy has some of the thickest socks on the market, and sure enough, they're made out of 30% wool, 45% polyester, 15% spandex and 10% cotton. This blend of materials ensures exceptional warmth as well as quite a bit of stretch.
Since they're so thick, I wouldn't recommend these socks for demanding outdoor activities, unless you plan to go out in the extreme cold. At any rate, these are women's socks, so they will fit US sizes between 5 to 10.
Considering that I'm looking at a 3-pack, these socks offer quite a bit of value for the price, especially since wool is not exactly the cheapest material. The product is available in three colorways: white, cream, and red.
Carhartt Women's Extremes Cold Weather Boot Sock.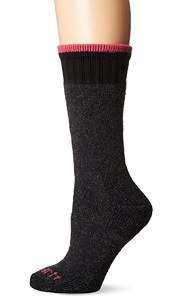 Finding the right pair of socks to wear with a pair of boots is difficult enough but when you're looking for the warmest socks for the job things get even trickier. For this particular purpose, I can only recommend Carhartt's Extremes Cold Weather Booth Sock. This product was created using a mix of 66% acrylic, 21% Merino Wool, 12% nylon and 1% spandex. It's stretchy enough to be snug and comfortable, and thick enough to insulate your feet from the cold.
Carhartt makes its socks right here in the US, and it makes sure to implement various moisture-wicking technologies to make sure that your feet stay dry. The bottom of the sock is also cushioned for extra comfort. Indeed, wearing these socks should feel like walking on clouds.
Available colorways include charcoal, denim, heather grey, and khaki.
Warmest Socks for Men.
Hot Feet Men's Active Work and Outdoors Socks.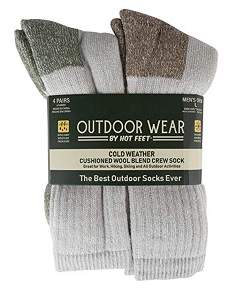 Hot Feet (that's the brand name) has some wonderful offerings available for men, including this awesome pair designed for outdoor work and general outdoor activity. You can use them for hiking and camping without any issues, but also around the house just in case you're feeling cold.
The material used for this pair of socks is a thermal wool blend complemented by an inner liner that insulates the wearer's feet without restricting breathability. Apparently, by wearing these you'll also protect your feet from blisters, which is always nice. Since they were designed for men, these wool socks will fit UAS men's sizes from 6 to 12.5. They're also easy to wash, as you can just machine wash them cold and tumble dry low. Also worth mentioning is that they won't shrink after you wash them. I find that to be a concern with some thermal socks, but that's not the case here.
There are a few color combinations to choose from, including Green & Brown, Grey & Blue, and Yellow & Orange if you're feeling adventurous. The heel and toe areas are reinforced, as these are subjected to the most wear.
J.B. Fields Extreme Cold Warmest Winter Socks.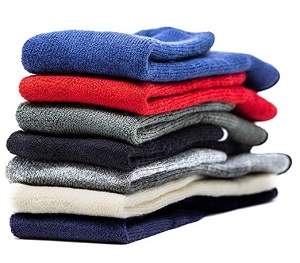 These extreme cold socks by J.B Fields are definitely some of the warmest socks on offer, at least for men anyway. They were designed specifically for extremely harsh conditions, which is why they were created using a blend of 70% Merino Wool and 30% Nylon. Just in case you're not too familiar with this type of wool, it's actually one of the finest quality wool and the most comfortable. Not only is it very good at trapping heat, but it's also quite breathable and is able to recover its shape quickly after wear.
Apart from the choice of materials, these socks also stand out thanks to an X-Hi Cushion system that improves comfort and protection. Apparently, these socks can be worn in extreme cold, which makes them ideal for winter sports or other activities that involve snow and biting winds.
These thermal socks are made in Canada, and a pack includes several colors such as red, black, blue, white, and green. A pack consists of three pairs. These are men's winter socks, and they're usually available in a medium size for shoe sizes 5 to 9.
Under Armour Adult Coldgear Boot Socks.
Under Armour – one of the most appreciated manufacturers of outdoor and sports gear also creates some of the world's most comfortable and warmest socks. The Under Armour adult Coldgear boot sock is a perfect example. It was made using a blend of 64% polyester, 17% wool, 16% nylon and 3% spandex, and it incorporates some of the brand's most impressive technologies.
These include anti-odor technology that keeps them as fresh as possible for a longer time, as well as anti-wicking technologies that pull sweat away from the body while keeping the skin dry. These socks also boast a complete cushion construction, which dramatically improves comfort in all areas of the sock.
You can wear these on any sporty occasion, whether we're talking about running, hiking, or just working outdoors. They'll keep your feet warm without sacrificing on comfort or by adding unnecessary bulk. Moreover, even though they include wool, they're not itchy at all.
Unisex Warm Thermal Socks by Three Street.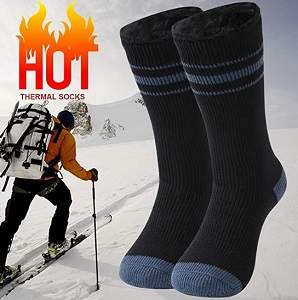 In my quest for the warmest socks out there, I stumbled upon a very nice unisex sock, from Three Street. This pair is made out of 97% acrylic, and 3% elastane, which means that it's very breathable, warm, and stretchy. According to its manufacturer, this sock is much warmer than cotton and even softer than wool. I wouldn't say that's 100% accurate, but they are indeed very soft to the touch, particularly on the inside thanks to a fuzzy warm lining.
Since these are unisex warm socks, they will feet women's medium sizes from 7 to 9, as well as men's large from 10 to 13. When it comes to applications, you can wear these socks for camping, skating, snowboarding, skiing, or climbing.
Given their warmth and comfort, I'd say these thermal socks represent a very good deal, especially since they're not expensive.
Wild Stag Thermal Socks.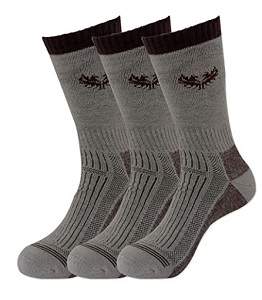 Available in a pack of 3, these thermal socks by Wild Stag are definitely up to the task of keeping your feet warm and preventing frostbite. Featuring three colorways, they come in khaki, grey, and black, but you can also get a set that contains one of each color.
The material composition is 63.7% cotton, 21.1% acrylic, 10.2% spandex and 5.0% polyurethane. Even though it's officially marketed as a men's product, these socks will also fit women provided they choose the right size. For men, a medium-sized Wild Stag will fit 7 to 9.5, while women will need 8 to 10.5 shoe sizes. The large version fits men 9 to 11.5 and women 10 to 12.5.
Sizing-aside, these thermal socks have cushioning in the sole area, as well as a brushed interior that traps heat in. You can wear these for a variety of outdoor activities, including mountain climbing, hiking, trekking, running, camping, or simply just walking.
Battery Heated Socks.
Gamegie Battery Heated Socks. (Rechargeable Heating Socks)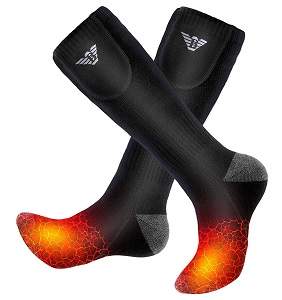 Battery heated socks can feel incredible, and they're definitely good at keeping your feet warm for long periods of time, even when the cold bites hardest. Gamegie has a relatively interesting pair of rechargeable heating socks on offer, especially since their price tag is definitely on the affordable side.
The best part about these socks is that they're able to keep your feet warm for up to 19 hours. Furthermore, each sock comes with its own 4000 mAh battery, which is quite generous, at least on paper. At the top of each sock, you'll find a pouch that holds the batteries. Be prepared for a bit of extra weight as you carry these around, especially given their capacity.
The battery charge level is indicated by a light on the charger, which turns green when the charging cycle is complete. According to the manufacturer, these socks were designed to warm up the toes and a part of the foot sole. Warming up the top of the foot would have caused discomfort, as that side is a lot more sensitive. Makes sense.
There are three heating levels in total, High, Medium and Low. On its highest setting, the system goes up to a temperature of 150 degrees F or 65 degrees C. The material composition is comb cotton, which is definitely no merino wool. However, you probably don't want your electric thermal socks to be wool-made anyway, as things could get too hot too quickly and stay that way.
Best applications for these battery heated socks include ice fishing, hiking, and skiing. There are also a few different colorways available such as navy blue, grey, black, royal blue, and classic blue.
Snow Deer Heated Socks for Men and Women.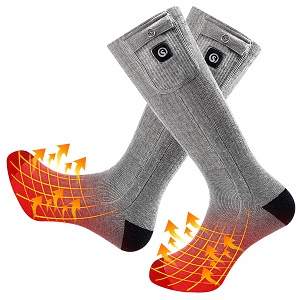 Most battery heated socks follow the same design, but not all of them are able to deliver the same amount of comfort and heat. Overall, these are probably the best electric heated socks on the market right, at least in their price point. The material blend for this pair of socks is 80% cotton, 12% polyester and 8% elastane. They're definitely a bit stretchy, and they offer a snug, tight fit.
The heating elements cover the entire toe area, and according to the manufacturer, some infrared technology is implemented as well. The battery pack relies on a pair of 2200 mAh rechargeable batteries, which ensure an operating range between 2.5 hours and 6 hours depending on how hot you want your socks to be. The charging time is around 3 to 4 hours, which is a bit on the longer side, but nothing to worry about too much.
You can control the temperature settings using a simple switch. Long press it once to turn the heating system on, then short press to switch between the various intensity settings. There's an LED indicator that shows the current temperature level. Red is for High, White is for Medium and Blue is for Low. If you want to turn the heat off, just long-press this button again.
There are a few different sizing options available ranging from S to X-Large. There's also a size chart on Amazon that can help you pick the right size for you. As for colorways, you can have your pick between gray and black.
Are battery heated socks worth it?
If you are struggling to choose between a conventional pair of warm socks and a pair of battery-powered heated socks, I'm going to try to make things a bit easier for you.
Regular warm socks rely on specific types of materials such as merino wool, cashmere, or alpaca wool to keep your feet as warm as possible while ensuring comfort and breathability. Most of the time, these socks will also have moisture-wicking technologies that keep your feet warm, as well as various treatments that are meant to handle odor. Compared to battery-powered socks, they will be lighter and thicker. They won't be able to produce heat on demand, though.
Battery-powered socks keep your feet warm artificially. They rely on battery packs connected to heating systems that feed heat directly to your toes and soles in order to keep you warm while enhancing circulation. The main drawback of these types of socks is that they're usually made mostly from cotton or a blend of cotton and polyester. I'm not saying that they don't work or that they're not worth it, but they'll definitely offer less moisture-wicking, and they probably won't be able to handle odor as well. Furthermore, more often than not, electric socks need to be hand-washed, as the circuitry included in them is not able to handle the pressures of machine washing and drying. You'll also need to remove the batteries from the socks before each wash for obvious reasons.
What type of socks keep feet warmest?
This is a very good question because not all types of socks are able to keep your feet warm, particularly for extended periods of time. One key element to keep in mind is that you should avoid 100% cotton socks unless they are battery-powered. The reason for this is that cotton has the tendency to hold on to moisture, which could make your feet feel wet inside your shoes. You definitely don't want that.
The best thing you can do is go for a pair made out of merino wool, and which also has moisture-wicking technologies. Furthermore, if you plan to wear boots, make sure that the socks aren't thick enough to block off circulation. If they cause too much pressure while inside the boot, your feet might lose precious blood flow, which could cause all sorts of issues besides cold feet.
If you tend to get blisters a lot, you can also try liner socks, as these have an extra layer that prevents irritation and damage to the skin.
Does wearing 2 pairs of socks keep your feet warmer?
Generally speaking: two pairs of socks can do more damage than good, especially if they're worn with shoes. However, it all depends on their thickness. If we're talking about thermal socks, they have the tendency to be quite thick and fluffy. Therefore, while wearing a single pair might not provide the same level of coverage, wearing two pairs will cause unnecessary pressure on the foot, thus cutting off blood flow.
That's why some people actually have colder feet even though they're wearing two pairs of socks. Naturally, if the socks are thin, you could very well wear two pairs, just as long as there's not too much pressure on the foot. On the same note, if you just want to wear socks without shoes (maybe around the house or when you're sleeping), you could wear two pairs without any issues.
Keep in mind that the more layers you add, the less in touch you'll be with your surroundings and the floor itself. You might end up tripping or banging your feet on the furniture if the layers are thick enough to limit your sense of touch. That's something you can get used to, though, so it's not that serious.
Why do your feet get cold even when your body is warm?
It's all to do with the way our body regulates temperature. When we're subjected to the cold, the body pulls off blood flow from the extremities and focuses it on the core. That's why our hands and feet are the first to get cold whenever we start to lose body temperature.
However, if you're not subjected to the cold and your feet are still getting cold seemingly for no reason, you probably have some issues with your circulation. Poor circulation can have various causes, but one thing is clear: people who suffer from it often have cold hands and feet, even during the warmer months. That's why it's not uncommon for them to wear warm socks during spring or summer.
Conclusion.
Finding warm socks is easy enough if you know what to look for. There are plenty of different types available, including battery-powered alternatives that can produce heat on demand. If you're willing to spend a bit more money, some of these socks are created using premium materials that feel unlike anything you've ever worn before. For the outdoors, though, conventional warm socks worn with some high-quality shoes will do the trick just fine.
Hopefully, you'll now have fewer issues with choosing a pair.