Hiking or climbing at night comes with its own set of challenges, but that doesn't mean that you should only practice these activities when the sun is high in the sky. Indeed, climbing in low visibility conditions is considerably more dangerous than doing it during the day, but the same can be said about rappelling at night or hiking at night. The solution is pretty simple: headlamps, but not just any will do. Headlamps designed specifically for hiking and climbing ensure that you get that extra boost in visibility when you need it the most.
However, when choosing a proper headlamp for any outdoor activity, it's important to take note of a few key factors:
How easy is it to attach the lamp to your climbing helmet.
What is the expected lumen output?
How long will the batteries last?
What type of beam does the lamp have?
Does it have water/dust resistance?
How well does it perform in the cold?
Does it have an adjustable pivoting mount?
This checklist will help you choose the best headlamp for your particular needs, and it will make sure that you're not missing out on any important features. After the actual headlamp recommendations below, you will find a complete breakdown of these key factors and how important they are in varying scenarios. Now that we got that out of the way, let's see what are the best headlamps for hiking and climbing that you can get this year.
1. Vont Spark Headlamp (TOP PICK).
When Vont designed the Spark Headlamp, they were laser-focused on achieving one goal with this masterpiece of a headlamp: optimum performance.
From materials to construction, from features to modes to multi-function—every single detail of the Spark Headlamp was meticulously outlined to ensure that it provides excellent performance based on nothing less than the highest of quality and efficiency standards. 
The Vont Spark Headlamp speaks of versatile performance that translates to total satisfaction of any user—whether you're into those hard-core outdoor sports like snowboarding, spelunking, mountain biking, or rock climbing; or you're the nature lover who loves to spend much of your time camping, hiking, or enjoying a bonfire by the beach; or you're simply the family man who's ever ready to go out into the storm to secure some locks, fix the powerline at the basement during an outage, or change tires or check the hood when the car breaks down.
The Spark Headlamp boasts of its waterproof, drop-resistant, and military-grade construction that has been rigorously tested to prove its indestructibility, particularly in extreme conditions. Power-packed with 200 lumens of LED lights, this headlamp will be your reliable partner no matter the illumination you need. 
All that and the reasonable price that it comes with, this monster of a headlamp may just be the only or the last headlamp you'll be buying! Oh, and did I mention the lifetime quality guarantee that it carries?
2. Petzl Actik Core.
The Petzl Actik Core boasts a lightweight design, a decent power output, and an impressive hybrid power technology – all at a relatively affordable price tag.
To break things down for you, the Actik Core incorporates a CORE rechargeable battery pack, which can be topped up easily via a conventional micro USB port. Furthermore, you can also use a set of AAA batteries as a backup. For me, that's all the versatility I will ever need.
The lamp is well-suited for a wide range of outdoor activities such as running, mountaineering, hiking, cycling, backpacking, and climbing. I used it for rappelling at night and caving, and it exceeded my expectations. As far as its lumen output is concerned, we're looking at a peak output of 350 lumens. However, the icing on the cake comes in the form of two-beam patterns, a wide and a mixed one. The Petzl Actik Core also features a red light that maintains night vision while making it less likely to blind your other party members.
Petzl says that this head torch will run for 160 hours on a charge, but you can expect a real-life battery life of around 120 hours.
3. Black Diamond Storm (Best headlamp for climbing).

Black Diamond is a brand that has always focused on creating high-quality climbing gear, and their headlamps are no exception. The Black Diamond Storm is arguably the best headlamp available for climbing, as it packs an impressive array of features in a compact, lightweight, and reliable product.
While climbing, you're going to look up quite a bit, and this can put a strain on your neck and shoulders. Using a lightweight head torch is key in this case, and the Black Diamond Storm tips the scales at just 3.2 oz. While this isn't the lightest headlamp out there period, it is very light and comfortable given its impressive lumen output and unique features.
For instance, you get a quad power LED complemented by a double power white LED, which boast a combined output of 350 lumens. At peak brightness, the lamp offers a burning time of 120 hours. You'll need four AAA batteries to run this thing, which definitely adds to its weight but also improves its dependability somewhat.
I should also mention the IP67 water resistance. This means that the Storm is able to stay submerged up to 1 meter or 3.2 feet for 30 minutes without breaking. To put things in perspective, an iPhone X has the same IP67 rating for water and dust resistance. While it's not the best you can get, it should be enough for conventional use.
The Black Diamond Storm also comes with green, blue, and red Single Power LEDs that are ideal in night vision scenarios. You can activate any of these different modes without cycling through the white mode. Then there's the Power Tap tech, which enables a quick transition between the dimmed power mode and full beam. When it comes to colorways, you can have your pick between Octane, Dark Olive, Black, and Aluminum.
4. Hurkins Orbit (Best wide-angle headlamp).
Sometimes a spot light or a narrow beam isn't good enough. Sometimes you might need a full wide-angle view of what's ahead of you, and that's where a wide-angle headlamp comes into play. Hurkins, a Korean electronics company, has created the Orbit – a very powerful 180-degree wide-angle headlamp that claims to offer a power output of up to 1000 lumens.
Naturally, I was intrigued by this relatively unique take on headlamps, but I was also skeptical of the brand and its Korean origins. After a quick look through the official reviews, however, it turns out that this is quite a reliable and useful product.
What makes it stand out from other headlamps is that it features a patented flexible lens in front of each LED. While conventional wide-angle headlamps with strip lights can only project light about 1 to 2 meters ahead of the wearer, the Hurkins Orbit offers a visible distance of up to 30 meters or 98 feet.
According to Hurkins, the LEDs themselves are Samsung S6-grade. This means that they should be reliable both in terms of longevity and lumen output. The power comes from a 3350mAh LG chemical battery, which charges fully in just 3 hours using a conventional USB port. The headlamp offers up to 100 hours of battery life on a single charge, but that's generally at low power outputs. There's also a dimmable dial button that changes the light output gradually between 30 to 1000 lumens.
5. Nitecore NU17 (Ultra-lightweight headlamp).
If you're looking for the lightest possible headlamp, I don't think you'll find something better than the Nitecore NU17. This incredibly lightweight running headlamp tips the scales at just 1.62 ounces, which means that you'll barely even feel it on your head.
Even though it weighs very little, this headlamp offers a decent power output of 130 lumens, as well as a 180-degree wide-angle floodlight that illuminates your entire field of view. If you need to read up on any instructions in the dark, you can rely on the lamp's high CRI reading light. The Nitecore NU17 is also well-suited for backpacking, camping, fishing, climbing, and rappelling.
The power comes from a USB rechargeable battery that ensures up to 150 hours of light on a single charge. You'll know exactly how much juice you have left thanks to a built-in battery indicator. This headlamp boasts IP66 resistance, meaning that it can handle quite a bit of dust and water. I wouldn't submerge it completely, though. The package includes a LumenTac adapter, as well as a USB charging cable.
This is undoubtedly one of the lightest headlamps available on the market right now. It's also one of the most affordable ones, and given its weight and battery autonomy, I'd say that it represents a very good deal.
6. Petzl Tikkina (Best budget headlamp).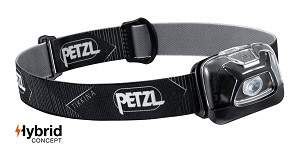 I get it: some headlamps can cost more than $200, but maybe you don't really need the highest lumen output or the lightest setup. Maybe you're just starting out and you just want something that will get the job done without any bells and whistles. Budget headlamps are definitely an option, but not just any cheap head torch will do.
Petzl has the Tikkina on offer – a simple yet reliable headlamp that's perfectly suited for activities such as camping or trekking. The Tikkina comes with a wide 250-lumen beam, which is a close-range light best used for short hikes or camping trips.
The lamp's on/off button also enables you to cycle through the different lighting modes, which is definitely a nice touch. The Tikkina is powered by three standard batteries, but you can also equip it with Petz'ls own CORE rechargeable battery system. You'd have to buy the CORE separately, though. Peak battery life is somewhere at around 200 hours, and available colorways include black, blue, red, and white.
7. Exploretek LED Headlamp (With travel case).
Exploretek has this awesome little headlamp that I wanted to tell you about. According to its manufacturers, this thing has the best light in its class, namely the high beam class. It's supposedly capable of projecting a high beam the length of an entire football field – 360 feet or 110 meters. It has four white and two red light settings, including a special flashing strobe or SOS setting.
Perfect for activities such as boating, climbing, backpacking, fishing, kayaking and skiing, this headlamp is weatherproof thanks to its IPX6 rating. The battery life is up to 120 hours on a single charge, which is definitely decent given the affordable price point. By the way, you'll need 3 AAA batteries (included) to power this head torch.
What's really nice is that you also get a travel case included in the package. I like travel cases, as they make things so much easier and more convenient to carry around. Moreover, the case offers much-needed protection from the cold, just in case you're thinking about taking this headlamp high into the mountains.
8. Slonik 1000 Lumen LED Headlamp (Most powerful headlamp in its segment).
If you're looking for the absolute most powerful headlamp on offer right now (at least on paper), the Slonik headlamp is probably it. Slonik says that this headlamp was "made for extremes," meaning that it will likely appeal to those of you who work in the industrial segment. However, nothing is stopping you from buying this and using it for camping, running, climbing, garage work, etc.
While it won't exactly "turn night into day," the 1000-lumen capacity on this head torch is indeed impressive. The beam covers a total distance of 220 yards directly ahead, and the LEDs have a lifespan of 100,000 hours. The power comes from a 2,200mAh battery, which ensures an operating time of 8 hours in low mode and around 3.5 hours in high mode. You can recharge the lamp in just two hours.
The product was created using aero-grade aluminum alloy 6063, and it is IPX6 waterproof and dustproof. Other highlights include an adjustable nylon headband and 5 different lighting modes that can be toggled using a single button. The 48-month warranty gives peace of mind and is always welcomed.
9. Petzl Zipka (Best Ultra-compact headlamp).
One would assume that all headlamps are compact, right? The truth is that some of them are definitely more of a space-saver than others. It all depends on their individual features, power systems, and strapping options. In my quest for the best ultra-compact headlamp out there, I stumbled upon the Petzl Zipka.
This headlamp measures in at 4.9 x 1.8 x 4.9 inches, and it weighs just 2.4 oz. It comes with an exclusive retractable cord system, which means that you can wear it just as easily on your head as on your wrist. The longest burn time for this Petzl head torch is 240 hours, but that's obviously not at the highest setting.
The lumen output on this is 300, but the best news is that it comes with a hybrid design that allows you to use both a CORE rechargeable battery or a set of regular AAA batteries. The Zipka offers a wide beam, so it's best to use it for close-range activities. What's the best part about the Petzl Zipka? No straps to deal with. The worse part is that you probably won't be able to use this headlamp over a helmet.
10. Klarus HR1 Pro (Best Ultra-slim headlamp).
An ultra-slim headlamp is a headlamp that was designed from the ground up to be as unobtrusive and unnoticeable as possible. The Klarus HR1 Pro ticks all the right boxes when it comes to slimness. It measures in at 6.1 x 3.4 x 1.9 inches, and it tips the scales at just 4.8 oz. The lamp area itself is just 0.71″ or 18mm thick.
Klarus says that you can wear this around your head without even feeling it. While I'd say that's a bit much, given the low weight and nice weight balance of the product, it will definitely be comfortable than most.
The Klarus HR1 Pro is powered by a Li-Ion battery pack or a set of AAA batteries. The battery box comes pre-loaded with a 1200mAh rechargeable pack, which gets its juice via a USB C charge cable. The max lumen output is 400, and there are three different light modes to choose from. I should also mention the IPX6 waterproof rating, which adds peace of mind and improves reliability.
There are two different color options to choose from, namely Night Black and Ocean Teal.
11. Outdoor Pro Gear LED (Best adjustable headlamp).
What we have here is a headlamp that makes no excuses. It's definitely larger and a bit heavier than the ones I presented above (5.6 oz), but it also delivers in spades when it comes to sheer power and versatility. This is an adjustable headlamp, which means that you can adjust its head manually up and down while also zooming in or going wide depending on your needs.
This head torch features three brightness settings, and the overall power output is 9,500 LUX. That's a bit tricky to convert into lumens, but it's somewhere at around 400 to 450. Not bad at all.
The product relies on a trio of AAA batteries, and it offers a running time of 8 hours at high, 15 hours at medium intensity, and 28 hours at the lowest settings. The LED that gives off the light is an Osram P8. As far as the waterproof rating goes, it's nothing to write home about: IP44. Still, that means that it can sustain light water splashes.
What to look for when choosing a headlamp.
Attachment options.
Depending on your climbing helmet type, you'll have one of two ways to attach the headlamp: either with rear straps or with clips. While both systems should be able to accommodate a wide variety of headlamps, make sure to check if the head torch will actually stay secured in place on your helmet. I touched on this subject extensively in my climbing helmet guide, so make sure to go check that out if you want a more detailed explanation.
Lumen Output.
When it comes to the lumen output, some products will be able to dish out more light than others. However, keep in mind that more power equals more power consumption, which means that very high lumen headlamps are likely to suffer a bit when it comes to battery autonomy. Find a headlamp that offers a mix between good lumen output and decent battery life.
How bright should a headlamp be for regular use in hiking and climbing? Most people just look at the peak lumen output for headlamps and judge the product's power output at a glance. However, I urge you to keep one important fact in mind: you won't be using the headlamp at its max brightness all the time as you climb or hike, mainly because your battery life will suffer greatly. As a rule of thumb, look for a headlamp that offers between 50 and 150 lumens for casual use or as a backup lamp. For heavy use in complete darkness, you'll need something that exceeds the 200-lumen mark.
Furthermore, if you plan on performing high-speed runs in complete darkness, you'll need an even brighter headlamp, something that has around 250 or more lumens.
Battery Life.
Tying in with what I said above, battery life is very important in a headlamp. You'll have to choose between products powered by standard batteries or rechargeable ones. The advantage with standard batteries is that you can always carry around some spares and just change them if they happen to run out. Rechargeable headlamps are not that versatile, but you don't have to worry about changing the batteries ever.
Some headlamps offer the best of both worlds by having a single main rechargeable battery complemented by standard ones. When it comes to run time, manufacturers will list this information in the product specs, but don't trust it too much as the real-world battery life is often lower.
When it comes to battery location, most headlamps rely on AAA batteries housed within the main body, just behind the light source. However, some products feature separate battery packs within the strap. More often than not, these products come with an extra strap that runs over the top of the wearer's head in order to ensure a secure and comfortable fit. After all, more batteries equal more weight, and that weight needs to be distributed evenly.
So is it better to go with a headlamp that needs AAA batteries to run, or are rechargeable headlamps superior? I'd say that the ones offering a hybrid design are best. They allow you to use your preferred powering method depending on the length of your trip other personal requirements. It's also worth noting that AAA batteries produce quite a bit of waste, and they need to be replaced regularly even if they're not in use. In this case, rechargeable head torches are superior.
Beam Type.
When it comes to beam type, some headlamps have a wide beam or a flood beam that offers good lighting options up-close.  You can use these headlamps to search through your backpack or to illuminate the trail you're stepping on. However, flood lights don't do well at long distances. For that, you'll need a headlamp with a spot beam – a more focused and narrow beam that illuminates objects far ahead.
You might also want to consider a headlamp with a red light, as those allow your eyes to adjust to the dark thus enabling better peripheral vision. The best lamps out there allow you to adjust the light between spot and wide according to your needs. Then there's reactive lighting, which adjusts the beam type automatically depending on how far away the focused object is. There are other different types of LEDs available in different colors such as green or blue. At night, while in the camping site, a green beam will cause much less disturbance than regular white light would.
Water and dust resistance.
Water and dust resistance in headlamps is measured via an IPX rating. A product that has an IPX rating of 3 or above will handle torrential rain or dust storms, which means that it won't die on you just because the weather turned fickle. For swimming or diving, you'll need a lamp with a rating of at least IPX-7.
Is it worth it to save a few bucks and get a headlamp without any water resistance? I definitely wouldn't recommend it. At this point, you're basically throwing money out the window. Some headlamps are so unreliable that simple splashes of water can cause them to die out in ain instance. I'm not saying you need to go for the high-end IPX8-rated headlamps if you don't plan to submerge them in water, but they definitely offer peace of mind.
The headlamps on this list have at least an IPX4 rating. This means they can survive regular rain and snowfall.
What do those IP rating numbers mean, though?
I actually asked myself the same question. Apparently, the first digits in the IP rating refer to solids, meaning that they measure the level of protection against hazardous objects such as moving parts or dust. This means that the second digits in the rating show the level of water protection.
For solids:
0 – No protection whatsoever against contact with objects.
1 – Protection against large body surfaces but no protection against deliberate contact. If you accidentally touch this object with the back of the hand, it should be fine. If you slam it against your body with moderate force, it will probably break apart.
2 – Protection against fingers or objects of similar size and shape.
3 – Protected against wires, tools or other similar objects.
4 – The item should fare fine against most wire, screws or tools.
5 – Some level of dust protection. The complete ingress of dust is not prevented in its entirety. However, the level of dust that enters the enclosure should not be enough to interfere with the equipment's operation.
6 – Complete protection against dust. No dust will enter the main enclosure.
For liquids:
0 – No protection against liquids.
1 – Dripping water, vertical dripping droplets should have no harmful effects.
2 – Dripping water when the enclosure is angled up to 15-degrees should have no harmful effects.
3 – Protection against spraying water at any angle up to 60-degrees.
4 – Water splashing against the enclosure will have no harmful effects.
5 – Protected against water jets projected from a nozzle (6.3mm).
6 – Protected against more powerful water jets, such as those projected from a 12.5mm nozzle.
7 – The object can be immersed in water up to a maximum depth of 1m or 3.2 feet. There is also a time limit to this, but this varies from product to product.
8 – Complete protection while immersed in water in depths that exceed 3.2 feet. While this rating usually means that the object is air-tight or hermetically sealed, water can sometimes enter the enclosure in small amounts but without having any harmful effects.
Let's have a look at a random example: a headlamp with an IP44 rating should do just fine if it enters contact with wires, screws or tools, but it wouldn't operate too well in dusty situations. Moreover, it would benefit from some level of water protection in the sense that water splashes wouldn't cause any harm to it.
Performance during cold weather.
Most of these products are designed to function in both hot and cold weather conditions, but we all know that cold weather can have a more severe impact on electronics, particularly when it comes to battery life and overall lumen output. You need to make sure that your headlamp will be able to handle low temperatures, as there's nothing worse than being cold and in the dark at the same time.
If your lamp relies on regular alkaline batteries for power, you can expect it to offer little-to-no performance in the cold. Lithium batteries or rechargeable ones are far superior. During your travels, make sure to pack the lamp with your warmest clothing for extra layers of protection. At night, keep it close to a source of heat. If there's none, your body heat will do just fine.
Adjustable mounts.
Adjustable pivoting mounts allow you to change the lighting angle while keeping your head still. This is not a must-have feature by any stretch, but it can come in handy in certain situations. If your headlamp has it, all the better. If not, you can definitely hike and climb without it.
Why would you hike or climb at night anyway?
The answer depends on the situation. You see, sometimes you might not plan to perform these activities after dark but you might have to. Hiking home after dark is a good example. Sometimes you might get carried anyway and lose track of time. The sun might go down before you can start packing up your things and head home, and in this case, a headlamp can come in handy. You could also use a flashlight for your trip home, but that's assuming you will have at least one free hand to hold it. If you're carrying around some gear that you don't have room in your backpack for, a good headlamp can be a lifesaver.
But maybe you want to climb at night voluntarily. Maybe you just want to get a head start and hit the rocks before the sun comes up. You will find a headlamp useful in this scenario as well, but keep in mind that climbing at night is a very special experience, one that differs greatly from the regular climbs you did during the day. The most important thing to remember is that you will only see ahead as far as the headlamp will allow you to. Therefore, the more powerful the lamp, the better your visibility and the safer you'll be.
Since we're on the subject, rappelling at night can also be an incredibly thrilling and rewarding experience. While there are no dedicated headlamps for rappelling out there, you can use one for hiking or climbing without any issues. Just make sure that it ticks all the right boxes when it comes to comfort and performance and you'll be set.