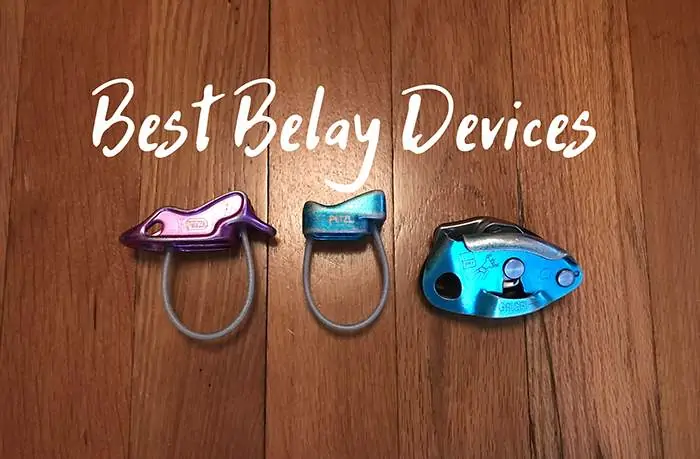 The belay device: one of your most important pieces of gear. Some are definitely more complex than others, and some are designed for specific types of climbing, which is why finding the best belay devices can often be a confusing and discouraging experience.
When I first started out, there was no internet to tell me what gear I should wear, or how does one product compare against another. However, I relied on the experience of others. I asked questions, I practiced, and I learned which type of belay device is best suited for each task. I also learned about the manufacturing process of belay devices, and why do some of them have two holes. I even wrote a piece about this particular subject, so make sure to check that out if you're interested in this sort of thing.
But back to the topic at hand: the best belay devices you can get this year. It's tough to isolate a single belay device and crown it king above all others. However, there are certain belay devices that are the best in some specific climbing situations. So that's how we're going to structure today's guide. At first, we're going to have a look at an all-time favorite and the best belay device for a climbing beginner. Before that, however, here's an organized chart of every belay device on this list.
| Belay Device | Rope Compatibility | Weight | Best for |
| --- | --- | --- | --- |
| Black Diamond ATC | 7.7mm to 11mm | 2.3 oz | Beginners' belay device |
| Petzl GriGri Plus | 8.5mm to 11mm | 9.6 oz | Great assisted braking |
| GM Climbing Figure 8 Descender | 7mm to 11mm | 9.95 oz | Belay device for rappelling |
| Mad Rock Lifeguard | 8.9mm to 11mm | 5.4 oz | Incredibly reliable |
| Edelrid Mega Jul | 7.8mm to 10.5mm | 2.2 oz | Great value |
| Trango Vergo | 8.9mm and 10.7mm | 6.8 oz | Rock Climbing belay device |
| Petzl Reverso | 8.5mm to 10.5mm(single) | 2.4 oz | Best all-rounder |
| Camp Ovo Belay Device | unavailable | 2.4 oz | Very affordable |
| Geelife | 8mm to 13mm | 3.1 oz | Light rock climbing ascender |
| Edelrid Eddy | 8mm and 13mm | 12.8 oz | Great for emergency braking |
1. Black Diamond ATC XP (Best belay device for beginners).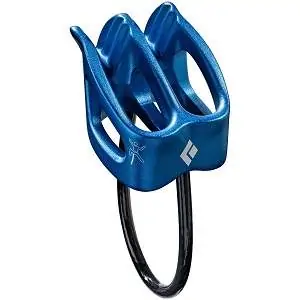 It's hard to find a more popular belay device than the Black Diamond ATC XP. There's a very good reason for this: the ATC is one of the best and most affordable belay devices in the world right now, and better yet, it's also incredibly easy to use. That being said, beginners sometimes wonder how exactly to operate this particular piece of equipment. Therefore, I've written a complete guide on how to rappel with an ATC. Better go check it out if you want to know more about this device.
Back to the ATC itself, it features a high-friction mode that ensures up to three times more hold and stopping power when compared to the regular friction mode. With a weight of just 2.3 oz or 64g, the Black Diamond ATC-XP is one of the lightest belay devices out there, all thanks to a unique design based on machined windows. The ATC-XP will work with ropes ranging from 7.7mm to 11mm in width. The included cable holds its shape very well under stress, and it won't tangle up with your ropes.
After clearing up all of the above, it's pretty clear that the Black Diamond ATC-XP is an ideal belay device for beginners. It's not particularly expensive either, which is always nice.
2. Petzl GriGri Plus (Belay device with assisted braking).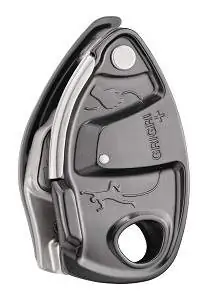 If you're a more experienced climber who's looking for the best of the best when it comes to belaying devices, the PETZL GriGri Plus is arguably your best bet. As far as I'm concerned, this product has everything you could possibly need in a conventional belay device. However, its relatively steep price tag might scare some of you off.
The GriGri Plus is an incredibly durable and reliable belay device. It can be used for standard belay techniques, such as feeding slack and catching falls. Moreover, it can be used in crag climbing situations but also at the climbing gym. Oh by the way, if you want to know what are the best climbing gyms in the US, just have a look at this guide I put together not too long ago.
What makes the Petzl GriGri Plus stand out, however, is the fact that it comes with assisted braking. This means that this device will automatically help you come to a complete stop in the unfortunate event of a fall. That's why it's so expensive: it has the ability to save your life.
Compatible ropes range from 8.5mm to 11mm, but the device is optimized for 8.9 to 10.5mm. The weight on this is 9.6 oz.
3. GM Climbing Figure 8 Descender (Belay device for rappelling).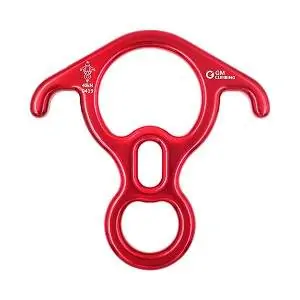 Meant to represent an upgraded version of a standard Figure 8 rappel device, the GM Climbing Figure 8 descender does offer a few advantages by comparison. First off, it comes with a bent-ear design that's considerably more versatile and a bit easier to use when compared to a regular figure 8. Moreover, the main slot is larger, which means that you can double up or even triple your single rope for extra friction and a slower descent.
The body of the descender itself is relatively thick, which means that your rope will wear less as it enters contact with it. You can use the bent ears to lock yourself off while both of your hands are free, which is always a plus. The overall strength rating of the GM Climbing Figure 8 is 40kn. This makes it strong enough for rescue operations, mountaineering, and rappelling.
Indeed, this is one of the best belay devices for rappelling right now. It's affordable, durable, and designed in such a way to ensure a slow descent and minimum rope wear. The weight is 9.95 oz, and rope compatibility varies from 7mm to 11mm.
On Sale
4. Mad Rock Lifeguard (Most reliable belay device).
The Mad Rock Lifeguard is an incredibly reliable belay device, one that has proven its worth time and time again. Put together using hot forged aircraft-grade aluminum and stainless still, it has the potential to be the most durable belay device in the world.
It's also quite versatile, as it can be used with classic belay techniques with single ropes ranging from 8.9mm to 11mm. It also works very well with lead and top-rope climbing. It's not the cheapest out there but it isn't too expensive for what it offers either. Actually, it offers a fine balance between safety, reliability, and affordability.
It does include assisted braking, hence the Lifeguard name. At just 5.4 oz, it is relatively light too. There's only a single red colorway available, which is definitely not my favorite but it does ensure pretty good visibility.
5. Edelrid Mega Jul (Best value belay device).
The Mega Jul by Edelrid offers incredible value for money. This is a high-quality belay device that was designed to belay a single leader or bring up 2 seconds. It also works very well with rappelling/abseiling, as it features a sturdy stainless steel build and high braking performance.
The Mega Jul features a small eyelet that can be used to release a unit with a carabiner when bringing your partner up. This device will work with ropes ranging from 7.8mm to 10.5mm.
Apparently, Edelrid went with stainless steel because this particular material prevents early wear caused by rope friction. Moreover, it doesn't form any sharp edges or burrs that could potentially damage the rope itself. On the Mega Jul, parts that see the most wear and tear have received steel inlay reinforcements.
The overall weight of the Mega Jul is 2.2 oz, which makes it just slightly heavier than the Micro Jul.
6. Trango Vergo (Best belay device for rock climbing).
According to Trango, Trango Vergo is the most ergonomic belay device in the world. Apparently, it was designed for unparalleled smoothness, safety, and reliability, which makes it one of the best belay devices for rock climbing. It features visual and physical indicators that ensure correct and easy usage every single time. It even has dedicated areas for your thumb and index finger in order to ensure even more comfort and peace of mind.
What makes the Vergo stand out among other belay devices is the way it feeds the rope. Instead of doing it vertically like most other devices, this one feeds the rope in a horizontal position. This ensures a more natural arm motion and more efficient management of slack.
The weight of this product is 6.8 oz or 195g, and the recommended single rope diameter is between 8.9mm and 10.7mm. Oh, and just in case this matters to you, the Vergo is assembled in the United States. For a rock climbing belay device, you'd be hard-pressed to find a better one.
7. Petzl Reverso (Best all-around belay device).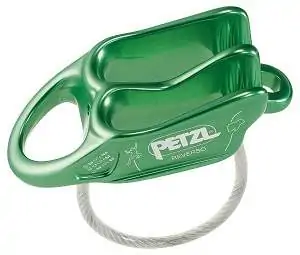 If you're looking for a good all-rounder that won't break the bank, the Petzl Reverso is definitely worth considering. This is a multipurpose belay and rappel device that can actually be used to belay a second in Reverso mode.
With a design similar to the ATC, this belay device is very easy to use and very dependable. It can accommodate a wide range of rope diameters, such as single ropes of 8.5mm to 10.5mm or half ropes from 7.1mm to 9.2mm. It also works well with twin ropes from 6.9mm to 9.2mm. The simple yet effective design of the rope slots allows the rope to glide across in a smooth fashion while minimizing wear.
The weight of the Petzl Reverso is around 2.4 oz, which is definitely lightweight territory. There are three different colorways to choose from, namely Green, Red, and Black.
8. Camp Ovo Belay Device (Backup friction device).
Even though it features an older design that's most popular with the older generation these days, the Camp Ovo belay device is incredibly affordable and offers great value for money. While I wouldn't necessarily recommend it as a main friction device, it works incredibly well as a backup. It was designed primarily for lead climbing and rappelling, and it was put together using lightweight aluminum.
The Camp Ovo weighs in at 58g or 2.4 oz, and it is considerably smoother and lighter when compared to the other devices on this list. It's rated for 20kn, and it is compatible with a wide array of rope sizes. Unfortunately, I couldn't find any information about specific rope sizes with this. I'll ask around and update this article accordingly as soon as I obtain some reliable information.
Considering it costs no more than a bag of peanuts, the Camp Ovo is a very decent solution if you're looking for a durable and dependable backup device. You can even use it as your main belay device, as long as you're aware of its limitations.
9. Geelife (Light rock climbing ascender).
Even though it doesn't look like much at a first glance, Geelife is actually a rather complex belay device that can fill a variety of roles depending on the situation. Its manufacturer calls this the lightest rock climbing ascender in the world, as it tips the scales at just 90g or 3.1 oz.
The weight is owed to a hot-forged magnesium alloy build, which ensures durability without adding bulk. The rope grip's connection hole has a bi-directional system and is linked to the lock itself. This climbing belay device is best suited for rope sizes between 8mm and 13mm. You can also use it for caving, rock climbing, rescue operations, and aerial work.
The vertical breaking load is 22kN, which should be more than enough for any climber. This is a lightweight device, it's rather cheap, and you could definitely use it for light applications. For serious climbing at high altitudes, however, I would use a backup with this just in case. Better yet, use this as the backup.
10. Edelrid Eddy (Belay device with emergency braking).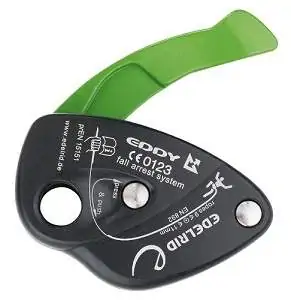 Yet another belay device with emergency braking, the Edelrid Eddy is a fantastic solution for controlled descents. It comes with a large lowering lever just for this purpose, and it relies on a simple and easy operating procedure that's clearly shown on the device itself.
The Eddy has been around since 2005 and is now regarded as one of the most dependable belay devices. It is a semi-automatic belay device best suited for indoor climbing and some sports applications. You should use ropes that measure between 9mm and 11mm in thickness with it.
As for weight, this is one of the heaviest devices of its kind out there: 12.8 oz. However, given that it's made completely out of metal, this is to be expected. Moreover, keep in mind that the device might include quite a bit of grease as it comes out of the box. It might be worth cleaning it up a bit before your first use.
How to choose the best belay device.
There are plenty of alternatives on offer, as you can clearly see. The main problem is choosing one that suits your particular needs. The great news is that all of the devices I presented above are very good at what they do. Obviously, some of them have limitations, as some of them don't have emergency braking systems. However, they might have higher strength ratings, or they may be lighter, which could help you keep your overall gear weight down.
You might be tempted to go for the cheapest offerings, but since these devices hold your very life in their "hands," I'd say you should only go for the cheapest ones only if you plan to use them as backups. While some offer incredible value for money, the more expensive ones are generally better overall.
You should also look for any official certifications. The more they have, the more dependable the devices will be. Also, take note of where you plan to climb, in what situations, and how difficult you expect your endeavor to be. If you spend your time mostly at climbing gyms, something like the ATC-XP will work just fine. However, for sport cragging and other more demanding activities, I would recommend something with assisted braking such as the GriGri 2.
How does a belay device work?
I always feel safer and more confident when I know exactly how my gear works. I need to know the intricacies of each piece, how it was designed and what are its limitations. I won't bore you with the technical details of what goes into creating a belay device, that's not why you're here. However, I feel that it's important for you to understand exactly how a belay device works.
The principle is rather simple: a belay device applies friction on a rope in order to slow down your descent. How they create this friction is what separates belay devices from each other. Most belay devices form the rope into sharp angles or use large surfaces to create friction. Others depend on moving parts, which might make them more effective, but also more difficult to operate. It's important to learn and apply proper belaying techniques when using these devices. Always keep the rope close to your body in order to make the most out of your gear. Fail to do so and you might find yourself in a bad spot.
How does assisted braking work and why is it important?
You will hear this term often in this branch: assisted braking or emergency braking. If you're wondering what it actually is, it's a system that allows the device to stop the rope automatically if it detects a fall, thus saving the climber's life. There are two main types of assisted braking, namely active assisted braking and passive assisted braking.
Active System
The active system relies on a rotary cam. If the rope moves through the device at a steady pace, it can flow freely. If the cam starts to spin too fast, it will pinch the rope and slow it down or stop it altogether. It's a simple system, but a highly effective one. However, these belay devices are recommended for experienced climbers only and there's a very good reason for that: if the brake does not activate for whatever reason, the belayer needs to have very good belay techniques at his disposal in order to make the best out of a bad situation.
The GriGri Plus is a belay device with an active assisted braking system.
Passive Break Devices
Passive brake devices do not have any moving parts but instead make use of the device's own shape. For instance, the device can change its angle once the rope is weighted, which in turn locks it down. These are generally cheaper to make and cheaper to buy, but they're not exactly as reliable as active braking systems.
How to care for and maintain your belay device.
Belay devices are durable and dependable, and they are designed to wear off slowly over the years. This means that you might hold on to one for quite a while, assuming you won't damage it in an accident or due to poor maintenance techniques. Here are a few tips to keep your belay device in tip-top shape at all times:
Store your gear separately and in a safe place. This ensures that you won't knock anything around or step on something. Your equipment should generally sit in an area with good ventilation and without direct sunlight.
Don't store gear in damp places where mold is likely to thrive. Keep moisture out of your containers as well if you plan to carry your gear on long trips.
If you climb near the sea, take note of any salt build-up or rust. Humid air can wreak havoc on metal climbing equipment, belay devices included – even on the more expensive and durable ones.
Wash your gear with clean warm water after climbing in salty environments.
Use a small brush to clean out any dirt and oil deposits.
Keep your gear lubricated using general lubricants.
Don't use conventional household cleaning products, and don't use high-pressure washers on your belay devices. This is particularly important if they have moving parts.
Conclusion.
Finding the best belay device is not always a simple task, particularly if you're just starting out. Some of the products I recommended above are better suited for rock climbing, others for rappelling, others for simple belaying techniques. Others can fill all of these roles with flying colors.
I wanted to give you multiple options to choose from so that you may be able to pick something that ticks all the right boxes. After choosing a belay device, it's also important to learn how it works, and what are its main strong points and weak spots. Fortunately, these devices are designed to be durable and dependable, which means that you can rarely go wrong with either of them.
I hope that this guide has helped you gain a better understanding of belay devices and that you've become a slightly better climber as a result.