Stay tuned for a complete guide on climbing and rappelling gear weight.
How much does rappelling gear weigh? You probably never asked yourself this question, and if you're a beginner, I definitely don't blame you. However, the truth is that the weight of your climbing and rappelling gear can impact your performance out there, and knowing what to expect in terms of extra weight can help you in your preparations. I didn't care too much about rappelling gear weight at first, but when I went out there for the first time, I was actually surprised at how heavy it all felt.
So how much does climbing an rappelling gear weigh? In general, your essential setup should weigh somewhere between 11 and 16 pounds (5 and 7 kg). This essential setup includes your carabiners, belay device, rappelling rope, a knife on a lanyard, a set of rap rings, webbing, and a hiking backpack.
However, there's also an extended rappelling equipment list, which also comprises your protective equipment and apparel, namely your helmet, harness, gloves, and boots. Each of these items further adds to the total weight you need to carry.
Therefore, there's another important distinction to make: we need to calculate the weight of your rappelling gear separately from the weight of your apparel and protection pieces. Basically, if you carry most of your gear in your backpack, you won't have a hard time getting around, even if the trail is treacherous. I'll assume that you're already wearing your harness, your shoes, helmet, and gloves. My calculations won't account for the weight of your pants and upper body apparel, as this will vary greatly depending on the season and your own personal choice of clothing. For a complete list of rappelling gear essentials, make sure to visit this little guide that I put together right here.
In order to make things as clear as possible, I'm going to create a table depicting each piece of gear and its individual weight. I'm going to add up the numbers at the end, and we'll get to see exactly how much extra weight you can expect to carry with you up there. For this list, I'm going to choose medium-sized gear and popular accessories.
Rappelling gear essentials weight chart.
ITEM
WEIGHT
SIZE
2x Omega Pacific Carabiner
2x8 oz = 16 oz
2x226 grams = 452 g
5.5 x 3.5 x 3 in
14 x 9 x 7 cm
Black Diamond ATC Rappel Device
3.52 oz or 100 g
3.6 x 5.6 x 2.6 in
9 x 14 x 6 cm
Singing Rock Static Rope
9.7 pounds or 4.4 kg
10.5 mm thick

CRKT Ruger Carbine Neck Knife
1.28 oz or 36 g
4.4 x 0.9 x 0.4 in
11 x 2 x 1 cm
Loowoko Hiking Backpack 50L
2.6 pounds or 1.1 kg
25.6 x 13.8 x 9.8 in
65 x 35 x 25 cm
Paliston 25kN Rappel Ring x4
1.34 oz x 4 = 5.36 oz
38g x 4 = 152 g
2.7cm / 1 1/9in(inner); 5.1cm / 2in(outer).
1 Inch Tubular Nylon Webbing
2.1 lbs or 1 kg
20 yards
TOTAL WEIGHT
15.6 lbs or 7 kg
As you can see for yourself, the heaviest piece of gear in your basic rack is the rappelling rope, which can be even heavier if you go with a thicker model. The length of the rope also plays a key role in its overall weight. However, the rope won't weigh you down during the rappelling process itself, as it should already be out and anchored.
The backpack and the tubular webbing are also quite heavy when you add them together, but you can always go for lighter, smaller backpacks and smaller webbings. Truth be told, I was quite surprised by the end result of this little experiment, as 15.6 lbs is a respectable amount of extra weight that we need to carry around. Therefore, I'd definitely recommend some test runs beforehand, just to see if you're in good enough shape to make it to the top of the hill/cliff/building.
Protective gear and apparel weight chart.
ITEM
WEIGHT
SIZE
Black Diamond Half Dome Helmet
11.9 oz or 340 g
7.7 x 10.5 x 5.6 in
19.5 x 26 x 14 cm
Black Diamond Momentum Harness
8.8 oz or 250 g
10 x 11 x 5 inches
25 x 28 x 13 cm
Petzl Cordex Plus Gloves
5.3 oz or 150 g
7.9 x 0.4 x 3.9 inches
20 x 1 x 10 cm
Black Diamond Momentum Shoes
1.52 lbs or 690 g
13 x 7 x 5 inches
33 x 17 x 12 cm
TOTAL WEIGHT
3.1 lbs or 1.4 kg
Fortunately, your essential protective gear won't weigh you down too much, as the end result is somewhere at around 3.1 lbs. Adding up a shirt/jacket, as well as a decent pair of pants, and we can go up to 4.5 lbs at most. Of course, I'm under the assumption that your clothes are dry. If you plan on doing some waterfall rappelling, I'd recommend wearing light clothing that won't soak up too much water as you get wet.
How much does climbing and rappelling gear weigh in total?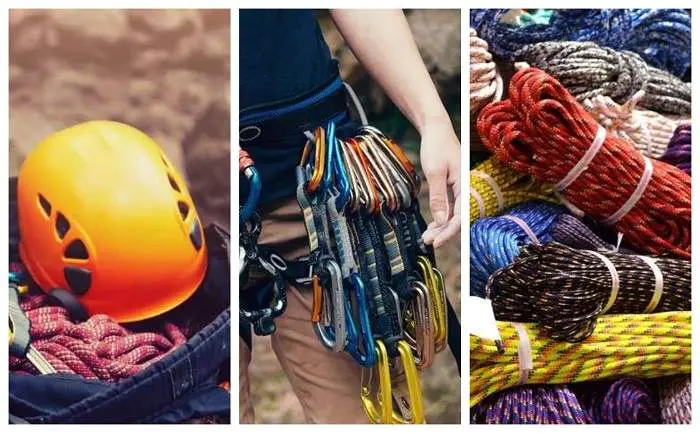 Adding up the numbers, we reach a total of 18.7 lbs or 8.4 kg of extra weight that you need to be ready to carry around as you reach your rappelling point. Whether this number is intimidating or not, it all depends on your personal fitness, height, and weight. For me, it was definitely a struggle to carry it all, especially in my early days. However, if you're a relatively fit person that has been hiking and trailing for a few years, you're not going to be bothered by the weight of your climbing gear at all.
After all, there were several other things that I could have added on the list, especially if you were also planning to camp before or rafter your rappelling adventure. In that case, you would have needed a tent, a much larger hiking backpack, food, a hydration pack, and maybe even a change of clothes.
Is lighter gear really worth it?
Would I endorse actively searching for lighter gear in order to make your climbing trip easier? Since many of these gear pieces have strict protective purposes, not really.
Let's look at rappelling rings, for example, shall we? These essential rappelling devices come in two main variations: hollow or full. They can also be made out of steel or aluminum alloy, which means that some models are considerably lighter than others. But still, you're only looking at a few ounces in weight savings, and is that truly worth sacrificing your safety for? I'll be honest: in terms of materials, there's nothing wrong with going for an aluminum rap ring, but I would definitely avoid going for a hollow one, even if it is lighter.
Next up, let's talk about ropes! The static rappelling rope is definitely the single heaviest piece of gear in your kit. Naturally, if the rope is shorter, it's going to weigh less, and you can definitely rappel with a shorter rope if you're not planning to do it from great heights. Rope thickness, however, is something I wouldn't mess around with, even if it would result in some considerable weight savings.
So what can you do to lighten up your gear rack? Well, you could go with a smaller knife, less webbing, a synthetic pair of gloves instead of a leather pair, light and breathable climbing shoes, and maybe a lighter helmet. Speaking of the helmet, though, don't just look for the lightest one, but for the strongest one that happens to meet your weight requirements. Don't mess around with flimsy carabiners, or cheap backpacks, and definitely don't cheap out on your rappelling harness!
Conclusion.
The total weight of your climbing and rappelling setup represents the added weight of your essential climbing equipment, plus the weight of your basic protective apparel. I generally try to keep this extra weight at around 16 pounds, but that's because I weigh 127 pounds myself, and I don't feel comfortable climbing with any further weight on my back. Sometimes I take a few extra things along knowing very well that each piece will make my climbing trip more difficult.
Extra weight comes with the territory, I'm afraid, and there aren't many things that we can skip on, mainly due to safety concerns. I hope that this small guide has helped you form a general idea regarding climbing and rappelling gear weight. Your own experience might differ from mine, and your gear might be considerably heavier or lighter.
If I crunched the numbers wrong, just let me know and I'll have another look at the two tables. Moreover, if you have any suggestions, or you would like to share your own equipment list, feel free to get in touch!
Until then, as always, stay safe and enjoy the view!