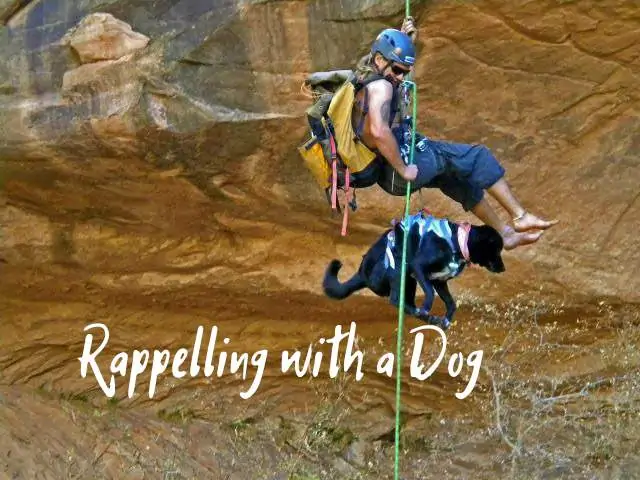 From rappelling harnesses for dogs to behavior and safety tips – Here's all you need to know about rappelling with a dog.
Rappelling by myself was difficult enough to learn. It involved many scruffs, the occasional fall, and a few sprains over the years. Fortunately, I didn't hurt myself too badly while learning how to climb and to rappel, but I can only imagine how difficult it must have been if I also had my dog with me. Full disclosure: my dog (Dana) and I don't rappel often, she doesn't enjoy it as much as I do. But we did attempt it a few times and achieved moderate to great success.
There are a few things that I wish I knew before I attempted to rappel with my best four-legged friend by my side, which is why I decided to write this post for all of you who are thinking about doing the same. Rappelling with a dog is a hugely rewarding and exciting experience if you ask me, but it's also riskier and a bit more stressful depending on your (and your dog's) experience level.
The dog rappelling harness – your most important piece of gear.
Rappelling with a dog is relatively straightforward: strap your pet into a high-quality dog rappelling harness and tandem rappel with it just like you would with an actual person. A heavy gear bag could work en-lieu of a dog harness, by clipping the dog into the same point on your harness as your device. However, I always went with a rappelling harness designed specifically for dogs, as that is definitely a more secure option in my humble opinion.
For rappelling, you can use a dog climbing harness, and fortunately, there are plenty to choose from. There are a few that stand out, however, particularly the Ruffwear DoubleBack Harness for Dogs, and the FrontPet Heavy Duty Dog Lifting and Pulling Harness. I'm going to tell you a bit about both, and you can decide which one is best for you and your dog's needs.
Ruffwear
Doubleback dog rappelling/belay harness.
The Ruffwear Doubleback is widely known in dog climbing and rappelling circles as the absolute best dog rappelling harness. Some would argue that Ruffwear is the only brand they'd choose for this kind of activity. In this particular case, the product was designed specifically to lift or lower a dog by rope, so it's easy to understand why it would inspire confidence. You could use more conventional harnesses in order to rappel with your dog, but you could end up putting your pet at risk, which is why I wouldn't recommend it. I've scoured the online and offline for alternatives to Ruffwear's offering, but unless you're willing to pay close to a grand for a military-grade dog harness, the Doubleback is your only safe bet.
That's not to say that the Ruffwear Doubleback is cheap, as it will set you back quite a bit right now. I still think it's worth it, though. Many dog owners buy harnesses because their pets suffer from a spinal injury, are ill, or are in need of some extra support. Or maybe because they want to be able to carry them when they get tired. As you can see for yourself, this product comes with a handle at the top, which makes carrying your dog around very convenient.
But back to the matter at hand, which is rappelling. The Doubleback is sturdy enough to support a weight of 2,000 lbf/8.9 kN. That's more than enough for even the larger dogs out there. The harness has its primary tie-in point located at the center-back area, which allows for easy attachment. There are also several loops along the length of the harness for improved stability.
Other highlights include 7 points of adjustment, as well as anodized aluminum buckles. When it comes to comfort, the belly area is padded for extra support, while the leg loops provide equal load distribution. Just in case your dog needs some extra mobility, the leg loops can be easily tucked away.
There are four different sizes available for the Ruffwear Doubleback harness for dogs, namely X-Small, Small, Medium, and Large. For reference purposes, the medium variant measures in at 13.6 x 11.6 x 0.2 inches, and it weighs 1 pound.
Let's talk about conventional dog harnesses for a moment.
As I mentioned before, I only feel comfortable recommending the Ruffwear Doubleback if you plan to rappel with your dog. That being said, if you just want to enjoy a casual hike, a skiing trip, or a snowboarding adventure, or just a conventional walk in the company of your dog, there are plenty of harnesses to choose from.
To be on the safe side, and assuming you'll want the best of the best for your four-legged friend, I went ahead and found a very durable and reliable search and rescue harness for dogs, which could fill in all of the roles I mentioned just now. Furthermore, if you think you'll encounter sections that are particularly difficult to traverse, or if you'll need to lift the dog up to key access points, this mountaineering vest for dogs will definitely come in handy.
Ruffwear Web Master Pro dog search and rescue harness.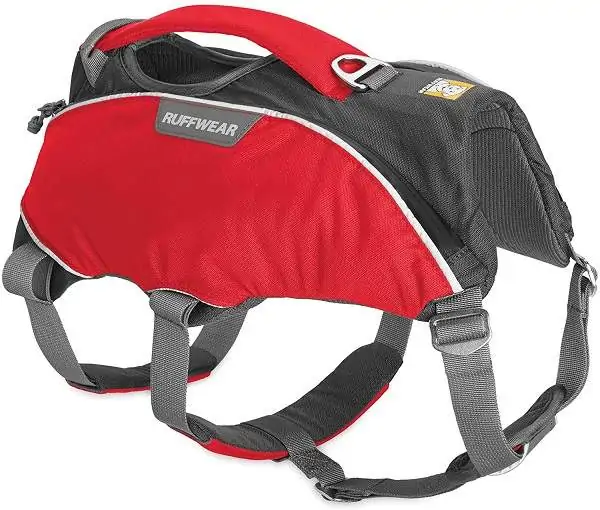 Finding a good hiking vest for dogs is no easy task. The product needs to fit properly, be comfortable, and able to provide a good dose of versatility while on the trail. You definitely don't want to equip your dog with a cheap and flimsy product. It deserves more than that.
The Web Master Pro by Ruffwear is probably the best hiking harness that you can get for your dog right now. Keep in mind that this isn't a dog belay harness. It's a harness designed for extra support, which can also double up as a lifting harness when the terrain gets tricky. The holding mechanisms on this are very strong. They will work just fine in all weather conditions, even in the cold.
The securing system is quite similar to that of a regular climbing harness. Once you put it on, this thing will stay on your dog no matter what. Officially, the Web Master Pro was designed for professional avalanche and search and rescue teams. That's probably why it has reflective trims and comes with a safety light loop. There are four points of adjustment in total, and all the hardware pieces are made out of metal. You won't find any flimsy plastic bits on this.
One of the main highlights of this product is the sturdy handle at the top, which makes lifting and lowering your dog safe and easy. For extra comfort, the straps have a foam lining, and for improved versatility, there are 2 low-profile zippered stash pockets that you can use for essentials.
In short, if you want to take your dog rappelling, just go ahead and get the Ruffwewar Doubleback. For casual hikes, walks, and camping trips, the Web Master Pro is your best bet.
Know your dog.
Dana is a Doberman, and she's not afraid of heights, but it's very important to know beforehand if your companion gets agitated or is generally terrified of heights. If that's the case, I definitely don't recommend putting your dog through this potentially traumatizing experience. Test out the field first, take your dog with you on a hiking trip, admire the view from the top together, and get a feel of what it thinks about heights.
Some dog breeds are better suited for rappelling than others, but not really as far as personality is concerned, but mostly in terms of overall fitness and toughness. Smaller breeds of dogs, although easier to rappel with from a weight perspective, might not possess the stamina required to see the trip through, but it all depends on how difficult your rappelling trip is anyway. For smaller hikes, climbs, and rappels, small dogs will probably cope just fine, and they'll definitely enjoy being up there with you.
It's always a good idea to start small and enjoy the modest victories before taking your dog on a proper rappelling trip. Always be prepared to end things quickly if your dog becomes agitated for whatever reason, and don't push it too hard if it's just not into it as much as you are. A well-raised and happy dog will trust you completely and will basically do anything with you, so if you think your dog fits the bill, you should definitely go ahead and give it a go.
General advice on how to rappel with a dog.
Like I said before, rappelling with a dog is not particularly complicated, nor does it have to be dangerous if you do everything right. However, when all's said and done, pets can be unpredictable, even the ones that we think we know the best. It's very important to be mindful of your pet while rappelling and keep a close eye on its reactions and "tells." While a human is able to communicate easily if something's wrong, your pet will have a more difficult time getting the message across, particularly if fear or anxiety kicks in.
Therefore, keep an eye on the dog's body language during the descent. Watch the tail: if it's wiggling, all is probably well, but if your dog tucks its tail between its legs, it's likely that it is becoming frightened. Moreover, even if everything appears to be going according to plan, be prepared for unexpected hazards! A nearby bird flying a bit too close can potentially startle you both, and a stray rock falling from above can really put a wrench in your plans.
Of course, these things can happen even if you're rappelling by yourself, but given the presence of your "passenger," I'd recommend extra caution. That's not to say that rappelling with your dog should be a stressful experience. Keep in mind that dogs pick up on your body language, and some of them are actually influenced by your mood and emotions. Reassure your pet as much as you can during the descent, and if you are truly enjoying yourself, your bond with it will ensure that it's having a good time too.
Teaching a dog how to climb and rappel.
If you've decided to teach your dog how to rappel and climb with you for the first time, I think that I can help you out with some pointers. You won't need a hire a professional trainer in order to achieve success, as long as you take things slow and enjoy the experience together. Dog climbing can be incredibly rewarding for both you and your pet, as long as you follow these simple steps.
Don't hesitate to leverage play – Different dogs have different attention spans, and some of them are more receptive to learning new tricks than others. If your dog is naturally attentive and loves to experience new things alongside you, then you can consider yourself very lucky. However, some dogs require frequent time-outs, so do remember to incorporate short but meaningful break/play sessions whenever you deem it necessary. Moreover, tasty treats can be incredibly useful on the trail, as they break boredom and anxiety. Bring some for you too while you're at it. After all, the whole point is to do things together!
Stay close at all times – If you and your dog have a close relationship, make sure to stay close by at all times in order to reassure and comfort it as much as possible. When you are rappelling, you can hold your dog on your lap or let it hang loosely by your feet. Depending on the level of trust that you two share, one choice might be better than the other. If you opt to hold your dog in your lap, your overall movement and flexibility will be limited. However, if the dog hangs below you, it will hit the ground first as you finish the rappel, and this can cause some balancing issues if the dog moves too much or gets a bit overly-excited when it reaches the ground.
Survey the land beforehand – While you might wear a bunch of equipment designed to protect you from hazards, your dog might not have much else going on apart from a harness. Dogs are incredibly resilient creatures, and they're able to adapt quickly to hazardous situations. However, slippery rocks are particularly dangerous for them, as they are simply not equipped to handle wet surfaces. Furthermore, unlike cats, dogs don't always land on their feet, so a fall can quickly turn into a tragedy. Keep a close eye on the terrain, and generally avoid waterfall rappelling with your dog, or even rappelling during the rainy season.
Hopefully, this article has helped you get a better grip on what it actually means to rappel with a dog, what are the risks involved, and how you should go about it. I'll say it again: even though it's a bit more dangerous than rappelling alone, it doesn't have to be a stressful experience for either of you.
My advice is to try it once and see how it goes. If you and your dog enjoyed it, then you'll probably do it again many more times. If something goes wrong, however, it's probably best to let your companion cheer you on from below or above, with a friend holding it's leash to be on the safe side.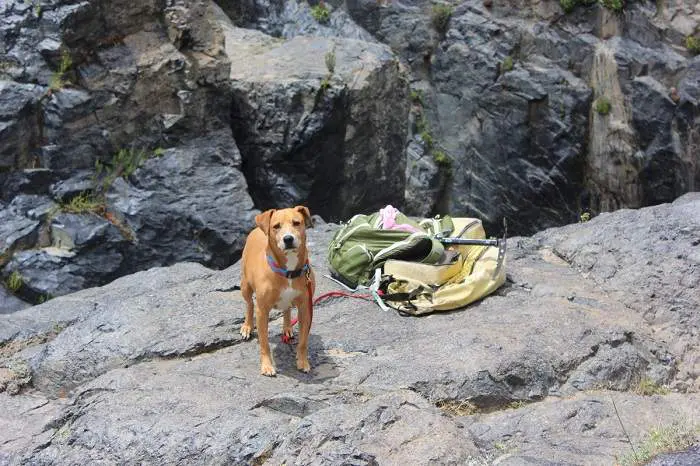 If you have any suggestions, critiques, or any wisdom to share from your own experiences, feel free to get in touch!
Until then, stay safe and enjoy the view!