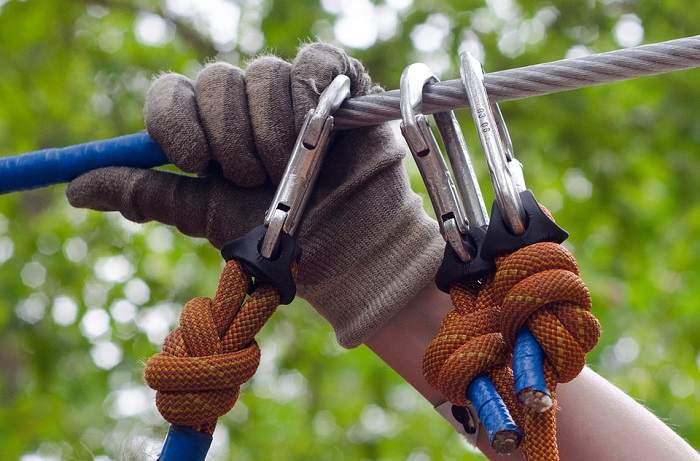 The best rappelling gloves are designed to keep your hands safe without sacrificing dexterity.
I've said before that your rappelling rope and rappelling harness are some of the most important pieces of gear in your kit, at least from a safety perspective. However, from a comfort perspective, your gloves are going to make the biggest impact. Any experienced climber will tell you that these activities can take a heavy toll on your body.
A good rappelling glove needs to be tough yet flexible, and it needs to provide an adequate amount of grip on the rope. It should also be breathable to some degree, especially if it's a full glove and not a half-finger one.
Of course, you need to be relatively fit in order to be able to practice rappelling, climbing, belaying, but it doesn't hurt if you have tough skin. Sadly, hurting your hands while rappelling is pretty much a given whenever you go out there, but you can greatly mitigate the damage by wearing a proper pair of rappelling gloves. Since I'm not running an actual store, I'm not just going to list all the gloves that I think are best and let you figure out the details.
Choosing the right pair of rappelling gloves is a tricky task, as there are several designs available, multiple material choices, and plenty of sizing options to consider. Wearing anything less than a perfect fit could do more harm than good in the long run, so please pick your gloves carefully, and test them out thoroughly.
What makes a rappelling glove special?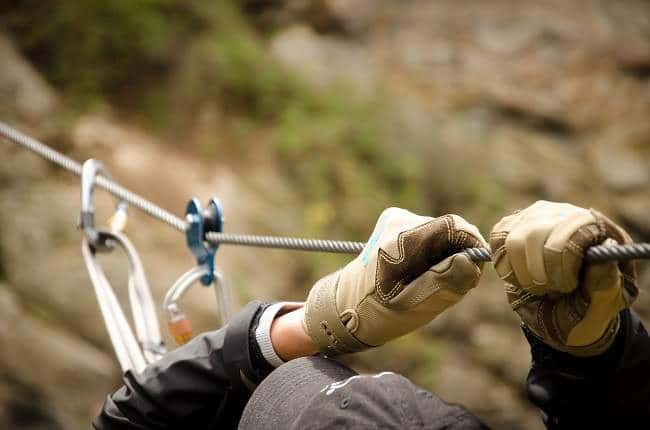 All sports gloves were basically designed to offer some protection for the hands. Even basic winter gloves can keep your hands warm and cozy while offering basic protection. However, rappelling gloves need to be sturdier than most because they also go through much more abuse. When climbing, your hands come in contact with hard rocks, and when you rappel, you need to hold that rope tightly no matter how much you trust your anchors and belay device. It's just human nature.
Most of these gloves come with reinforcements at key areas, which allows them to take the punishment associated with this particular activity. Furthermore, they are much more durable when compared to regular gloves, mainly because they come with double stitching.
Some pairs come equipped with reinforced clip-on points that improve safety and make the entire climbing/rappelling experience more engaging. These gloves are generally the lightest ones you can get your hands on (or in).
Keep in mind that there are two main types of rappelling gloves. Those made out of leather are the most durable and the most comfortable, while synthetic gloves are more breathable and therefore are able to keep your hands cooler. Synthetic gloves are also more affordable when compared to leather ones.
Diving even deeper, I found even more glove types, namely ninja rappelling gloves with hooks in the palm area, fingerless gloves, tree climbing gloves, or good old grips. It's up to you to determine which type is best for you. If you're about to gear up for a rappelling trip, chances are you'll probably do a bit of climbing as well. In this case, it's probably a good idea to bring along two different pairs.
My personal rappelling gloves recommendations.
1. Liberty Mountain Rappel Glove.
Liberty Mountain makes gloves designed specifically for rappelling, which is why I thought I would start my list with this affordable yet reliable pair. Considering the price, these rappel gloves offer impressive protection due to their leather construction, even though some people have complained that the gloves look a bit thicker in the pictures than they do in real life.
While I did notice that to some extent as well, the same can be said about many other pairs of gloves out there. What mattered to me was the fit and the amount of protection that they provided, and they haven't disappointed me in this regard. Sizes range from X-Small to X-Large, and there are three available colorways on offer named Natural, Beige, and Black.
The gloves weigh in at just two pounds, which is not too much but not incredibly lightweight either. I'd recommend the Liberty Mountain rappel glove for beginners who are looking to put together an affordable rappelling gear kit. If you are more experienced and require something well-suited for challenging climbs, just keep on reading.
2. Petzl Cordex Plus Gloves for Climbers.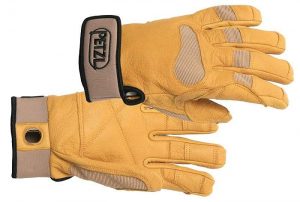 My second recommendation is the Petzl Cordex Plus rappelling and climbing gloves! These gloves have been with me through thick and thin, and they never let me down even once in two years. The reason for that is that this particular model is still one of the best on the market, and one of the best gloves I have ever worn period.
With this kind of glove, you might think that you're somehow sacrificing durability for dexterity. They do feel very slick and comfortable, and you're able to tie knots while wearing them with ease. However, since they boast a double layer of leather in the finger areas, they offer more than enough protection for activities such as climbing, rappelling, and canyoneering.
The palm area is padded heavily as well, which does tend to reduce the feedback you receive from the rope. At the start, you might be concerned about this lack of feeling in the palm, but you'll quickly get used to it. The back of the hand features an abrasion-resistant stretch nylon area, which improves breathability in order to keep the hands cool. This is incredibly important for a leather climbing glove, as you wouldn't want your hands to get hot and sweaty
The Petzl Cordex Plus comes in two colorways, namely Black and Tan, and in several sizes such as X-Small, Small, Medium, Large, and X-Large. I usually wear a Small, and they tend to be very, very snug. They're a little tricky to put on, particularly if humidity is a factor. Other than that, I can definitely recommend these gloves any day of the week.
SEE IT ON AMAZON
3. Caiman Rappelling & Rope Handling Glove.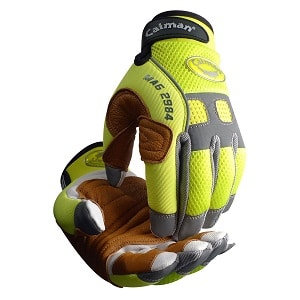 The rappelling glove by Caiman was designed specifically to endure the hardships associated with rappelling and rope handling. That's why it comes with a goatskin palm complemented by a layer of pig grain leather in specific high-wear areas.
Furthermore, the leather palm reinforcement extends all the way to the back part of the index finger for even more durability. If high-visibility is important to you, this glove has reflective elements that are bound to make you noticeable. I should also mention the neoprene knuckle and cuff, as well as the air mesh back area that improves breathability and air circulation.
The Caiman rappelling glove is available in various sizes such as medium, large, x-large, and 2x-large. Finding the proper size shouldn't be an issue, but it's always a good idea to consult the product's sizing guide, which I'll attach below.

4. Rothco Full-Finger Rappelling Gloves.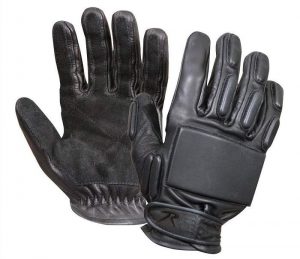 The Rothco full-finger glove was designed specifically for rappelling, which is why it's able to provide more than adequate protection from rope burns and the like. Not a lot of people have purchased this pair of gloves, probably because it's a newer model, but it'd definitely give them a shot if I were at the beginning of my rappelling career.
According to Rothco, these gloves flaunt a full leather build, with foam padded back and knuckles for improved protection. The palm area is suede, and it apparently benefits from some kind of reinforcement as well. All things considered, this product offers quite a bit of value for money. Generally, I'd recommend spending a bit more than that for a pair of rappelling gloves, but in this case, I'm not so sure this rule applies.
From what I can tell so far, these gloves are as sturdy as they come. If you do decide to give them a try sometime, feel free to let me know if they met your expectations!
SEE IT ON AMAZON
5.
Black Diamond Crag Half-Finger Climbing Gloves.
Of course, I had to include a Black Diamond product on this list, but I didn't just choose the first rappelling glove that came to mind from this company. I mentioned before that there are a few different types of climbing gloves, and the half-finger type definitely deserves a mention. The Black Diamond Crag half-finger climbing gloves represent a cut-down version of the regular Crag model, and I mean that literarily.
The tips of the finger areas are cut off in order to improve comfort and breathability. Moreover, you're able to use your camera, phone, or even have a snack without having to take off your gloves every time. As far as protection goes, however, the cut-down design doesn't impact it much at all. The Black Diamond Crag is made out of synthetic leather, and it comes with a breathable stretch mesh fabric and knuckles padding. The index finger and thumb crotch are reinforced for extra durability, which is a big plus in my book.
The sizing versions are standard from X-Small to X-large, and there are two color options available a the time of writing, namely Cobalt Blue and Black. Priced at the cheaper end of the spectrum, these Black Diamond gloves offer some incredible value, especially considering the brand's reputation and affinity for quality materials.
SEE IT ON AMAZON
6.
Intra-FIT Rope Gloves.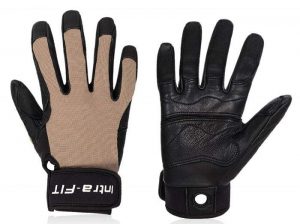 I got one more for you, and this pair is special because it's actually the first pair of climbing gloves that I ever put on. The Intra-FIT rope gloves were a necessity for me because when I first started out my hands were a mess. Ropes, in particular, used to wreak havoc on my palms, and I came very close to quitting rappelling and climbing altogether because of it.
I'm not saying that these gloves necessarily saved rappelling for me, but they definitely played a key role. I wanted a pair of "rope" gloves because I never wanted to feel that horrible burn again. Of course, I felt it plenty over the next few years, but that's beside the point. The gloves, however, did a very good job. They're not expensive by any stretch, and they're some of the most comfortable rappelling gloves out there. They're made out of grain goatskin, and they have stretchable spandex elements that help with breathability and dexterity.
It also comes with cool stuff such as an anatomically curved finger and soft neoprene cuff, as well as a velcro closure. The cuff has a built-in carabiner hole, which makes it easy to attach the glove to your harness at any given time. There's a single colorway available in tan/black, but there are plenty of sizes to choose from. This is a great pair of gloves for any outdoor enthusiast. They'll work just fine in harsh conditions, but I also used them for more relaxing activities such as walking my Doberman or hiking.
SEE IT ON AMAZON
7.
Metolius 3/4 Climbing Gloves in Leather.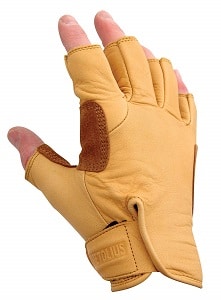 I don't consider myself a hardcore climbing enthusiast or even the most diehard rappelling enthusiast out there, which is why I never really invested in particularly thick gloves. You know the ones I'm talking about: the ones that look like they would be better suited in a post-apocalyptic world. Still, I have to give credit where credit is due. I had the opportunity to test out a pair of Metolius 3/4 climbing gloves in leather a while ago, and they felt tough. No, really tough!
They have a thick cowhide main body, as well as a palm reinforcement made out of triple-stitched, split cowhide. Pretty much all of the regular wear areas are reinforced, and even the finger openings have double stitching. If these gloves didn't have an open-finger design, I don't think I would have recommended them. As they stand, though, they offer fantastic protection with a dash of convenience. You can still search for the Metolius full-finger belay glove if you're looking for even more protection. For an amateur climber like myself, though, these did the trick just fine.
SEE IT ON AMAZON
Keeping your rappelling gloves in great condition.
Depending on their overall quality and material choice, your rappelling gloves will be more or less resilient to frequent abuse. It's very important to keep them in good shape and examine them carefully before and after each rappelling session. More importantly, however, you should be mindful of how you wash and store your gloves.
Leather gloves are particularly tricky to work with. If you leave them in the sun too much, for instance, the leather could crack or lose its elasticity.
Don't use any harsh chemicals when cleaning them, and be sure to store them in a dry and cool area, preferably away from the rest of your rappelling equipment.
Check the pressure points and seams often for any signs of damage, and be sure to wipe them off with a clean cloth sprayed with leather cleaner and conditioner from time to time.
Synthetic gloves don't require nearly as much maintenance, but then again, they're not as durable either. If your climbing gloves are made out of fabric, there's not much you can do to keep them in good shape apart from washing them from time to time.
Bonus Tip: How to take care of your calluses.
It's not the most glamorous thing in the world, that's for sure, but like it or not, calluses will form on your hands as you advance further into your climbing/rappelling adventure. Experienced climbers know that hand calluses just come with the territory no matter what kind of gloves they use. As a matter of fact, there's an entire routine to caring for them and keeping them in good shape.
One of the worse things that could happen to your calluses is to rip off and flap about while you're on the cliffs. This is painful and distracting and should be prevented as much as possible. Sadly, if it hasn't happened to you yet, it's probably going to at some point. But if you follow these simple yet effective methods, you'll greatly minimize your chances of damaging them.
So what is a callus anyway? Well, it's actually a very natural skin response to repeated friction and damage. We are highly adaptable beings, and as such, our skin has learned to protect itself from repeated abuse by becoming tougher. In climbing, rappelling, and belaying, calluses form regularly, but they have a key role in reducing pain and making our hands tougher. However, even though they might be just ugly patches of rough skin, it's actually very important to care for them. Here's what I do to keep my calluses in check:
Use a climbing salve or lotion – I can't stress enough how important it is to keep your skin hydrated when practicing these kinds of activities. Hydrated skin is much less likely to crack, and this applies to hardened skin as well. Experiment with different climbing salves and lotions in order to figure out which one works best for you. I use the Joshua Tree Organic Organic Healing Salve and it works great to keep my skin rappel-ready without softening my calluses too much. Apply the product each night before going to sleep. You can wrap your hands in athletic tape such as this offering from Mueller if you're worried about getting it all over your sheets.
Keep hot water at bay – This is probably the most difficult tip of them all: avoid hot water. It's not going to be easy, and it's not going to be pleasant, but hot water softens the skin and makes it easier to peel off. Your calluses are a testament to your strong will and hard work, and losing them just because you spent a few extra minutes in the shower is not worth it. Take shorter (or cold) showers, and wear gloves when you do the dishes if you absolutely must use hot water.
Wash your hands after rappelling – This second piece of advice goes hand-in-hand (pun intended) with the one above, but it actually does involve using water, cold water that is, in order to wash your hands. It's important to wash your hands after a climb/rappel because this simple process does away with any potential sweat, dirt, grease, and leftover chalk. All of these can damage your skin if left unchecked. Just wash your hands with soap and cold water after each session, as this will give your hands a chance to recover.
File the calluses – If your callus situation is getting out of hand (I'll stop I promise) just file the extra skin away. You can use a file, a pumice stone or even a fine piece of sandpaper for this. Make sure to file your calluses until they reach the same level as the surrounding, regular skin. Filing them too much could potentially remove them altogether, and we wouldn't want that, would we?
Switch up your chalk – Some climbers have sweaty hands, which is why some climbing chalks contain some form of drying agent. If your hands don't sweat too much, though, this drying substance could harm your skin and cause it to chap. Find the climbing chalk that works for you and your skin type! Personally, I can recommend the FrictionLabs Loose Climbing Chalk, as that worked out perfectly for me.
I hope that this article has helped you pick out a high-quality pair of rappelling gloves for your outdoor adventures. If you have any suggestions or personal experiences that you would like to share, feel free to get in touch.