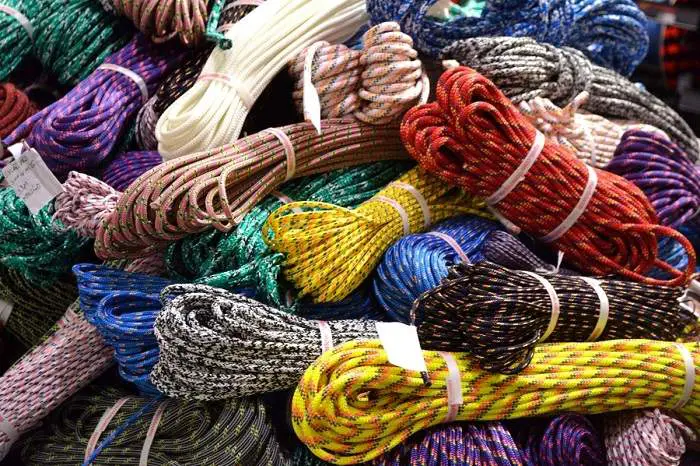 Finding the best rappelling rope can be a challenge. But you came to the right place.
A good rope for rappelling is a static rope, which measures between 9 and 11mm in width. It should ideally be manufactured by a reputable brand, and it should be tested rigorously beforehand to ensure its durability.
The best static ropes are at least 8.5mm wide, and anything below that is officially considered a cord. Don't use a cord while rappelling, as it most likely won't be strong enough to support your weight, at least not consistently. When it comes to length, the conventional length of a rappelling rope is 200 feet or 60 meters. The longer your descent, the longer your rope needs to be. Therefore, rappelling rope size is an important factor to consider.
I can't stress enough how important it is to choose a good rappelling rope for your outdoor adventures. While it's certainly true that other pieces of rappelling gear are just as important, you won't go very far if your rope starts to deteriorate mid-rappel.
The good news is that most of the rappelling ropes that you find in stores and online are designed to wear out gradually as opposed to snapping right off. Still, some ropes are definitely better than others, particularly if we're talking about the more expensive brands.
It's important to find the right balance between price and quality, as you shouldn't have to skimp on other important pieces of gear such as carabiners, rappel rings, or descent control devices. When it comes to rappelling rope price, the more expensive ones are often the most durable, but pricing is also influenced by the length of the rope. Generally speaking, I pay somewhere between $200 and $350 for my ropes, which might sound pricey for some of you, but I'm sure you can understand why I wouldn't want to risk too much when it comes to quality.
There are two main types of ropes in the climbing/rappelling world, namely static ropes, and dynamic ropes. In today's article, we're going to cover both types so that you might make an informed decision based on your own needs and preferences.
The following list contains some of the best ropes for rappelling available on the market right now. If you're interested in finding a good rappelling rope for sale, just follow the link below for each product.
Let's talk about static ropes.
When it comes to rappelling, static ropes are your go-to solution, as they lack the stretchiness of dynamic ropes, hence they are perfectly suited for descending. Now, apart from recreational rappelling, static ropes can also be used during rescue missions, caving, or performing various tasks at great heights.
One thing that all static ropes have in common is that they are braided, which means that they can take up quite a bit of abuse over time while still maintaining their overall durability and reliability.
Each static rope includes a core and a sheath, each with its own vital purpose. The core has its own individual strands, and it takes on the vital role of weight support. As for the sheath, it protects the core while holding all of the strands together. Up next, I'm going to give you some great examples of static ropes that you can use while rappelling.
1. Singing Rock R44 NFPA Static Rope.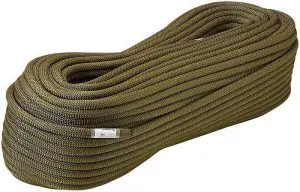 The R44 NFPA Singing Rock static rope is a fantastic choice if you're looking for exceptional durability, resistance to wear-and-tear, and as little bounce as possible.
This rope comes in different colors and sizes, and depending on these factors, it can reach prices of up to several hundred dollars. No matter your choice, you won't be disappointed, especially since this rappelling rope is already famous for its abrasion resistance.
This is all thanks to a very dense and durable sheath, which will last you many rappelling sessions as long as you don't abuse the rope too much. This product is ideal for rappelling, hauling, and various other activities, but it's not so good for climbing or toprope.
When it comes to diameter, you should choose the one that suits your needs best, especially taking into account your equipment type.
The thickest version is the most durable, but it's also the heaviest. Overall, the Singing Rock R44 NFPA static rappelling rope is a very tough rappelling companion, and I'd wholeheartedly recommend it for both beginners and pros.
No products found.
2.
Black Diamond 9.9 mm Climbing & Rappelling Rope.
Yet another impressive rappelling rope is the Black Diamond 9.9mm static rope, which comes in various length options ranging from 35m (114 feet) to 70m (229 feet).
The 9.9mm version of the Black Diamond rope has been the most reliable in my experience. As far as length goes, you'll just have to choose one that meets your specific requirements.
There's a single color to choose from, namely blue. While this might not be everyone's cup of tea, it does ensure proper visibility, particularly in low-light conditions.
Since we're talking about a Black Diamond rope, you can rest assured that it has received all of the proper certifications. This static rappelling rope won't let you down, as it was designed for enormous amounts of stress and abuse.
It is relatively lightweight for its size, and it has decent water absorption capabilities, which makes it a good choice for waterfall rappelling. Apart from abseiling, this repelling rope is also sturdy enough for caving, boating, heavy hauling, and rescues. Some people choose to include this rope in their emergency kits, which is not a bad idea at all.
3. BlueWater Ropes 11.4mm (7/16″) AssaultLine NFPA Static Rope.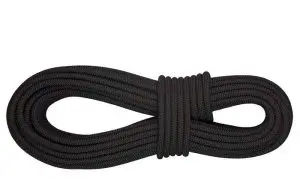 This fine offering by BlueWater Ropes is actually classified as a technical rope, and what makes it stand out from other offerings is the fact that it has very low visibility.
Therefore, it is ideal for police and military applications where stealth is of utmost concern. The stealth aspect of military rappelling rope is generally irrelevant when it comes to regular rappelling endeavors, however.
What is important, though, is that it is a very reliable static rope that offers the same renowned quality as the BWII+ series. The BlueWater AssaultLine NFPA static rope boasts a double twist cabled polyester sheath and a double twist cabled nylon core, which ensures a 3 sigma tensile strength rating of 7,935 lbs.
Ideal for rappelling and adequate as a gym-type lead rope, this product is relatively bulky and heavy, so make sure to take this into account before you make the purchase. If you ask me, a bit of extra weight is a small price to pay for unrivaled durability.
4. SWAT Heavy Duty Tactical Rappelling Rope by Rothco.
I'm going to assume that you're looking for the strongest and most dependable rappelling rope out there. The thing is, this product is quite expensive, and some of you might be inclined to choose something a bit more affordable.
In that case, just have a look at some of the other ropes on this list. Be warned, though: none of them will match the strength and durability of the SWAT Heavy Duty Tactical.
Appearance-wise, the product comes with a simple-stealth-like dark green colorway. This is not a high visibility rope by any stretch, so look for some brighter colored alternatives if visibility is that important to you.
Otherwise, this 200-foot rope by Rothco is arguably the strongest and most dependable rappelling rope in the world right now. Of course, it comes with a price tag to match, but from what I heard, it also lasts a very long time, so you won't need to replace it anytime soon.
This is a heavy-duty product designed to handle extremely hard conditions and applications. The packaged weight is 13.1 pounds, which sounds about right given the rope's length and diameter of 9mm.
5.
PHRIXUS Static Climbing Rope 10.5mm to 11mm.
What we have here is a dependable climbing rope that comes with a decent price and an exceptional amount of durability. This rope's thickness varies from 10.5mm to 11mm, which makes it suitable for numerous activities such as caving, abseiling, camping, climbing, bouldering, mountaineering, and even rescue operations.
At a glance, the Phrixus static climbing rope looks just like an average rope. However, a closer glance reveals a durable and lightweight DuPont Nylon build, which offers low elongation levels as well as strong abrasion resistance and a long lifespan. This rope also copes well in humid conditions, so you can trust it to maintain its integrity even if you use it for waterfall rappelling.
There are three different color options to choose from: orange, black, and white. While black looks the sleekest and the most elegant, I'd always recommend going for a brightly colored rappelling rope if you have the choice. When it comes to length, the Phrixus ranges from 150 feet to 300 feet.
6.
Standard Black Diamond Climbing Rope
.
I keep coming back to Black Diamond because their products are often unbeatable when it comes to reliability. The trade-off is that Black Diamond climbing ropes are relatively expensive, but as I mentioned above, if you're going to invest in something, invest in your safety.
The standard version of the Black Diamond climbing rope comes in two different thickness options – 6mm and 8mm. This offers a decent range for multiple applications, especially since the length of the rope remains consistent on both of these options. This Black Diamond rope is 65 meters long or 213 feet.
It was specifically designed for hauling or rappelling, and it has received all of the necessary certifications to get the job done, including the EN-564 certification.
7. X-Ben Outdoor Climbing Rope (Rappelling, Caving, Tree Climbing).
While also on the affordable side, this is also one of the most versatile ropes out there. It's a classic static multi-purpose rope, which means that it has a myriad of applications such as hiking, climbing, rappelling, fire escape, camping, or caving.
It's also the best-selling climbing rope on Amazon right now, which means that it offers a great mix of durability and strength at a relatively low price.
I haven't tried out this rope myself yet, but the reviews that I've seen so far are very positive.
Given the affordable price tag and the max static tensile force of 3,300 lbs, it's hard not to recommend this rope for rappelling, but I'd really just use it as a backup rope or a practice rope. Available colorways are blue, orange, and black. You can get this rope in various sizes ranging from 32 feet all the way up to 500 feet.
Summing up.
If you're looking for a rappelling rope that's pretty much guaranteed to provide good results every single time, your best bet is to go for the static R44 NFPA Singing Rock. I've been using this rope for years and it has never failed me. On longer lengths, though, this rope can become quite pricey, so a more affordable alternative would be the Tendon Canyon High Visibility Cave Rope, which offers a good mix of durability and reliability at a fraction of the price.
The X-Ben outdoor climbing rope is currently the cheapest offering on this list, just in case you're looking for the absolute most affordable rope you can find. However, if you can get your hands on a higher quality piece, I would recommend you make the effort.
Can you use a dynamic rope for rappelling?
Static rope vs dynamic rope: the main difference between static and dynamic ropes is that dynamic ones have a certain flex to them – a stretch, a give, a degree of elasticity. While this makes them ideal for climbing, they're definitely not as well-suited for rappelling, and I'm about to explain exactly why.
A dynamic rope will absorb part of the energy of a complete stop during a fall, thus protecting the climber. The fall becomes much more bearable, as the rope causes less tension on the body. When subjected to a high-impact force, dynamic ropes can stretch anywhere between 26 to 36 percent, while bodyweight usually causes them to stretch between 7 to 11 percent. Static ropes don't stretch much at all, by comparison.
For climbing, a dynamic rope is more comfortable to use, it's safer, and it's more reliable. For rappelling, not so much. During a rappel, the user must have complete control of the descending process, which is why a static rope is always the better choice. That being said, it's not impossible to rappel using a dynamic rope.
Generally, I'd only recommend this course of action if you're highly experienced, and you can cope with a bit of bounce on the descent. However, bouncing too much during a rappel can cause some wear on your anchors, so keep that in mind.
8.
PETZL Contact 9.8mm Climbing Rope.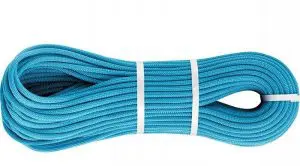 If you still want to perform a rappel using a dynamic rope, though, you should probably use a highly reliable and proven product such as the PETZL Contact 9.8mm climbing rope. This product comes in a beautiful Turquoise color, and it measures in at 196 feet or 60 meters. It comes with its own ClimbReady coil, and it is incredibly durable thanks to an UltraSonic finish, which involves bonding the core and sheath together at the rope ends.
Moreover, the core strands are stabilized by an EverFlex thermal treatment, which enhances grip and handling. While many of these terms might sound like they come straight out of a marketing campaign, you'd be hard-pressed to find a climber or a rappeler for that matter, who wasn't satisfied with a PETZL rope.
No products found.
Some advice on choosing and maintaining your rappelling rope.
Your rope is the main thing keeping you safe during a climb or a rappel, so make sure to choose it carefully and maintain it properly. Depending on your budget and experience, you might want to go for a more affordable option or a more expensive one, but in my experience, ropes created by reputable manufacturers rarely disappoint. Some of the best rope brands out there include Petzl, Mudfog, and Sunzor.
This is particularly true if you plan to perform a rope rappel. For a complete guide on how to perform this feat safely, just check out my guide right here.
It's also important to know when to dispose of your rope and buy a brand new one, even if you haven't been using it for too long. For example, if your rope has come in contact with any chemicals, you should replace it immediately.
Furthermore, if the sheath has worn out and the core is exposed, you shouldn't use that rope anymore. A frayed and worn-out sheath is also a big no-no, and if the rope has become stiff, it's probably on its last legs.
If your rope has been through some hard falls or heavy loads, it's also probably a good idea to let it retire.
If you need a rope protector, consider the Petzl Protec.
It's no secret that these ropes can go through a lot during their lifetimes. If you invested in an expensive rope and you'd like to use it for a long time, it's never a bad idea to use a rope protector such as the Petz Protec. For a little under $25, you'll get a flexible rope protection device that prevents abrasion. Thanks to its velcro closure and clip, the protector can be installed in no time at all, and it will give you some much-needed peace of mind.
It's a simple product, but a highly effective one. It's relatively affordable, and it does its job well without getting in the way.
In Conclusion.
Finding the right rappelling rope is no walk in the park, but fortunately, there are plenty of variants out there to choose from. At the end of the day, a good rope needs to be solid and dependable, and the ones that I presented today definitely tick these two very important boxes. I should also note that some of these products sell out or become unavailable after a while, which is why I constantly come back to this article and I update it with fresh offerings and new information.
If you have any suggestions or other products you'd like to recommend, feel free to get in touch. Until then, stay safe and take in the view!