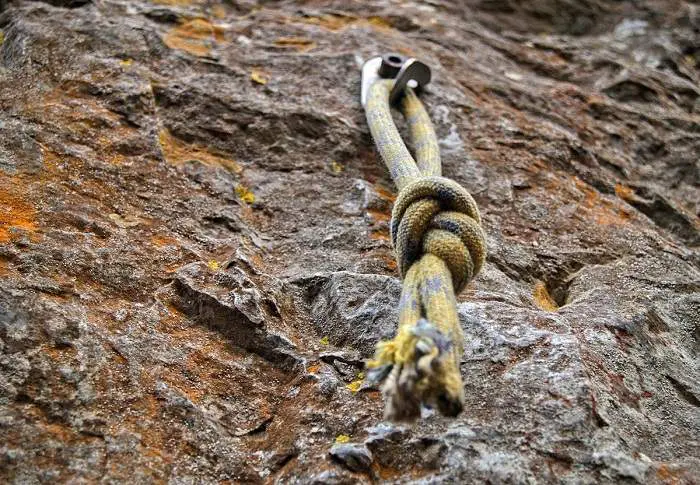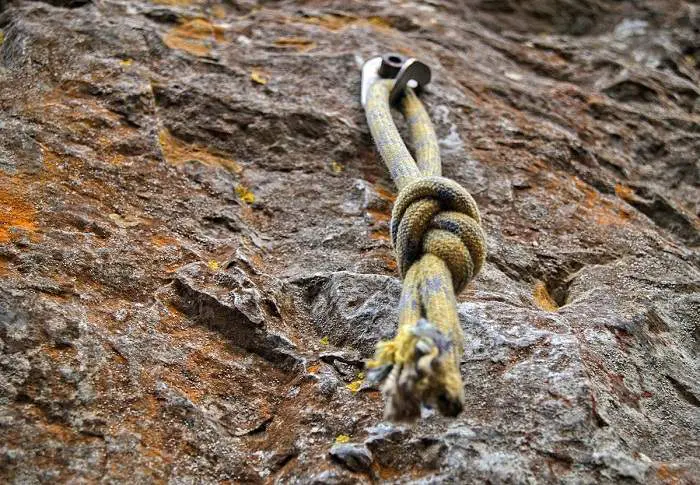 We all know that gear is incredibly important when it comes to climbing and rappelling, right? These aren't the safest activities in the world after all, and they definitely won't be fun if you don't practice them properly. When it comes to tying rappel ropes together, there are quite a few knots that you can use, but generally speaking, there are about four of them that are universally regarded as "foolproof". However, no knot will guarantee your safety if it's not tied properly, so make sure to follow each instruction to the letter!
The following list comprises some of the most popular climber knots, including the Prusik Knot, Double Figure-8 Fisherman's Knot, Double Overhand Knot, Double Fisherman's Knot, Machard's Knot and Square Fisherman's Knot. Hopefully, by the end of this short read, you'll know exactly how to tie a climber knot that won't come undone.
However, before you begin any climbing or rappelling endeavor, make sure to tie a stopper knot at the end of both ropes. This will ensure that you won't accidentally rappel off the loose ends of your rope. A stopper knot can be a double fisherman's, an overhand knot, or just a figure-8. Each will work fine as long as you tie them properly.
Pick one and stick with it!
This is particularly important if you're a beginner. Feel free to try out each one of the following climber knots, but choose the one that feels safer to you and stick with it. After you've tied and untied your favorite knot multiple times, you'll become accustomed to it, and you'll be able to tie it in any situation. Moreover, you'll learn its intricacies, its strengths, and its weaknesses, and this will help you become better and more confident at climbing or rappelling.
Remember that your life may very well depend on the quality of your knot, so make sure to practice on the ground over and over before you even think about using your knot at rappel anchors.
Alright, I've probably bored you enough with the safety drill, so let's find out what are the best climber knots and how to tie them!
1. Prusik Knot.
The Prusik Knot or the Prusik Hitch is one of the most common climber knots that you'll come across on your adventures. It is a relatively simple knot to tie, yet a very dependable one, which makes it a must-know for every serious climber. The Prusik is most commonly used to secure a loop onto a tight line. When it is not weighed, it slides easily on the line, but it jams tightly whenever a load is applied to it.
Most climbers use this knot for footholds that help them ascend up the rope. Furthermore, this knot has a bit more "give" when compared to other similar solutions such as the Klemheist, and this makes it better suited for climbing because it exerts less force on the system in the event of a shock. What's really important to keep in mind about the Prusik is that it needs to be done using rope or cord that's at least half the diameter of the primary line.
How do we tie a Prusik Knot?
First, make a sling out of cordage that's no more than half the diameter of the main rope.
Tie a Girth Hitch around the main rope.
Take the loop of the sling right back through the center of the Girth Hitch about four more times.
Load the Prusik with weight in order to make sure that it holds and is tied properly.
2. Double Figure-8 Fisherman's Knot.
What I like about the Double Figure-8 Fisherman's knot is that it has the potential to be one of the best climbing knots out there. This is widely regarded as a classic and therefore proven knot. If tied properly it is the most reliable as it won't come undone no matter what you do to it. It's also very friendly to beginners, as a quick inspection can quickly reveal any flaws.
If you have a mix of thick and thin ropes, the double figure 8 fisherman's knot is your best bet. Furthermore, even after it's been weighted, this knot is relatively easy to untie, so it earns some points in the versatility department. The only real issue with this knot is that it's quite bulky, which means that it might jam while you're pulling the ropes.
How to tie a Double Figure-8 Fisherman's Knot.
Pick your two ropes and place them one above the other on a flat surface.
Next, create a figure 8 in the top rope, and use the second rope to trace back through the figure 8 in the first rope. That's where the "double" comes from.
Now you just have to pull tight and the knot is pretty much done.
I'd recommend securing both ends of the rope with a fisherman's backup as a stopper.
3. Double fisherman's knot.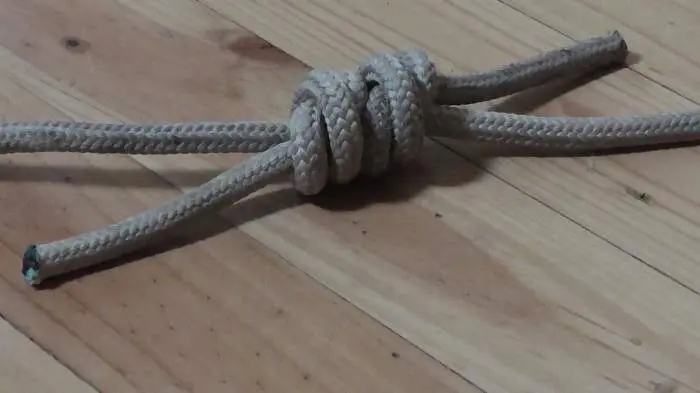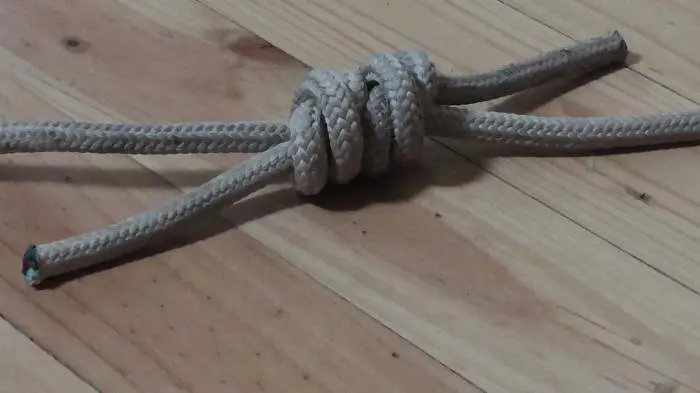 You can always use a double fisherman's knot for rappelling, as it can also guarantee your safety as long as you tie it right. However, keep in mind that the double fisherman's has fallen out of favor with climbers and rappelling enthusiasts over the last few years. The main reason for this is that it can be difficult to check at a glance, and it tends to become quite difficult to untie if the ropes are wet. Therefore, I wouldn't really recommend it for waterfall rappelling.
You can use it without any issues to tie up accessory pieces together, especially for anchors. These ropes are usually quite thin, so the double fisherman gets the job done nicely. As an added bonus this climber knot can be tied up quickly.
How to tie a Double fisherman's knot.
The instructions are quite straightforward for this knot.
Basically, you need to lay the ends of two ropes parallel to each other to start.
Then, take the free end of one rope and coil it twice around the second rope before passing it through the inside of the coils.
Just repeat this process with the second rope in the opposing position.
Pull the free ends of the ropes to tighten the knots, and then the standing lines to slide them next to each other.
4. Double overhand knot.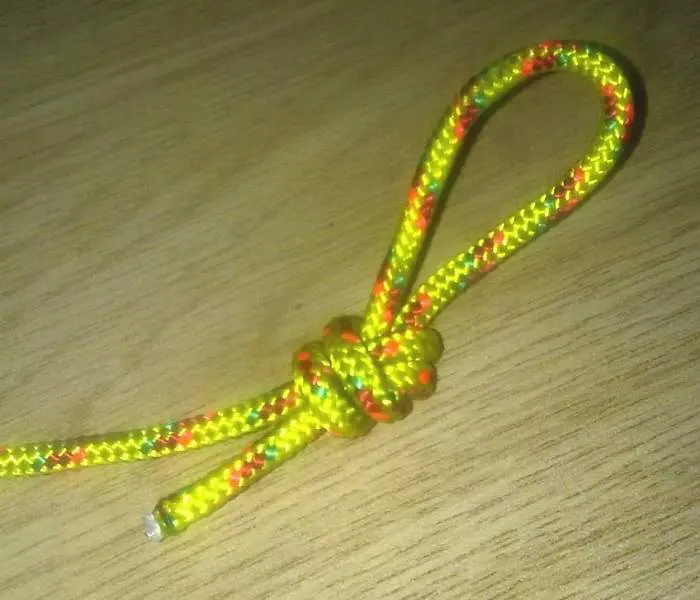 The double overhand is undoubtedly one of the most well-known knots for rappelling, but it has a rather strange reputation. As the fastest and easiest knot to tie on the list, it is gaining popularity rapidly, more so since it causes very low bulk. This means that it has a very low chance to snag. However, this knot is often referred to as the "European Death Knot," – there have been a few reported fatalities linked to it.
The truth is that you shouldn't use this knot with ropes that have different diameters. Sadly, the double overhand has caused at least one fatality by coming undone. However, studies report that it is actually stronger than the double figure-8 that I described above. The double overhand is widely used by professionals without any issues, but if you're just starting off with climbing and rappelling, you should probably use the double figure-8 instead.
How to tie a Double Overhand Knot.
The double overhand works well as a stopper.
Just tie a regular overhand knot at the end of a rope but don't tighten it just yet.
Instead, pass the end of the line through the loop that you just created and tighten the new knot down by sliding it towards the end of the line.
Always leave some tail sticking out at the end of the knot just to be safe.
Oh, and here's a video that shows off the technique as well.
5. Square fisherman's knot.
Beginners will usually want to use climber knots that are easy to tie while still being strong. All of the knots above tick these particular boxes, but the square fisherman's knot actually has another ace up its sleeve. This knot is very easy to untie, which is why many climbers are relying on it regularly. It's not a very difficult knot either, as it represents a simple square knot enhanced by a double fisherman's knots on either side.
In order to avoid any unpleasantries, always use backup knots for the square fisherman's, or else it could come undone. Remember that a square knot alone is not strong enough for rappelling or climbing, but it is quite reliable if backed up by other knots.
How to tie a Square Fisherman's Knot.
Since this is one of the simpler knots on the list, the tying process is very straightforward.
You just tie a regular square knot as shown in the video below, and then you do a double fisherman's around it.
The square knot is one of the oldest and most reliable knots in the world, and it is also known as a "reef knot" or "Hercules knot."
6. The Klemheist Knot (Machard Knot).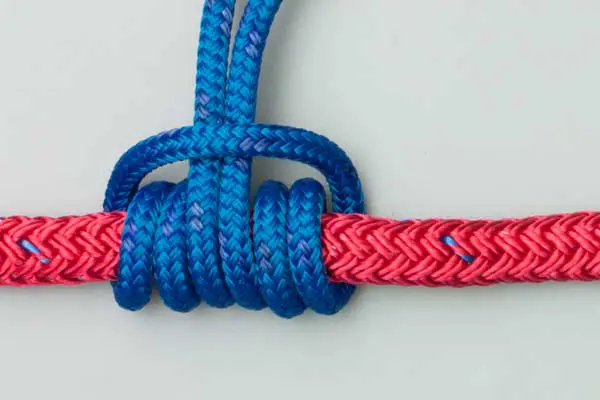 The Klemheist Knot, otherwise known as the French Machard Knot is one of the oldest climber knots out there, and it's also one of the most interesting and unique. It was invented back in 1961 by a young climber from Marseille by the name of Serge Machard, who was just 16 at the time. This knot is strongly liked to the Prusik knot, and as such, it relies on a Prusik Loop.
You can create a Prusik Loop by joining both ends of a length of rope with a simple Triple or Double Fisherman's. One important thing to remember about the Klemheist Knot is that it was designed for a load in a single direction only.
How to tie the Klemheist Knot.
Tying the Klemheist knot is not particularly difficult.
You need to use a piece of cord or rope that's already been tied up into a loop, and then pass that loop around the main rope.
There are three complete turns that you need to make in order to create a sturdy Machard Knot.
The rest of the cord should go through the loop before being pulled back down in the same direction where you'll expect the load.
Conclusion.
These are the most popular climber knots that I know of. Just a word of advice: even though I gather my information from reliable sources and personal experience, it's always a good idea to consult a professional before attempting a rappel or a climb.
If you know any other knot that can be used for climbing or rappelling, feel free to let me know. Until then, tie your knots carefully, and double-check them before each trip.