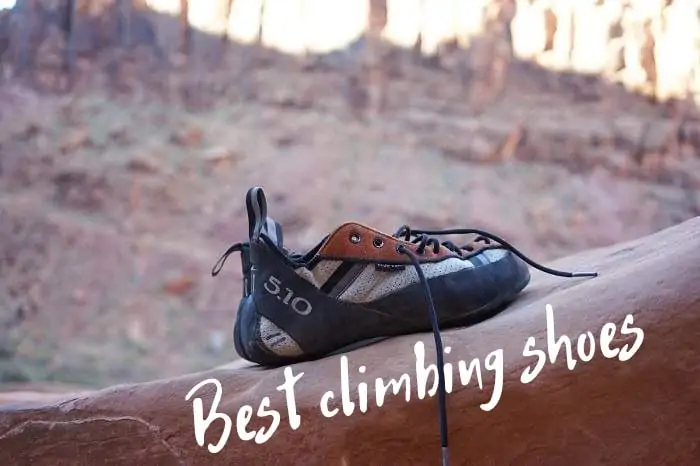 Climbing and rappelling are two closely related activities, and sometimes, so is the gear that's required to practice them. I like to think of them as two sides of the same coin, and while outdoor enthusiasts used to practice all sorts of climbing with little to no safety equipment back in the day, it's ridiculous to attempt this feat today without wearing the proper gear. I've talked about other different types of climbing gear before, but today I want to focus a bit on another important equipment piece, namely climbing shoes.
It's important to keep in mind that climbing requires a full-body workout, and just as you rely on your arms and feet to climb up a cliff, you also rely on both to get down safely. Imagine climbing with loose shoes, or with shoes that slip up whenever they hit the face of the cliff. It happened to me during my early years, and I definitely wouldn't want you to go through a similar experience.
Why is it so important to pick the right climbing shoes?
The main reason is traction, but also comfort. Whenever your feet touch a hard surface, they should benefit from as much grip as possible. This improves balance, it helps you guide your descent, and it gives you peace of mind that if something goes wrong, at least you'll be able to slow down a bit through friction.
How tight should climbing shoes be?
Comfort is another important thing to keep in mind, as it eliminates distractions. Your feet will swell up during a climb anyway, and you'll probably get some scrapes and bruises as you rappel back down. While it should happen rarely, small injuries are sometimes part of the journey. Blisters and sore feet can be avoided, though, by taking accurate measurements of your feet, breaking your shoes in before taking them on a serious trip and choosing the right material for the job.
Here are some of my recommendations for climbing shoes. These can always double down as rappelling shoes. Two sides of the same coin, remember?
Where to buy climbing shoes?
A few years ago, I would have told you to buy climbing shoes exclusively from a brick and mortar store. While trying them out beforehand is important, online stores have such impressive return policies and delivery times that you can easily buy your climbing shoes online. If you're a rookie and you're just purchasing your first pair right now, make sure to take accurate measurements of your feet and check various reviews before committing to a certain model.
I buy most of my footwear directly from Amazon, and the models that I'm about to suggest can all be purchased from this massive retailer. Let me know if I managed to help you out in choosing a pair. At the end of the day, this blog is all about providing advice and helping climbing enthusiasts make an informed decision.
1. Climb X Apex Climbing Shoe for Men.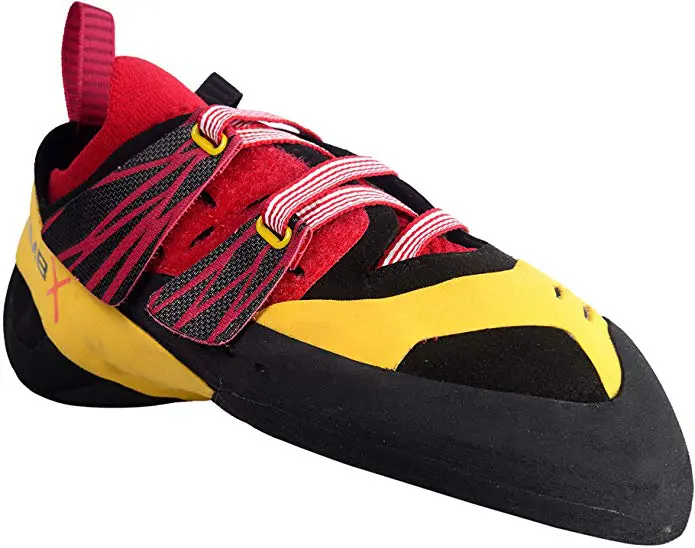 I'll start off with the Climb X Apex because this is one of the most aggressive and performance-orientated climbing shoes that I know. These climbing shoes are not designed for beginners, which is why they might feel a bit uncomfortable and tight when you first put them on. Fear not, that's normal. They'll break in nicely after a while and you'll grow to rely on them for some of your most important climbs and descents.
The Climb X Apex kicks are also relatively pricey when compared to your average climbing shoe, but I'd say they're worth it. Highlights include Climb X Xfactor rubber elements, an offset concave sole complemented by a downturned toe, and an inner knit tongue that promotes a secure fit while also improving comfort. Keep in mind that some climbing shoes cost several hundred dollars, which makes the Climb X Apex a bit of a bargain if you ask me.
Now, these are officially men's climbing shoes, so if you're a woman, make sure to convert to a women's size before you place your order. You should also order them half a size smaller if you can, just to take break-in into consideration. You definitely don't want to have a loose shoe up there, trust me on that. The downside is that your feet will feel a bit cramped for a while, and you might have to deal with some sores and swelling.
That's pretty much the case every time you try out a new pair of climbing shoes. I've grown used to it, and so will you. The important thing is to know that your footwear will provide the grip, security, and breathability that you need every single time you go up there. If you ask me, the Climb X Apex is always a safe choice, but I have some other suggestions for you. Bear with me!
2.
La Sportiva Solution Climbing Shoe Men's.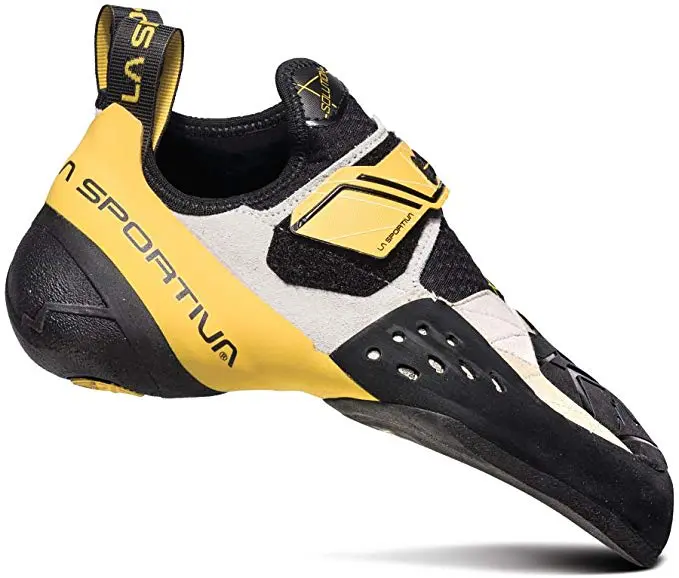 Did you know that La Sportiva originally made boots and clogs for farmers and lumberjacks? Yeah, this company has been around since 1928 when it was founded by Narciso Delladio in Italy. I'm just telling you all of this to assure you that La Sportiva knows a thing or two about making high-end sports equipment. My first pair of climbing shoes were La Sportiva Miura back in 2013, and I wore them for longer than I care to admit.
Today, however, you get to take advantage of even more advanced technologies if you're willing to splurge a bit. If you're still with me, just have a look at the La Sportiva Solution. This is a men's bouldering shoe, and a relatively special one as well since its material composition involves 80% leather and 20% Lorica synthetic leather. So it's a mix of leather and synthetic materials, with leather coating the breathable parts, and synthetic lining the areas most prone to wear-and-tear.
This is radically down-turned Velcro shoe – it has an aggressive shape, it's not going to be the most comfortable, but it rewards with performance in spades. It also comes with a figure 8 tension rand, a Lock Harness, and a very sticky rubber outer heel cup. The downturned shape of the shoe is kept in place thanks to a patent-pending system named P3® Permanent Power Platform.
3. Black Diamond Momentum Climbing Shoe for Women (Vegan Climbing Shoe).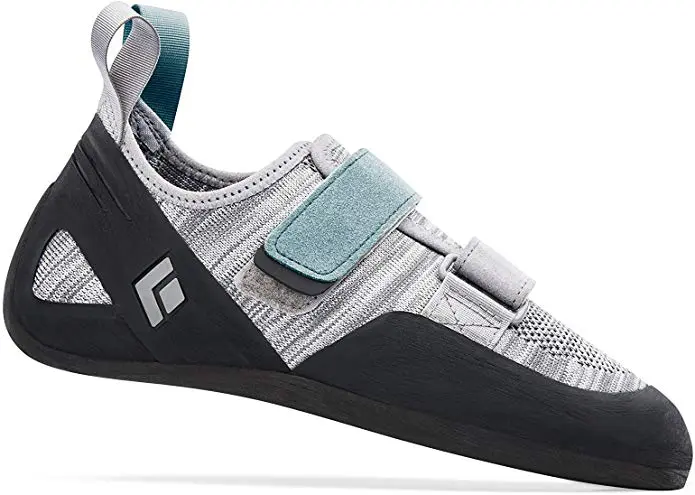 I'm going to continue my modest guide with a women's climbing shoe, namely the Black Diamond Momentum. These kicks will work well whether you're a beginner or an experienced climber and rappeller, and that's because they feature a simple and efficient design.
We all know that grip is one of the most important factors to consider when browsing around for a climbing shoe. The Black Diamond Momentum has a sturdy rubber outsole for maximum grip, as well as a Soft Flex Midsole for extra comfort and flex. I wouldn't normally recommend a synthetic shoe for climbing or rappelling, but the Black Diamond has a breathable knit upper that actually does its job very well. It also comes with a series of perforations, which improve airflow even more.
When it comes to strapping, you have a standard velcro system, which is tried and proven. No need to worry there. This women's climbing shoe has five unique colorways, namely Aluminium (pictured), Ash, Merlot, Blue Steel, and Black. The only issue you might have with the Momentum is with sizing, mainly because they are synthetic shoes that don't really break in like leather ones. If you're unsure, some people end up ordering two pairs of different sizes. If one is really bad for you, you can always send it back.
Since it has a synthetic build, the Black Diamond Momentum climbing shoe for women is considered a vegan shoe. If that's what you're looking for in particular, you might want to give it a shot.
4.
SCARPA Women's Origin Wmn Climbing Shoe in Leather.
If you're looking for a full leather climbing shoe for women, the Origin Wmn by SCARPA is a fine choice. The Green Blue/Smoke colorway might not be to everyone's liking, but I found it mildly refreshing and a nice change of pace from the usual yellow and orange shoes that I previously owned.
This is a very nice shoe for rookies, and especially for those of you who have wide feet. They represent a great alternative to rentals, as you can just wear them out as much as you want. Speaking of which, these Scarpas won't last forever on demanding trails, but if you use them mainly on descents, they might last longer than usual. The upper is 100% leather, while the sole is synthetic and made out of Scarpa's own Vision rubber. I have no idea that Vision rubber means, it's probably just a marketing term, but from what I've seen so far, it's a decent rubber for entry-level to intermediate climbs.
The Origin Wmn was created using a flat lasted construction and a women's specific last, which means that men might have trouble finding a good fit even if they ordered a larger size. It all depends on the individual's foot shape in the end. I'd definitely use these shoes for indoor climbing, maybe take them for a spin at my local gym.
5.
Tenaya Tanta Unisex Rock Climbing Shoe.
Unisex climbing shoes are usually hit or miss. They work nicely for some climbers, while others just can't get along with them no matter how hard they try. I think it all comes down to the shoe design. Since it was envisioned for both men and women, a good unisex shoe needs to be incredibly versatile and durable. If you manage to get the sizing right, you're going to get quite a bit of performance out of the Tenaya Tanta Unisex rock climbing shoe.
Some people say that its rubber is a bit slick on plastic surfaces, which might make it less ideal for indoor climbing. However, you do get a microfiber upper with a velcro closure system, as well as a padded tongue and a Multi-layer Stretchtex insole.
These kicks are designed and made entirely by hand in Spain. The company was founded back in 1997 by Yosemite vet Jose Luis Garcia Gallego. Since it is a synthetic shoe, this one won't stretch too much, and it won't require any break-in. Therefore, Tenaya recommends going down 0-0.5 sizes from your US street shoe size for an everyday fit and 0.5-1 sizes for a performance fit.
Choosing the best climbing shoes for kids.
When picking footwear for your child, you should probably follow the same guidelines that I described above. A sturdy climbing shoe for kids will ensure comfort and safety in the long run, even if your child will eventually outgrow it. For this reason, you can always just go one size up when picking a pair. I'll assume that your child won't tackle any professional trails or particularly difficult climbing scenarios.
As far as materials are concerned, you can find plenty of synthetic climbing shoes for kids if you look hard enough, but I'm going to set you up with a nice unlined leather pair for improved breathability and comfort.
The best climbing shoe for kids that I'd recommend right now is the La Sportiva Kids' Stickit Rock Climbing Shoe. It comes in about five sizes, which gives you options if you're worried about a growth spurt, and the lively green/yellow colorway also helps. These kicks are not prone to bad odor even after repeated use, which is always a big plus. They're not too pricey either, and given the unlined leather upper, I'd say they're worth it.
You can adjust them easily using a simple lacing system. Moreover, they don't have a lot of velcros, so they can be taken off easily. The shape of the shoe loops around the top of the foot and the heel, which should provide a snug and comfortable fit. I've heard only good things about the Stickit shoe, but since I'm no longer a child myself, I can't say that I ever tried on a pair. If you do end up getting these shoes for your child, please let me know how they hold up and if they perform as well as I've heard!
What are the best shoes for waterfall rappelling or canyoning?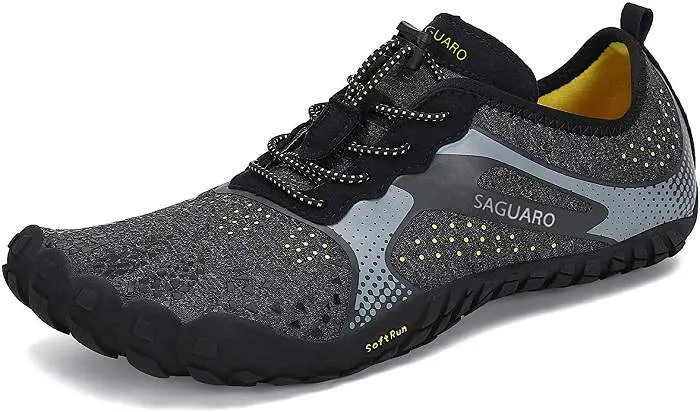 The main thing to keep in mind when it comes to waterfall rappelling footwear is that they're going to get wet. When you go canyoning, you're going to tackle slippery surfaces, so a water-resistant shoe that offers as much grip as possible is a must-have. I've seen people going on waterfall rappelling tours wearing regular sneakers, sandals, and even flip-flops. While you might get away with wearing a regular pair of running shoes, please don't do it in flip-flops. It will never work out.
Saguaro Water Shoes for Men and Women.
These shoes by Saguaro were designed specifically with water-based activities in mind. This means that they're good for hiking, waterfall rappelling, running, light climbing, surfing, sailing, diving, and even yoga.
They have a thickened yet flexible sole that protects you when you step on hard surfaces, and they come with an elastic lace system for easy adjustment. The toe area benefits from extra protection (you're going to need it), while the overall upper is made out of a lightweight and breathable material. There are plenty of colors and sizes to choose from, and you can always just fold down these kicks if you want to transport them easily in your bag or backpack.
What's the main difference between men's and women's climbing shoes?
Sizing is the first thing that comes to mind, right? However, women's climbing shoes and men's climbing shoes are different in terms of build. The truth is that generally speaking, men tend to have larger feet overall. I'm talking about the sole width, heel size, and toe length. All of these ensure a larger footprint thus a larger foot volume. Men's shoes were designed with these traits in mind, so that they may deliver a snug fit without being overly tight.
A tight shoe restricts blood flow and promotes injury. However, keep in mind that leather shoes will break in once worn on a couple of trails, which is why I always recommend taking your shoes out on a few casual climbs before committing to the big one.
On the other hand, women's climbing shoes have a narrower toe box, a narrower heel, and they are cut lower at the ankle. The thing is, if you're a woman with particularly large feet, these shoes might not be right for you after all, which is why there are some unisex variants on the market.
In terms of design, both the men and women's versions of climbing shoes look similar, so you don't have to worry too much about looks if you decide to try a footwear offering designed for the opposite gender. When you do choose your climbing shoe, make sure to pay close attention to the shape, as some of them are flatter while others have an aggressive downward curve. The bigger the curve, the easier it will be for you to tackle more difficult climbs. However, the curve doesn't impact performance in the same manner, which is why I'd suggest a medium-curved shoe.
Some tips on sizing.
Choosing the right size is key in a climbing shoe, but here's the trick: feet tend to swell up when you put them to work. Therefore, if you're going shoe shopping on a regular day, you might not pick the right size after all – consider going on a run beforehand to get that blood pumping. Whatever you do, though, don't pick a loose shoe just because you're afraid of further swelling.
Ideal climbing shoes (this goes for rock climbing, bouldering shoes as well) should offer a snug fit that promotes grip and control. This means that your toes will bend a bit while wearing them, but as long as you're not in pain all the time, you should be good to go.
Let's move on to the materials and textures.
Different shoes, whether we're talking about climbing boots, rock climbing shoes, hiking boots, or general sports footwear, are made out of different materials, each designed specifically for the task at hand. I touched on shoe materials beforehand in my gear guide, and that's where I highlighted the three main materials used for climbing shoes: unlined leather, lined leather, and synthetics.
Unlined leather climbing shoes are the best choice if you ask me, as they provide the most breathability. While breathability is important, it's not the only thing to keep an eye out for. Leather shoes will stretch with time, which means that eventually, they might run a size larger. When it comes to maintenance, these shoes are the easiest to clean and trust me on this: you'll need to clean them often.
Lined leather climbing shoes represent a good alternative to lined leather footwear, just in case you're looking for something a bit more comfortable and maintenance-free. These shoes are softer on the inside, thus more comfortable, and they break in a little less when compared to lined leather products. On average, they might become half a size larger with time, which is easier to live with. Unfortunately, lined leather is less breathable when compared to unlined leather, so there's a trade-off there.
Synthetic shoes are incredibly durable, they're cheaper than leather climbing shoes, and they don't need any break-in. This means that they'll retain their original size throughout their lifetimes, which sounds appealing, I'll admit. However, the main drawback of synthetic shoes is that they're not breathable. If you're planning to climb and rappel casually, or maybe just from time to time at your local gym, you could consider buying a pair of synthetic shoes. If you're out there on the trail a lot, though, I'd steer clear of these footwear alternatives. The lack of breathability is just not worth it sometimes.
Conclusion.
There are many types of climbing shoes available on the market, but I hope that I managed to help you narrow down your list with my simple guide. If you're new to this, you might mess up your sizing at first, but don't give up on a shoe just because it didn't fit right the first time around. Order it in a different size, find it in an actual store, and just give it a chance for a couple of days.
After a while, each climber finds that perfect pair of shoes that ticks all the right boxes. For me, I currently have three pairs that I rely on for my different activities. I have one pair for serious climbing, one for the climbing gym, and one for recreational climbs on the weekend. Two of those pairs are leather-made, and the one for the climbing gym is synthetic. They each have their strengths and weaknesses, but they're also best at their individual roles.
It all comes down to your technique, your foot size, your choice of materials, and how committed you are. If you have any questions, or if you'd just like to add another item to my list above, feel free to get in touch. Until then, stay safe up there, and don't forget to double-check everything!