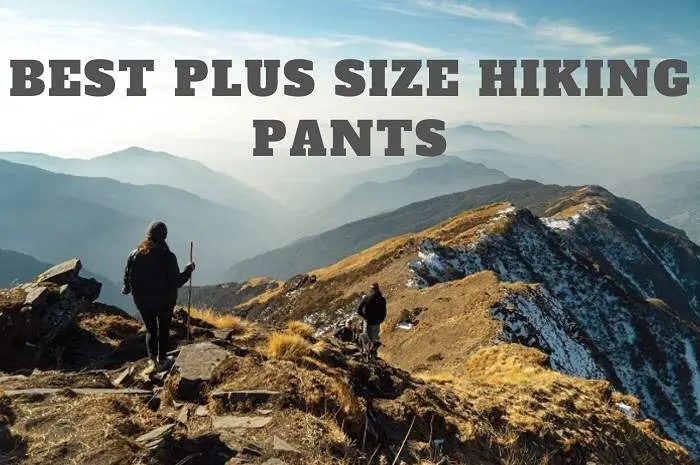 Finding plus size hiking pants is a struggle, but it really shouldn't be.
When I started out my research for this particular post, I was shocked at the surprisingly limited amount of information available regarding plus size hiking pants. Whether this is because of a misconception that overweight people don't hike and climb, or because just a few people could be bothered to write something about it, I don't know. The thing is, I felt a slight obligation to write this guide, especially since I used to be overweight myself for more than half of my life.
Overweight people do go on hiking trips, many of my friends do. They climb and rappel, trek and enjoy the great outdoors as much as I do, even though it's often harder for them to do so. There are challenges to overcome when you tackle nature this way, but overcoming them just yields greater results and rewards. When it comes to finding plus size hiking gear, it's definitely easier than it was before. Back when I started out on my outdoor adventures in the early 2000s, there were only a few places I could go to that would accommodate my plus-size needs. It wasn't easy, and for me, It was somewhat embarrassing, but I got through it, and I am convinced that anyone can.
Why are plus size hiking pants important?
A plus-size hoodie, harness, or even larger shoes are easy enough to find and try on. However, I've always found that pants are the most challenging gear piece to get right when you're overweight. Everything needs to fit just right: the leg thickness, the bottom area, and also the crotch – they should all ensure the right amount of comfort and security just like a normal pair of hiking pants would.
What are the main brands that offer plus size hiking pants?
The most important brands that I've stumbled upon so far include Columbia, Nike, and Dickies. It's not easy to find a pair designed specifically for outdoor activities such as hiking, climbing, and rappelling, but I did manage to find a few that I think would work nicely. It's worth noting that the following list includes mostly women's plus-size hiking pants, with a unisex offering thrown in for good measure.
Let's get to it then! Here are the best plus size hiking pants that you can get your hands on this year.
1. Columbia Women's Anytime Outdoor Plus Size Boot Cut Pant.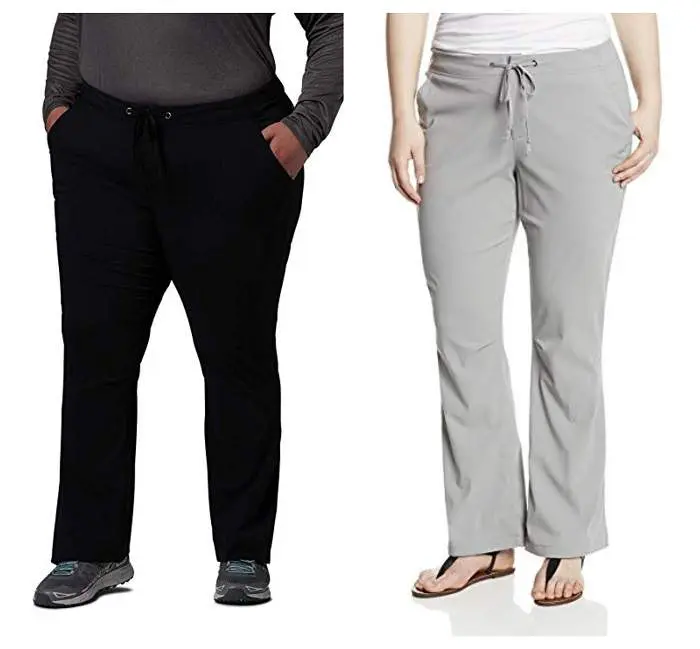 Columbia is a brand that I stand behind with complete confidence. I bought many pieces of climbing gear from them and I've been satisfied with them more often than not. Nobody's perfect, true, but they come close in many aspects.
The Anytime Outdoor Plus Size by Columbia is a reliable plus size hiking pant that comes in three distinct colorways named Black, Light Grey, and Nocturnal Blue. What I like the most about these pants is that they boast a casual look yet incorporate some of Columbia's most impressive technologies. I'm talking about Omni-shield advanced repellency and Omni-shade UPF50 sun protection.
The fabric consists of 96% nylon and 4% elastane, which means that you're going to get some stretch with these hiking pants. Another interesting aspect is the drawstring closure complemented by a conventional zipper. Taking these pants off and putting them back on is a breeze, and that's reason enough to try them out if you ask me.
Aside from regular outdoor activities, you can definitely use these plus-sized hiking pants for travel, everyday chores, and errands.
2. Dickies Women's Plus-Size Relaxed Cargo Pant.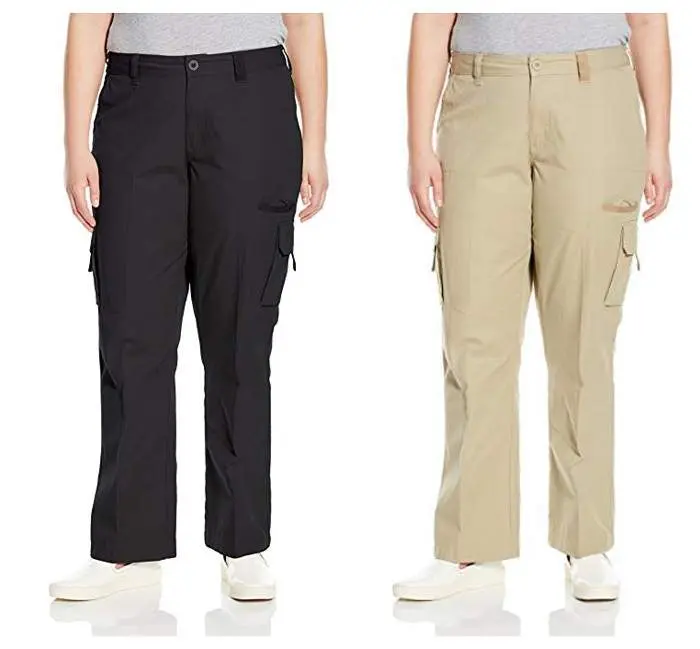 This next suggestion might stir some controversy. Yes, you can definitely hike using a relaxed-fit cargo pant, but keep in mind that if they're too restrictive, they're going to cause some discomfort in the long run. The reason why Dickies made it on my list with this plus-sized cargo pant is that they're incredibly durable and reliable.
According to the manufacturer, these plus size hiking pants are made out of 100% cotton, but I'd describe it more as a thick heavy-duty fabric. Therefore, these pants are well-suited for hiking in rough conditions, when you know you're going to be scraping on rocks and thick shrubs.
The pants offer a relaxed fit, and they come with bellowed cargo pockets with hook and loop closures. There's also a multi-use side pocket as well as back flap pockets so practicality isn't an issue here. There are two colorways available by the way, namely Rinsed Black and Rinsed Desert Sand.
There are some issues with sizing, though, as these cargo pants tend to run a bit on the small side. Better order one size up just to be sure. Apart from this, yeah, this is a durable and reliable hiking pant that won't let you down when it matters most.
3. Nike Plus Size Sportswear Cotton Sweatpants.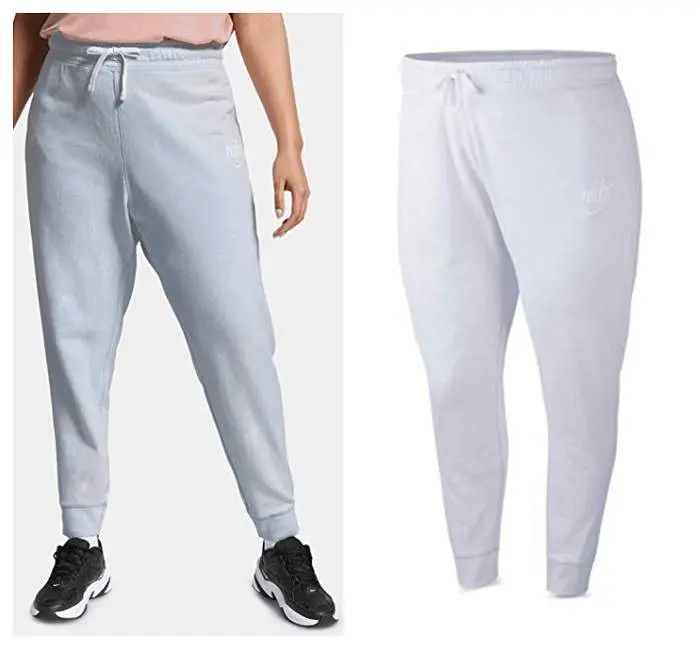 Can you even hike in sweatpants? Sure you can, just make sure to pick the right pair for the job. If you're going to hike in a relatively cold environment, a high-quality pair of hiking sweatpants will get the job done nicely, as long as you're willing to give a few things up.
For instance, sweatpants don't usually offer the same amount of practicality as conventional hiking pants do. They don't have the same number of pockets, for instance, so storage might be a bit on the low side. However, if you're also carrying around a hiking backpack, you've already solved this problem.
The Nike Plus Size Sportswear cotton sweatpants are comfortable and reliable. They include some of Nike's most notable sweat-wicking technologies, and they feature a nice tapered design that works well with most footwear. Sweatpants wouldn't be my first choice when it comes to hiking, but they can definitely work in a pinch. The best part is that these sweatpants appear to be unisex, so men can definitely use them as well if they have no viable alternative.
4. Columbia Plus Size Women's Storm Surge Waterproof Rain Pant.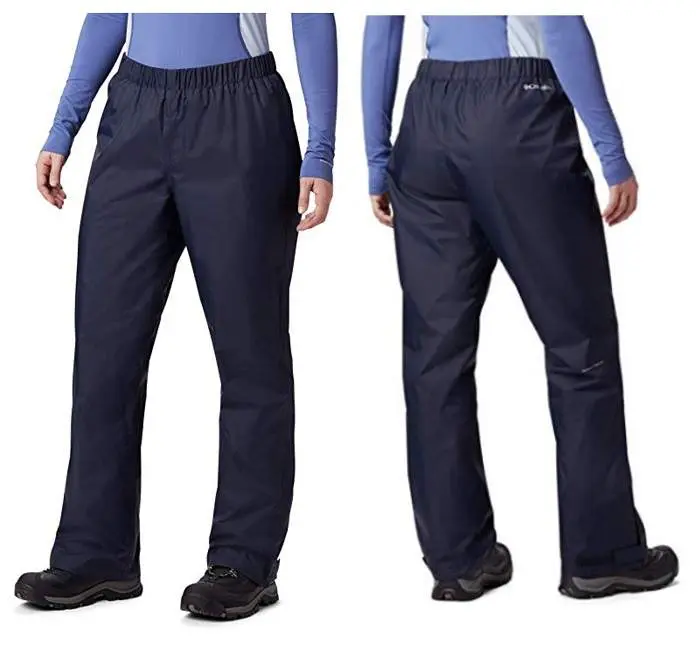 Expecting to plus size hike in rainy weather? Columbia's got your back again with the women's Storm Surge waterproof rain pant – a plus-sized hiking pant that doesn't compromise on aesthetics. Truly, these are some of the best looking plus size hiking pants that I've seen, even though they only come in a single Dark Nocturnal colorway.
The shell is 100% nylon, while the lining is 100% polyester. There's also an elastic closure for a plus of comfort, as well as Columbia's own Omni-tech waterproof technology, which is fully seam-sealed and yet breathable.
When it comes to plus-size hiking apparel, it does look like Columbia is one of the most reliable brands out there. Moreover, they offer many other plus-size alternatives when it comes to outdoor gear, and I really have to commend them on that.
How to pick the right pair of plus size hiking pants?
Each and every one of us is different as far as body size and shape are concerned. With plus-size apparel, it's important to take note of your own measurements and try to find a pair of hiking pants that will fit you well. That's easier said than done sometimes, so I'm going to give you a few pointers that should help you start at the very least.
There are a few different types of hiking pants out there, so make up your mind on a specific design first. Generally speaking, I'd recommend a pair of plus size standard pants, as these are guaranteed to keep you warm while making sure that you won't get any bug bites. Convertible pants have zippers that allow you to take part of the leg off. These would work best if you're planning to hike in damp and humid environments, but keep in mind that transforming your hiking pants into shorts will leave you exposed to the elements.
As far as sizing goes, hiking pants should be form-fitting but not restrictive in any way. This is where things become tricky for overweight hikers. Depending on how fat is stored on your body, you might end up with a thicker hip area and a slimmer thigh or the other way around. Plus size hiking pants are generally designed to offer more room in these key parts of the body, which is why they're more comfortable to wear than just a simple pair of hiking pants that's a few sizes larger.
Going too large is never a good idea either, as baggy pants are heavier, make too much noise, and can get caught in bushes. Too tight means that you'll end up with chafing, not to mention that tighter pants tend to wear out faster in the knee, glutes and crotch areas.
What are the most common terms that you might come across when shopping for plus size hiking pants?
Most people are confused about the DWR coating and what it means for hiking pants. DWR is a type of waterproofing technology that's implemented by some of the most well-known brands. It's worth noting that these come with different levels of moisture protection, and very few pairs of hiking pants are truly, completely waterproof.
An articulated knee area means that the knee section of the pants is cut specifically to ensure a full range of movement. This is a must-have for any serious pair of hiking pants, if you ask me, especially when it comes to plus-size offerings.
A gusseted crotch is a reinforced crotch area that prevents you from splitting your pants if you're performing a daring maneuver. Obviously, with plus-size pants, a gusseted crotch is very important.
What does UPF and SPF protection mean?
While both of these terms are related to the amount of sun protection offered by an apparel piece, they actually refer to different aspects. UPF is the Ultraviolet Protection Factor, which measures the amount of UV radiation that reaches your skin through the fabric. On the other hand, SPF is the Sun Protection Factor, which measures how much time it takes for your skin to get damaged.
The higher these ratings are, the more protection you're bound to receive from your apparel piece.
Do you absolutely need to wear hiking gear with UPF?
Well, the truth is that all clothes provide an adequate amount of protection from the Sun, but we're not talking about conventional walks in the park here. If you know you're about to be exposed for hours at a time, it's always a good idea to wear hiking pants and shirts that offer at least minimal UPF.
Moreover, if you have very fair skin and you get sunburns easily, all the more reason to invest in these. If you are hiking at high altitudes, in tropical areas or near snowfields, I definitely recommend using hiking gear with UPF.
What are the main things to look for when shopping for hiking/climbing pants?
The first thing we need to keep in mind is that hiking, climbing, bouldering, and even rappelling are often performed in harsh conditions. You might end up scraping them against the rock face or snagging them into some wild bush. Nature is unforgiving, so choosing a pair of durable hiking pants is a must.
What are the best climbing pants materials? Well, a blend of wool and cotton, or even twill cotton can get the job done nicely. Solid but stretchy denim will also work for some pairs, but you might also want to look for a pair that offers knee protection, especially if you're a beginner. Most hiking pants are made out of nylon, though, because that's one of the most durable materials available. Be careful not to wear a pair of climbing pants that are too heavy for comfort. You'll already be packed with other pieces of gear, so a lightweight pair is always preferable.
Another thing you need to look for is flexibility. A pair of climbing pants that are too restrictive will limit your movement, and I'm sure you know what that means: you won't be able to perform, and you'll probably get tired faster. Look for a pair that is a bit looser than what you usually wear, or make sure there's some stretch to it. Before going out there, test out the pant by wearing them and lifting your knees up as high as you can. Most hiking pants were designed to offer a wide range of movement, but it never hurts to be sure.
A tapered design will also help not only looks-wise but from a practical standpoint as well. Make sure to look for a pair of hiking pants with a tapered leg, or one that has ties at the ankles. You want to have an unobstructed view of your feet at all times while you climb or rappel so that you'll know exactly where to place your foot for your next move.
Last but not least, moisture management is incredibly important when it comes to hiking pants. The best hiking pants are able to wick sweat away from your body in order to keep you cool and dry. Climbing and hiking are already difficult enough as they are without adding overheating into the mix.
What color should hiking pants have?
This is an interesting question because most people tend to overlook this relatively important aspect when they choose their hiking pants. As far as plus size hiking pants go, I would always go for a lighter color such as tan, white and beige. While these colors would not be the most flattering for an overweight hiker, they would prevent overheating and would ensure a plus of comfort in the long run.
Surely I don't have to tell you that darker pieces of apparel get hotter faster when compared to lighter ones. Picking the right size is important, but choosing a lighter color could also make a big difference in the end.
Other tips and useful information.
Is insect protection important when it comes to hiking pants?
While none of the pants above are treated with insect repellent as they come out of the factory, it's important to note that you might need some sort of protection from these critters, especially if you plan to go out there during tick season. If you'd like to keep insects at bay while you're on the trail, you can easily treat your pants with repellent yourself.
I recommend using Permethrin to treat your clothes, but keep in mind that this chemical is particularly dangerous to cats. If you have cats at home, just perform the treatment outdoors and make sure that your pets can't get near your hiking gear while you're away.
Should I wear roll-ups, convertible pants, or long pants?
It all depends on the trail and what conditions you plan to perform your hike in. For example, if you know that it's going to be very hot outside and you don't want to pack an extra pair of pants, you might want to go for a convertible pair as that will give you the most versatility. If you know that you won't be wearing shorts at all, there's no need to go for convertible pants and you should just wear a regular pair of long ones.
Make sure to have a close look at the zippers if you do go for a convertible pair of hiking pants. Check that everything is working properly and you can access the ankle zips with ease, as those will allow you to put on and take off the lower part of the legs without taking off your shoes.
Roll-up leg pants can represent a viable alternative to convertible pants. These wearables are usually kept in place with a snap closure or a button closure. The main advantage of roll-up pants is that they ensure a plus of ventilation during hot days.
Are all hiking pants warm?
This might seem like a silly question, but you'd be surprised how often I get asked if all hiking pants are warm. The truth is: it depends. Some hiking pants were designed with cold weather in mind, which is why they usually come with a soft inner lining. Those pants are indeed warm and should never be worn in hot weather even if they're advertised as breathable.
On the other hand, hiking pants designed for hot conditions are highly breathable, often stretchy, and manufactured using lighter and sometimes less-durable materials. It all depends on what kind of conditions you're expecting to face out there. There is no ideal pair of hiking pants that will work in all weather conditions. More often than not, it's not a bad idea to have multiple pairs.
Are hiking pants really necessary?
Hiking pants are absolutely necessary if you plan to perform climbing, backpacking, rappelling, or canyoneering in safe conditions. Surely I don't have to tell you how important our legs are and how much they need protection from the elements and anything else that nature throws at us on the trail.
Apart from offering protection, hiking pants also allow us to carry essentials with ease, and they can ensure comfort by wicking sweat away from the body. You could try to perform demanding outdoor activities while wearing conventional pants, true, but you'll quickly come to realize how important they are as soon as you get your first scrape, or when your smartphone falls out of your pocket because it wasn't secured properly.
How do we know when hiking pants fit?
This is a valid question because many of us just try out a pair of hiking pants and just assume that they're going to fit perfectly when we take them out on the trail. This is a misconception and it often results in disappointment, as climbers come to realize that their pants don't fit as well as they thought they did. There are a few steps that we can take to solve this issue, though.
Bending and flexing your knees and lifting them one at a time as closely as possible to the chest will ensure that you have a full range of motion. If the pants bind at any point during this exercise, they're not going to fit properly and you should find a replacement pair.
Sitting down is another simple trick that allows you to check if the pants feel tight across your bottom. If they do, they won't be right for you. You should also squat down, as this can help you check for a number of important aspects. First of all, the cuffs shouldn't ride up too high and expose your legs too much. Secondly, the pants shouldn't expose your bottom when you squat, as this can bring its own series of unpleasantries.
Are cheap hiking pants worth it?
I think the suggestions that I presented above are relatively affordable all things considered. Still, I won't lie, there are some cheaper alternatives out there, but I just don't think that they're worth it in the long run. You see, hiking pants cover a significant part of your body, and if they were to fail at any point during your trip, they could potentially ruin your entire experience.
Imagine planning a rather expensive trip with your friends, getting ready for a hike, investing in all the proper equipment and skimping on a nice pair of hiking pants. If those pants tear up, get soaked, or allow you to get a sunburn, they would instantly lose any value, and you'd probably be forced to abandon your adventure. Since climbing, hiking, rappelling, and canyoning are all tightly related and demanding sports, you can't really cheap out on any particular piece of gear. Not on pants, harnesses, and ropes anyway, as they're all that stands between you and the unforgiving elements.
So no, cheap hiking pants are not worth it, but that doesn't mean that you need to spend half a thousand dollars on a pair either, especially if you only practice these activities recreationally.
Conclusion.
Hiking while overweight is a challenge but it can also be an incredibly beautiful and maybe even life-changing experience. While it might be difficult and disheartening, at least at first, you'd be surprised what your body is capable of once you give it a chance to prove itself.
Wearing the right gear makes any outdoor experience safer and more enjoyable. My hope is that you found this guide useful and that you'll have an easier time choosing your gear as a result.