Mountaineering books and why you should read them.
Mountaineering in its purest form represents the sport of climbing mountains, but as it turns out, the term is widely associated with other activities such as outdoor climbing, bouldering, sport climbing, and even rappelling. While practicing is one of the best ways to improve your skill at the aforementioned activities, reading mountaineering books can have a tremendous impact as well, especially if you're looking to absorb the experience of others.
There are plenty of mountaineering books available right now, some of which are classics while others take on a more contemporary role. Moreover, you can enjoy books in multiple formats these days such as audiobooks or straight-up digital ones. I've always preferred to read my books the old-fashioned way, but there's nothing wrong with enjoying a good mountaineering book in audio format.
Today I'm going to suggest some of the best mountaineering books available, many of which have the potential to change your perspective and widen your horizons. While many of these mountaineering books are ideal for beginners, experienced climbers and rappelling enthusiasts should spend the time reading them as well, especially if they never got the chance to do so until now.
Why would you pick up mountaineering books?
There are two main reasons why anyone would take the time to read a mountaineering book: to absorb information or to vicariously experience what others have experienced before them. Most of the time, it's a mix between the two.
If you're a beginner who's just thinking about taking on mountaineering, it's always a good idea to read up on the basics. Remember the most important lessons that each book teaches you, and you'll have something to rely on while you tackle your most difficult challenges. Experience and muscle memory is one thing, but knowing what to expect and how to react appropriately when you get caught off guard can also make a huge difference.
Here are 10 mountaineering books that you should read at least once in your lifetime.
1. Mountaineering – The Freedom of the Hills.
Widely regarded as the definitive guide to mountains and climbing, Mountaineering – The Freedom of the Hills has been around for the better part of six decades, but that doesn't make it obsolete in any way. For the revised 9th edition, the book now contains updated information and best practices thanks to a collaboration with the American Alpine Club (AAC), the American Institute for Avalanche Research and Education (AIARE), and the Access Fund. Keep in mind that this book is over 600 pages long, so it's definitely not the most portable or travel-friendly one. However, it includes everything that you could possibly need to know about mountaineering.
It's no surprise then that this mountaineering book has long been regarded as the "bible" of mountaineering. It offers information about climbing, belaying, rappelling, and even gear selection. Another thing that made this book famous was the Ten Essentials – which has now been updated as well in order to make it easier to remember.
Is this book any good for beginners? It absolutely is, especially since it's aimed at beginner to intermediate level mountaineers. This means that you'll be able to apply the information contained within even after you gain a bit of experience. If you ask me, any serious climber should have this book in their collection. It truly is one of the best out there and I can't recommend it enough.
2. Dead Mountain: The Untold True Story of the Dyatlov Pass Incident.
Moving on from the strictly informative book above, Dead Mountain: The Untold True Story of the Dyatlov Pass Incident does exactly what it promises to do. It delves into the mystery of the famed Dyatlov Pass incident and attempts to shed some light on the matter.
Just in case you're not aware of the Dyatlov Pass incident, it refers to a tragedy that took place in February of 1959, when nine young Russian university students lost their lives. The root cause of the mystery is that the students were experienced winter hikers and mountaineers, so their sudden deaths stirred quite a bit of controversy. Moreover, the incident became shrouded in sensationalism, which made uncovering the truth even harder.
Fortunately, Film-maker Donnie Eichar decided to disperse these fabrications. He had a close look at the incident, figured out what caused it, and what can be done to prevent such tragedies in the future. He eventually wrote Dead Mountain and presented his findings from a historical nonfiction perspective. While the book eventually went on to become a best-seller, it still stirs quite a bit of controversy to this day.
3. No Shortcuts to the Top – Climbing the World's 14 Highest Peaks.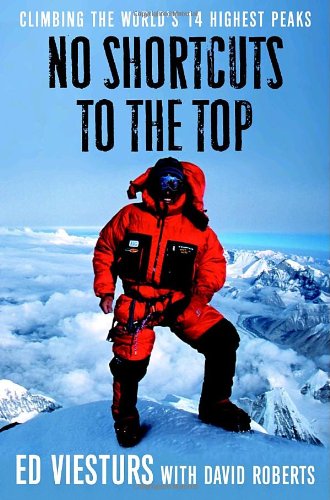 If inspiration is what you're looking for, it's hard to find someone better than Ed Viesturs, who made it his life's purpose to stand atop some of the world's highest peaks. It took him no less than 18 years to fulfill this dream, and he recounts some of his most dangerous journeys and his close calls in this impressive mountaineering book.
Ed's motto is "Reaching the summit is optional. Getting down is mandatory." While he obviously shares a great love for the mountains and the great outdoors, he often struggled with his quest and was obviously torn between staying on the flats with his loved ones and tackling the world's tallest peaks.
He braved mountains that claimed the lives of many, and while he always managed to come back down safely, he witnessed many errors and bad judgment calls made by his fellow climbers. He made a few mistakes as well along the way, and he describes them in great detail. You can learn from his mishaps and see the mountaineering life through his eyes as you accompany him on his journeys.
No Shortcuts to the Top is a highly appreciated mountaineering book written by Ed Viesturs himself in collaboration with David Roberts.
4. Mountaineers – Great Tales of Bravery and Conquest.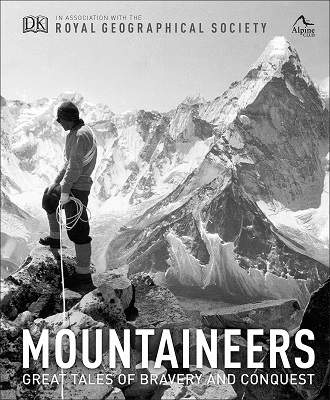 This well-known mountaineering book by the Royal Geographical Society details the lives of the most famous mountaineers that ever lived and their great exploits. It is a book brimming with unique tales, interesting real-world personas, and experiences that can only be achieved by braving the world's tallest peaks.
Fine examples include the brave British mountaineers who took cases of vintage champagne to the Everest base camp in 1924. The book includes details for more than 100 famous mountaineers and the first brave souls that conquered this planet's great heights.
The book features unique photography that was previously unreleased, as well as depictions of the great mountains and the people who stood up to them. It is a very interesting read, especially since it portrays how technology has advanced over the years and how it helped humanity in its quest to conquer the mountains.
The differences in the gear used back in the early days and today are simply staggering. Truly, this is a book that needs to be read by any climber and hiker, as it really puts things in perspective. I read it for the first time a couple of years ago, and I definitely wish I had picked it up sooner.
5. Medicine for Mountaineering & Other Wilderness Activities.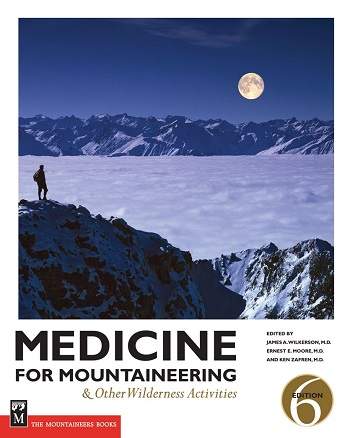 This is a medicine mountaineering book but a very useful one nonetheless because it offers detailed information about things that might go wrong mountaineering and how to deal with them. For instance, it details the dangers of drowning, avalanche injuries, animal attacks, and eye disorders, and it provides insight into medical evacuations.
It even touches on the subject of lightning strikes, which are a real danger when reaching high elevations. Even if you're not a medic or don't plan to become one anytime soon, it's never a bad idea to get some basic training. It might end up saving your own life or the lives of your partners. I for one would definitely feel better if I knew one of my mountaineering partners had medical knowledge.
This medical mountaineering book was put together by a team of highly recognized medical professionals in fields such as emergency response and trauma. This is the latest edition of the book at the time of writing, which means that it has been fully revised and expanded upon.
6. The Mountaineering Handbook: Modern Tools and Techniques That Will Take You to the Top.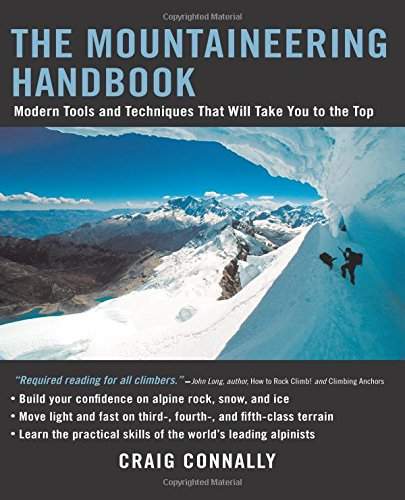 The Mountaineering Handbook is aimed at those of you who wish to transition from conventional bouldering and rock climbing to more thrilling and challenging mountaineering in the world's harshest climates. If you're just starting out, the impressive array of tools and techniques depicted in this mountaineering book will surely help you get a better understanding of how mountaineering is best practiced and what are the risks involved.
More importantly, you'll learn how to minimize those risks and how to make sure that you'll actually get to enjoy the experience. If you've been mountaineering for a while, it's still not a bad idea to brush up on the latest techniques in order to refine your skillset.
Written, by Craig Connally, this book is all about new-school techniques that have been proven to be safer and more reliable when compared to traditional methods. The techniques aim to ensure light, fast, and efficient mountaineering:
Move quickly up and down rock, snow, and ice with appropriate safety systems.
Manage mountain hazards, including rockfall, avalanche, lightning, and high-altitude illness.
Select the best equipment for your personal style and objectives.
Maintain sound nutrition and training according to the most up-to-date science.
Understand the human factors of mountaineering–the social and psychological forces that influence critical decisions.
This book offers a generous assortment of mountaineering tips and technique improvement. If you do decide to try it out, make sure to let me know how much it helped you.
7. Code 1244: The 1986 Mount Hood Tragedy.
This mountaineering book focuses on a tragic incident that took place in May 1986 on Oregon's Mount Hood. While it was widely acknowledged as one of the most climbed mountains in the world at the time, Hood managed to claim the lives of seven students and two faculty members of the Oregon Episcopal School.
The source of the tragedy was an incredibly fierce blizzard that pinned the mountaineers down as they waited for rescue. An impressive number of people were involved in the rescue efforts. Many of them have shared their memories of the event with the book's author.
Speaking of which, Code 1244: The 1986 Mount Hood Tragedy was written by Ric Conrad, who spent no less than four years gathering the material required for its creation. After the tragedy, he quickly realized that there was no book that focused specifically on this controversial event. He decided to write it himself, and I for one am very thankful that he did.
8. Touching the Void.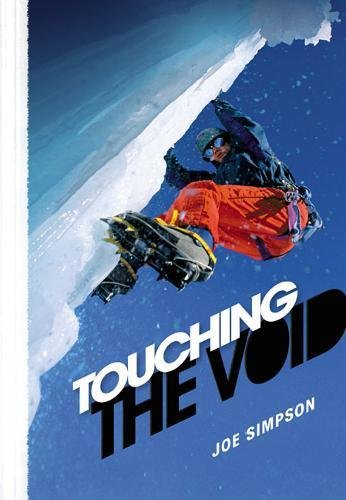 Touching the Void is a remarkable read indeed, as it depicts Joe Simpson and Simon Yates' brush with death as they climbed the 6,344m (20,813 feet) peak Siula Grande in the Peruvian Andes. The accident happened on the descent, and while I would love to tell you all about it, you'll have to read the book yourself to find out what happened in the end.
Suffice to say this is a story about hard decisions, grief, guilt, and incredible relief. It's about the camaraderie that forms between climbers as they face life-threatening situations together and the bond that takes root when they overcome those tragedies. In 2003, the book was made into a highly popular mountaineering documentary.
While the documentary is gripping in its own way, I definitely think that you should read the book beforehand.
9. The White Spider: The Classic Account of the Ascent of the Eiger.
The White Spider is one of those books that absolutely deserve a read at least once in a lifetime. It depicts the harrowing experiences of Heinrich Harrer and his spectacular yet difficult ascent of the Eiger. It also depicts the tragic attempts of a wall of rock by him and his comrades, some of which unfortunately lost their lives.
It's a true story about the hardships of mountaineering and the dedication it takes to conquer the world's most unwelcoming peaks. It's also a story about sacrifice in its purest form. In the 1930s, the Eiger Nordwand (North Wall) was widely regarded as the last and greatest Alpine obstacles. Tackling it was a great honor, but actually conquering the peak was an incredible achievement for mountaineers and humankind.
The book is chilling, riveting, and incredibly detailed. It has the potential to bring tears to your eyes, but it can also open them to how incredibly difficult mountaineering was back in the 30s.
10. Space Below my Feet mountaineering book.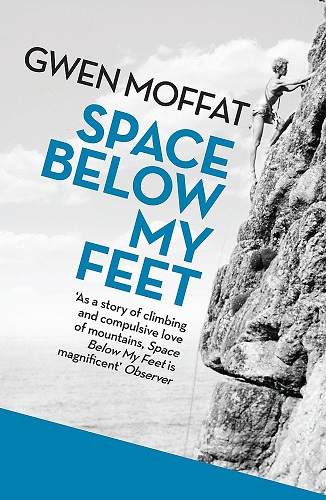 Gwen Moffat was an army driver and dispatch rider in 1945, and she was only in her twenties. That's when she decided to abandon her post and start out on a challenging road with only her backpack and her grit to keep her safe in the wilderness. She hitchhiked from Skye to Chamonix, and she even worked as a forester for a while when her finances ran low.
She could never really hold a proper job, though, as the call of the mountain was too strong to resist. Gwen was enthralled by life on the road and in the wild, and she did everything she could to keep her passion alive. Eventually, Gwen Moffat ended up tackling some very difficult climbs and quickly made a name for herself as a mountaineer.
She also went on to become Britain's leading female climber and she was the first woman to qualify as a mountain guide. Space Below my Feet depicts her journey from a military woman to a mountaineer. It also happens to be one of the finest reads I've stumbled upon in a while.
Final words on mountaineering books.
I hope that I managed to provide some guidance if you were looking for some useful and entertaining mountaineering books for your next read. I'm not saying that you should read each and every one of these books, as some of them are educational in nature while others are meant to depict personal experiences. You can learn from both types, just different things and in different ways.
While these mountaineering books are great for a personal collection, they can also make fantastic Valentine's Day gifts. They're not the most romantic, true, but if your partner is passionate about mountaineering, you just can't go wrong with either of them. If you're the charitable kind, you can also donate a stack of them to an organization dedicated to mountaineering education and best practices.
If you have any suggestions or personal thoughts, feel free to get in touch. Until then, stay safe out there!